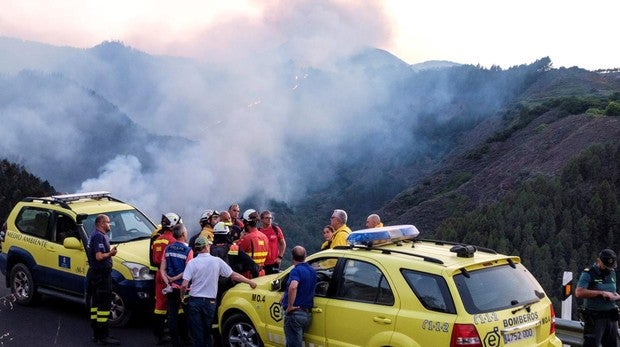 The forest fire that was declared this afternoon in the highlands of the municipality of Valleseco has forced the evacuation of some 2,000 people, has affected between 400 and 500 hectares and has all active flanks.
The Minister of Public Administration, Justice and Security of the Canarian Government, Julio Pérez, said tonight at a press conference that it is difficult to make a forecast on the evolution of fire during the next few hours, since although the forecast is that the wind In general, Amaine said that in particular in that area of ​​the summit of Gran Canaria there may be strong gusts.
"The night can be complicated" said the counselor, who added that for now there are no new evacuations planned, although several towns are pre-alert if it is necessary to evict them.
He has indicated that most of the evacuees, who will be relocated to facilities in neighboring municipalities, come from the town center of Tejeda.
Pérez has explained that unlike the Artenara fire, this fire is made of cups, which makes its extension so rapid.
He recalled that the fire has begun shortly before four in the afternoon in the Los Pajaritos ravine, between Cueva Corcho and Crespo, for reasons that are still to be determined but has indicated that in Gran Canaria today maximum temperatures were around 40 degrees and gusts of strong wind.
The fire has two flanks that move south and north and the most complicated is the one located at the head of the Virgin's ravine in the municipality of Valleseco.
During the afternoon, seven helicopters have worked and two more will be added tomorrow morning, as well as two airplanes, including a seaplane that has come back to the island tonight.
As for the terrestrial means, the counselor has said that 150 personnel have worked among personnel of the Emergency Military Unit, personnel of the Cabildo de Gran Canaria, forest brigades of several islands and firefighters of the Consortium of Gran Canaria.
The personnel that will be in charge of the works against the fire during the night will carry out fire-fighting, firewalls and ditches to avoid its propagation
Likewise, he informed that it is expected that tomorrow one hundred members of the EMU will arrive from Tenerife and the Peninsula.
Pérez has said that the fire has been "very spectacular" and visible from different parts of the island and as an example of its rapid extension, has commented that the advanced command post, from which the work of extinction is directed, has had to change of location due to the proximity of the fire.
The counselor has asserted that, although the ban on hunting was opened tomorrow, it is forbidden to do so anywhere on the island. .