The Google Chrome browser has extensions that help you personalize and facilitate your browsing based on how you use it. Depending on your work, your online leisure activities, there is a long list of extensions that can make your tasks easier. In this list we are going to know the extensions that can make browsing more comfortable, simple and useful.
This list is created according to the functions you may be looking for when browsing the Internet in a simpler and more comfortable way. Identify what complicates your navigation the most and choose your extension based on it. Here the list.
Clear history and cookies often to maintain privacy
The Click & Clean application is intended to help you eliminate your trace through the browser. On the one hand, with a single button that is located on the toolbar in the browser you can clear your cache, URL searches, cookies from the websites you visit, cache, and download history. It also clears your history when you close Chrome and gives you the option to free up space or scan your computer for malware.

Click&Clean collect information about your location (For example: region, IP address, GPS coordinates or information about things that are close to the user's device) and also about user activity (network monitoring, clicks, mouse position, scrolling or keystroke logs ).
Manage and save your passwords
LastPass is a password manager that comes as an extension for the Chrome browser. Allows you to store usernames and passwords; add credit cards and purchase information to make payments; attach documents, PDFs, images, audios …; save data that you need to keep safely and at the same time that it is easy to find when you need that information, among other matters.
In addition to storing information, you have a search engine to find it easily. When you install these Chrome extension you know that when you use your browser on different devices, when you access you will have the information saved. You can use it on your computer, on your phone and on your tablet.
Translate pages instantly
The good thing about the global world is that you can access information in many languages. The bad thing is that you don't always understand it. The ImTranslator extension is a translator with dictionary and voice. In other words, it is also useful for people who have hearing problems. Translate text, words, phrases and web pages in 91 languages ​​and from 3 translation providers (which are Google, Microsoft Bing, Translator). It also has text to speech in 30 languages.
On the other hand, you can save the translation history for future use of these texts and it manages to automatically detect the source language.
Correct your mistakes when you write in English
Being in a rush or partial knowledge of English can lead you to make grammatical and writing mistakes that don't look very good. Grammarly has become a very popular tool to improve your texts, grammar when you write in English and avoid common typographical errors when you type fast. Not only does it correct you, without further ado, but it gives you suggestions for better writing, so it helps you learn and understand why a text is written in a certain way and not in another.
Last year, Grammarly began to add style correction to the spelling and grammar correction, taking care that our texts are not only technically correct, but also more readable, more beautiful and simple to read, for which it suggests changes of tone and restructuring of the sentences.
Access your Google documents offline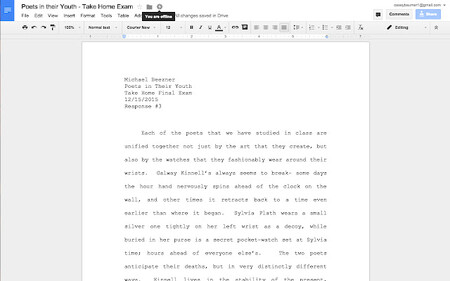 If you are one of those people who has abandoned the Microsoft Office suite in favor of Google documents or who simply use them occasionally to share files with your Gmail contacts, you should know that if you browse through Chrome you can access your documents even if you don't have an internet connection with the extension dubbed Google Docs Offline.
With this tool you can edit, create and consult your documents, spreadsheets and presentations without Internet access. This extension is also used to make the advanced copy and paste function available in Google Docs, Sheets, and Slides. Once installed, you just have to enable offline access through the Google Drive Settings menu.
Browse in dark mode
Almost all Google software has been integrating the so-called dark mode, which can make content viewing easier in many circumstances or help you save power on your device. So has Gmail, although it hasn't fully embraced this feature.
But there are extensions that improve the user experience and highlights Dark Reader offers a dynamic dark mode for all the websites you visit and is not limited to putting all black with white letters on the pages. What's more, reduce glare when needed. In fact, it also has a light mode with reduced brightness and sepia colors. They also allow you to adjust both brightness and contrast to your liking on web pages or give the option to change the fonts and the stroke of the text.
You do not want to accept any more cookies
Although Google is working on an alternative for Chrome and its websites in which third-party cookies are not used, but the FLoC system, this is still under development and does not fully convince the technology industry, so you will continue to encounter annoying cookies when you use this browser.

There are several extensions such as Ninja Cookies that you can see in the previous link to inform you in depth and we also suggest I don't care about cookies. With this extension you can eliminate the "annoying" (literal words of the creators of the tool "notices from almost all websites that follow this European regulation to notify about the use of data. If you install this extension, you will save this step of accepting or managing your cookies to be able to access a page.
Hide the tabs you have open
Either because you prefer to browse with a cleaner screen or because someone is going to come to see your screen and you want to preserve the privacy of which tabs you have open, there are an extension that allows you to quickly hide this information. Called Panic Button, if you have this extension downloaded, you just have to press the F4 button to be able to hide the tabs. All of this is saved as favorites in a separate folder.
If you want to restore your tabs later, press F4 again. If later you no longer have interest in these tabs that you had open you can just delete the "temporary panic" in the "Other Chrome Bookmarks" folder and it will be removed.
Cover photo VIA | Firmbee.com on Unsplash