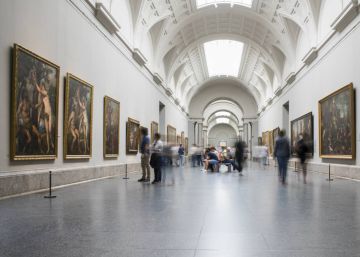 To be happier you want to have a bigger house, a cooler car, a better neighborhood, a smartphone More powerful. When he succeeds, if he succeeds, he experiences an initial euphoria motivated by novelty until life returns to that of before: the same shit with scant color notes. It is called a hedonistic adaptation and it consists, precisely, in getting used to the good fast and continuing to suffer for the bad. We want more, and it will never be enough.
This Madridian hedonistic adaptation is suffered by the Museo del Prado and other cultural institutions. A server, for example, arrived in Madrid at the beginning of the century and spent his evenings in the darkness of the Doré cinema at the National Film Archive. When arriving from outside it was a privilege to enjoy the best and rarest movies in the history of cinema. Now I go once a year or so, I got used to it.
37% of the people of Madrid do not know the Prado Museum, they have never visited it, a "chilling" fact in the words of Culture Minister José Guirao. The minister said that "the Prado has to go" and not be left alone in what textbooks or the media say. In the afternoons it's free.
The funny thing is that probably that 37% yes step on the National Gallery in London or the Met in New York when going on vacation. Visiting museums seems a tourist sport and I wonder if those who stand in line at the door of the Jerónimos are interested the rest of the year for artistic reasons in the Netherlands, the United Kingdom or Japan. In a video work by the artist Eugenio Ampudia, one can see how a motorbike races through the empty halls of the Prado at full speed, in a metaphor of those who come to the museum to sign at full speed. About three million people visited the museum in 2018, 2.43% more than the previous year.
The best thing is to visit the Prado as an artist. When Jean Cocteau was asked what would save him from a fire in the art gallery he said "the flames". To Dalí what he liked most was "the air contained in Las Meninas of Velázquez ", that to have it, and a lot. Andy Warhol, who was a bit odious, what really excited him was the souvenir shop, just like many of the current visitors.
Now that the 200th birthday of the Prado is celebrated, it seems that it is time to say which is your favorite painting. To me, now that we are with fluid and non-normative bodies, I like to quote The bearded woman of Ribera. That alleged bald gentleman, pulling ugly and with a beard hipster that, suddenly, teaches a tit and nurses a baby. Sometimes I have seen children amazed with the vision of this painting. It's good for children to see these things, even the locals.
Follow with us the news of Madrid on Facebook, in Twitter and in our Neighborhood Patio on Instagram