The mobilization was weak compared to the historic summits of Genoa or Evian, but some 15,000 people demonstrated Saturday in Hendaye.
Subscribers article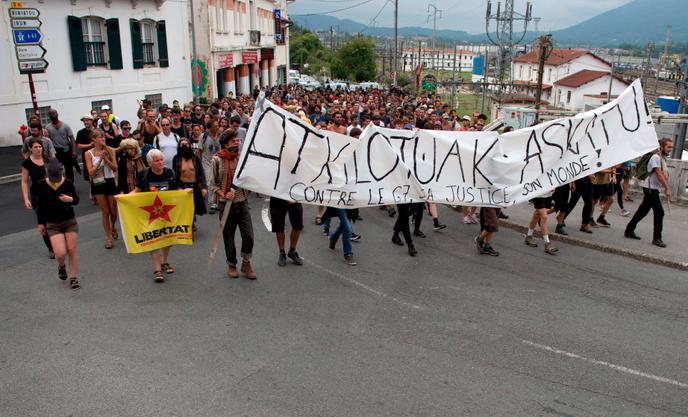 This was supposed to be the last anti-G7 initiative gathered near Biarritz, where the official summit is being held, but it was finally canceled on Sunday 25 August in the middle of the day. A nice card had even been distributed, the previous days, to thousands of participants in the counter-summit organized by two coordinations (Basque, G7 EZ (no to the G7), and French Alternatives G7), pointing to seven "targets" around Biarritz. Thus, the town halls of Bayonne and Anglet and various roundabouts drew a "Rainbow zone, symbol of the different struggles and claims"explained the organizers.
Alas, everything has been canceled. For lack of fighters, many have left the day before the event that brought together 15,000 people, according to organizers, and officially closed the counter-summit held in Hendaye and Irun, from August 21 to 23. On the long beach that bears the nice name of Chambre d'amour, at the announcement on Sunday noon of the cancellation of the demonstration, three activists did not hide their disappointment. " We came expressly from Saint-Etienne, we slept in Urrugne's trap and there is no one! " One is a former militant of the CGT, all participated in the demonstrations of "yellow vests" and assert anti-capitalist. Arriving Friday on the Basque coast, for the end of the counter-summit, they hoped to find the heat of the parades. Nothing. This long beach where we see the lighthouse Biarritz, where was held Saturday evening the first dinner of seven leaders of the industrialized countries, is empty of protesters.
On the boards, in front of the ocean where the surfers glide tirelessly, the spokesperson of Attac and Alternative G7, Aurélie Trouvé, answers almost alone to the journalists. The same night, announces she, Joseba Alvarez, a figure of Basque independence, member of the coordination G7 EZ and left abertzale, was arrested. He was inadmissible until August 29th. "With his arrest and the 20 or so minor injuries we had, we decided to show responsibility and to ensure the integrity of the protesters first and foremost," She says. The day before, some clashes took place in Petit Bayonne. The numerous mobile cops and policemen, present on the bridges over Adour and Nive, two rivers that enclose this neighborhood, used tear gas and water cannon to disperse some 200 to 300 protesters.