What the rumor says
It's a scene that takes place in a completely banal setting, but which quickly turns into disorder. A video widely distributed in recent days shows a compact crowd that rushes inside an Aldi store as soon as it opens, on the verge of the rat race. "It is happening in Germany. People line up to stock up on coronavirus »says the message that accompanies these images viewed more than 300,000 times on Facebook since Sunday 1st March.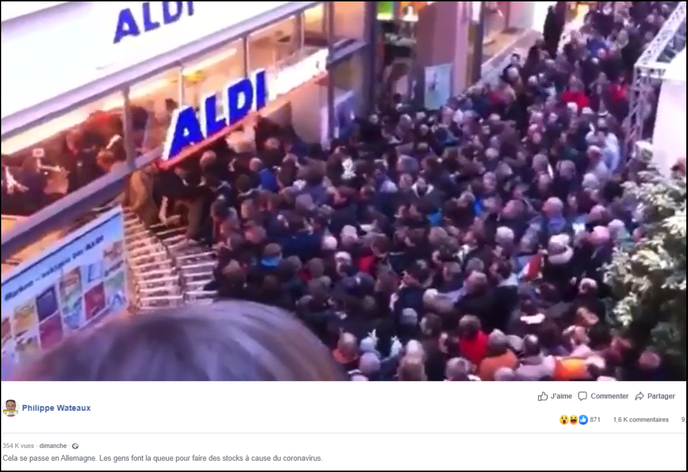 So, has the current coronavirus epidemic already distilled such fear among the German population? Not really. Contrary to rumor, these images actually have nothing to do with the virus. Explanations.
Decryption:
View the spread of coronavirus worldwide on a map
WHY IT'S WRONG
Contrary to what we have read on social networks, this video has not been shot recently. If it was filmed in front of an Aldi store in Kiel, in the north of Germany, it dates back several years. More specifically as of January 30, 2011, as indicated by its original description on Youtube. Another video filmed in the same place on the same day corresponds to this version of the facts.
The author of the video says in his description that the scene was actually filmed when the store was promoting electronic products. So it has nothing to do with the coronavirus, or with any epidemic.
Our summary:
Our answers to your questions to better understand the coronavirus epidemic
To contribute
Sharing

Share on Whatsapp