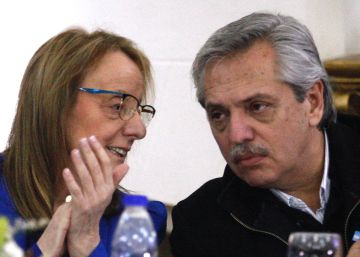 Alberto Fernández has already begun to exercise as a candidate for the presidency of Argentina. The man who until last week, when Cristina Fernández de Kirchner proposed the Fernández-Fernández formula, lacked political aspirations, began his campaign with two messages. One, who is not the puppet of the former president, now a candidate for vice president. And two, which aims to reunify the Peronist movement, divided in recent years between Kirchners and federalists.
The first electoral trip of Fernandez, former chief minister of Néstor and Cristina Kirchner, went to Santa Cruz, the Patagonian province that governs Alicia Kirchner, sister of the late former president. But the candidate insisted that he did not comply with "anyone's orders" and in his intention to "build an alternative" with Peronism as a whole, beyond the Kirchner's legacy. He drew a grim portrait of the Argentine reality: "It is a country in ruins, with a central problem, debt, a huge damage that has caused the government [of Mauricio Macri] and that must be addressed while addressing the productive problem and the social conflict ".
On foreign debt, 40% of which was contracted with the loan of 57,000 million dollars from the International Monetary Fund last September, said that it would be necessary "a frank dialogue with the Fund to see how we resolve the issue."
Reunification of Peronism involves absorbing or neutralizing Alternativa Federal, the moderate group led by Sergio Massa, Fernández's successor as head of ministers of Cristina Kirchner. Juan Schiaretti, recently re-elected governor of Córdoba by a large majority and great factual power of Alternative Federal, maintained the idea of ​​going to the presidential elections with a "third way" centrist, as far from Cristina Fernández de Kirchner as Mauricio Macri. Another of the tenors of the movement, Roberto Lavagna, former Minister of Economy of Nestor Kirchner, proclaimed that he was "candidate for the presidency", without clarifying whether he still aspired to a proclamation without going through primary elections.
The members of Alternativa Federal will meet on Wednesday to draw up a strategy, after the surprising announcement on Saturday of the candidacy of Alberto Fernández with Cristina Fernández de Kirchner as vice president. For the time being, they maintain their intention to hold primary elections to appoint a candidate, regardless of Kirchnerism. The group, however, suffers waterways. The main one, the ambiguous position of Sergio Massa, leader of Alternativa Federal. Massa reiterates his intention to attend the primaries of his movement, but also declares himself willing to negotiate with Alberto Fernández, with whom he maintains a good personal and political relationship. If Massa approaches Fernández, Federal Alternative, which several provincial governors have already fled, it can be very weak.
The financial markets seem to have welcomed with concern the possibility of a return of Cristina Kirchner to power, even as a vice president. On Monday the peso depreciated against the dollar and the country-risk went up, although not significantly. In fact, many consider that the candidacy Fernández-Fernández, announced one month before the deadline, is nothing more than a strategic move with future developments. President Mauricio Macri is one of those who declare themselves skeptical. She thinks that the former president could withdraw her name once the Peronist unit was obtained, which would make things very difficult, in electoral terms, for Macrismo.