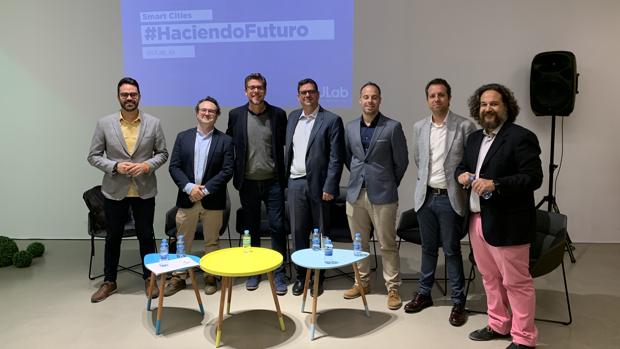 With a large audience attendance, the Alicante ULab coworking and entrepreneurship center has inaugurated this Thursday the cycle of forums "Making Future", with an event focused on the development in Spain of the so-called smart cities, in the Experts from different areas of public administration and representatives of private companies have participated.
Apart from transferring their projects and knowledge to the audience and sharing specific experiences, the round table led by Santiago Colomo, key account manager at Lynx View, highlights a unanimous conclusion: «the development of smart cities requires a greater degree of involvement and agility by the Public Administrations ».
Generalized opinion has been that while technology advances by leaps and bounds at cruising speed, the regulations that emanate from public administrations (which order the territory and its contents and are guarantors of urban growth), become obsolete in relatively short time , when they have not been reviewed for decades, which makes it difficult to implement systems, measures and technology that would make our cities more habitable and sustainable.
During the day there have been very clear cases of the news that arise almost daily in this line, with special attention to the advances for urban environments and services that citizens enjoy.
Santiago Julián, Business Development, Smart City and Public Segment Manager at SIGNIFY, for example, has highlighted the possibilities of energy saving for towns and cities to implement new lighting systems in a generalized way, without this implying any loss of quality of the light. "Quite the contrary, it is improved, and investments are also profitable." Far is still to adapt the cities for the arrival of 5G, which will impose an important deployment of antennas in the urban framework, not to mention the implementation of Wi-Fi via light.
As an example of development, Julian explained the case of Holland, where sensors are already installed that warn of excessive noise in the street, which automatically activate light signals to warn citizens of the inconvenience they are causing. Or Madrid, where it is already possible for a private individual to rent a sports court and turn on and off the light of the complex with a mobile application.
Antonio Sánchez, manager of technological and innovation projects at Hidraqua, emphasized that "we must manage cities differently, in all areas." "It is true," he said, "that Spain manages water resources well, but we go from periods of drought to support floods of water, and that is not managed with cutting-edge technology, which exists, and above all a well-defined strategy to achieve objectives, which coincide with the philosophy of smart cities ».
José Ramón García, editor of the Partial Plan «Ensanche Levante» of Benidorm, had to detail the details of a development that, from scratch, will take into account all the parameters that identify an intelligent city, «much more habitable, respectful with the environment and with all the technological advances within our reach ».
Adrián Santos Pérez, architect and city councilor of Town Planning and Heritage of the Alicante City Council, acknowledged that administrations work "too slowly", and that in most cases it depends on the criteria of the technicians or politicians on duty who apply those advanced technologies, "which will eventually prevail."
Mario Villar, director of the Valencian Institute of Tourism (Invat-tur), said for his part that the Generalitat Valenciana is determined to advance in the line of progress that will involve the application of technological advances and digital transformation, "also in the tourist destinations, because these advances will undoubtedly make the stay of visitors more pleasant, and will affect everything they do here, from the enjoyment of the beaches to the visit to natural spaces ».
The Provincial Council of Alicante has intervened Javier Gutiérrez, responsible for the departments of Infrastructure and Assistance to Municipalities. For him, so important is that the concepts and advances of smart cities are implemented in large municipalities such as medium and small ones. «The Electronic Administration facilitates the day-to-day of the town halls, and has to reach everyone, and that is a project that has to lead the Diputación, the only one capable of delivering technology to the entire territory. There must be a general and simultaneous coordination in all municipalities, because otherwise we will not advance along the desired line ». . (tagsToTranslate) ulab (t) smart (t) cities