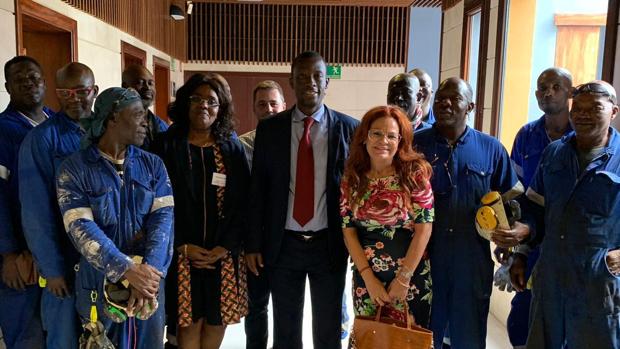 The minister responsible for economic promotion of Ghana, the liberal Kwabena Okyere Darko-Mensah, has expressed in a meeting with Ghanaian employees of Hidramar, a leading oil repair company linked to the islands, that "you are a pride to all Ghanaians for your work integration and good work ». The meeting has been held in Las Palmas de Gran Canaria.
These are workers who attend services of oil companies such as Chevron, Petrobras, Total, Seadrill, Kosmos Energy, Cairn Energy, Diamond Offshore, Tollow, Stena or Cols, who employ professional naval repair services in the ports of the Canary Islands. Kwabena Okyere Darko spoke one-on-one with Hidramar employees and learned about the company's plans to increase its service areas on the islands, legal security to invest in the Canary Islands, work-life balance, environmental practices and the incentives offered by this society anonymous in training.
In the presence of Ghana's ambassador to Spain, Elizabeth Adjei, and Hidramar executives, Darko-Mensah was interested in the prevention of occupational hazards, the non-temporality of labor and wages. He asked the company to "continue betting and training people in our country, counting on us as partners to provide solutions to our young people and maintain those standards of trust and working environment."
«I am pleasantly surprised»
Darko-Mensah, which advocates free trade and the elimination of barriers to business between the Canary Islands and Ghana
, participated this September in a business forum in Casa África with about thirty authorities, senior officials, diplomats and businessmen from Ghana. Some of Hidramar's employees come precisely from the minister's home environment. The Canary Island agenda of Kwabena Okyere included visits to companies in the tourism sector such as Poema del Mar (Grupo Loro Parque) and the site of the Port Authority of Las Palmas.
Kwabena Okyere was surprised «because I have been able to verify that there are team leaders from the country trained here, something that does not surprise me because our people are highly trained to meet the intensive demands in the port sector; but it is an example of how complementary our cultural and business markets are »
As noted by the minister, "Ghana is the most peaceful country in Africa, number one in democracy and an example for African nations" that is set in the Canary Islands because it allows "to establish trade relations to turn it into a door to Africa and headquarters of the intercontinental free trade platform and this case is evidence that we are on the right path ». . (tagsToTranslate) canary islands (t) (t) hidrmaar1