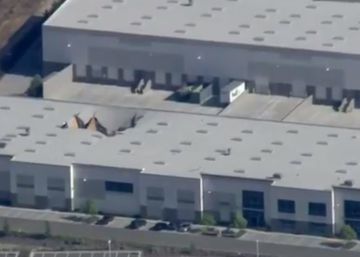 An F-16 fighter from the US Air Force crashed Thursday in the city of Riverside, California, during a routine training. The aircraft has collided with a warehouse located near the runway of the March Joint Air Reserve Base.
The authorities have confirmed that the fighter pilot is well after he was ejected from the aircraft before the collision occurred. According to the newspaper Los Angeles Times the accident was caused by a hydraulic failure at 15.45 (local time). In the warehouse there was a small fire and at least 12 people, including the pilot, have been moved to nearby hospitals, without endangering the life of any of them.
"An airplane has crashed into a building, the pilot has been ejected (from the aircraft) and is being medically evaluated, stay away from the area," the Riverside County sheriff's office said on Twitter.
(tagsToTranslate) f-16 (t) crash (t) california (t) base (t) military (t) pilot (t) save (t) life (t) be (t) ejected (t) aircraft (t) collision