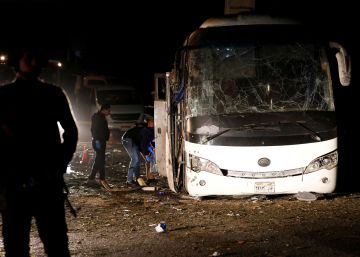 At least 12 people have been injured this Sunday in an attack on a tourist bus in Egypt. The blast occurred in the vicinity of a museum under construction near the Giza pyramids, two security sources said.
The sources also reported that most of the injured were foreign tourists, and that there were South Africans among them.
Mohamed El-Mandouh, witness of the attack, told Reuters he heard a "very strong explosion" when he was near the scene. Photos posted on social networks show a bus with broken window panes on a debris-covered road near a wall with a gap.
Last December three Vietnamese tourists and an Egyptian guide died and at least 10 others were injured when a bus was hit by an explosion less than four kilometers from the Giza pyramids.