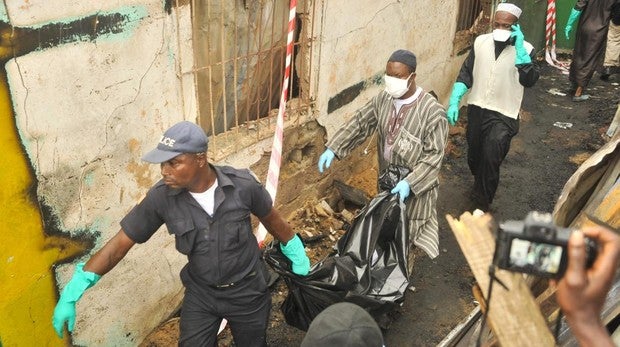 A fire in a Koranic school near the Liberian capital, Monrovia, killed at least 26 children and two teachers, according to the presidency.
The fire originated on the tin roof of the educational center, which includes a boarding school, during the early hours of Tuesday. The rescue services "indicated to the president that there were 28 fatalities." "They are between 10 and 20 years old and there are only two adults among the victims, two teachers," said Solo Kelgbeh, spokesman for the country's presidency to AFP. At the moment the cause of the fire is unknown. The information around when the flames originated is also not clear. While officials claimed that the children were sleeping at the time of the events, a police spokesman said it happened while they recited the Koran. Although at first there were 37 dead and two survivors, the number of deaths is unknown.
Family members gathered Wednesday in front of the entrance of the one-story building razed by fire.
The President of Liberia, George Weah, lamented the event through social networks: «My prayers are for the families of children who died last night in Paynesville in the fire of his school. This is a difficult time for the families of the victims and for all of Liberia. My deepest condolences, "Weah tweeted. «Families and the entire Islamic community. May God strengthen you and give you the courage to persevere. Let's keep the families in our prayers, "added the former professional footballer who won the presidential elections in January 2018.