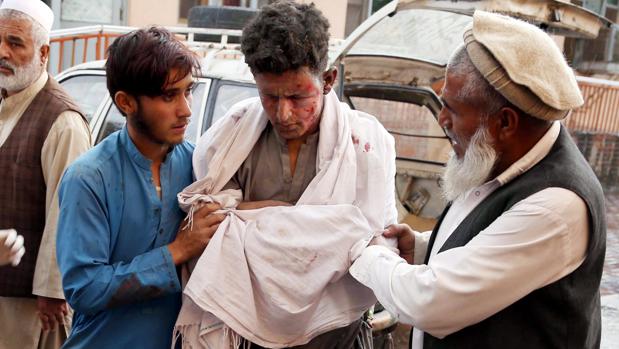 Violence hits Afghanistan again. At least 62 people died and another 32 were injured in an explosive attack on Friday in a busy mosque in the troubled province of Nangarhar, in the east of the country, according to the latest victim count. The Interior Ministry says it is a suicide attack.
"We have 62 people dead and 36 wounded, the explosion took place inside the mosque, but for now it is not clear if (it was) due to a suicide bomber or a bomb," Nangarhar governor spokesman Attaullah Khogyanai told Efe .
At the moment, the cause of the attack varies according to the official source consulted, as well as the number of victims.
The incident took place in the Haska-Mena district around 2:00 p.m. local time (09:30 GMT) when the place of worship was full of faithful on Friday's prayer, a Nangarhar Police spokesman, Mubariz Atal, told Efe .
The source, which reported 32 dead and 54 wounded, also said that, according to preliminary information available, there were two explosions shook the mosque.
"We are still not exactly sure of the cause of the explosions. Our team of researchers has been displaced to the area … and when they return we can share their report with the media, "said Atal.
The spokesman added that many of the injured have been transferred to the provincial hospital in the city of Jalalabad, the capital of Nangarhar.
The Government points to "the Taliban and their partners"
The Interior Ministry spokesman, Sediq Sediqqi, said that the explosion was due to a suicide bomber.
"The Afghan government strongly condemns today's suicide attack in a mosque in Nangarhar province," said Sediqqi, before accusing "the Taliban and their partners" of attacking the civilian population in places of worship.
No armed group has yet claimed responsibility for the attack, from which the Taliban were unmarked in a brief statement.
"A mortar attack or an explosion against a mosque in the Haska-Mena district of Nangarhar province is a great crime. The Islamic Emirate (as the Taliban define themselves) strongly condemns this cowardly crime, "said Taliban chief spokesman Zabihullah Mujahid.
The attack comes a day after the UN Mission in Afghanistan (UNAMA) warned in a report that violence in Afghanistan has been increasing in recent months.
Between July and September of this year, 1,147 people died and another 3,139 were injured, which is the number of civilian casualties in a single highest quarter recorded by UNAMA since it began counting these attacks in 2009. (tagsToTranslate) Afghanistan (t) mosque