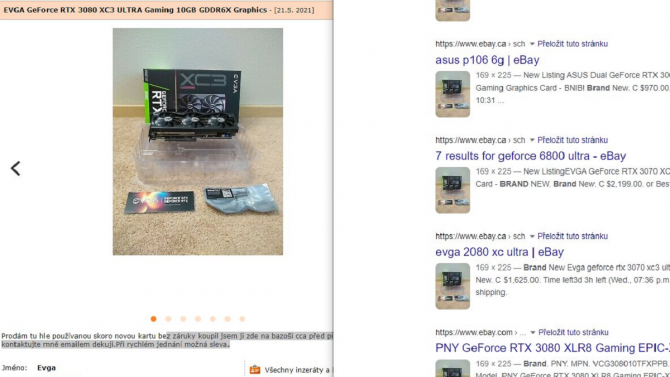 Fraudsters on the advertising portals Bazoš.cz and Sbazar.cz have recently focused mainly on insufficient graphics cards and other PC components, experts from Avast point out. The scammers on Bazoš offer, for example, suspiciously cheap graphics cards with delivery to your home. Avast employees also came across fake payment gateways and sites where fake advertisers requested Internet banking and payment card credentials.
"A page opens that summarizes your order in a foreign language and asks for your first and last name and phone number. This is highly suspicious. After entering this information, it will redirect you to a fake payment portal. The criminal wants all the information from your debit card and you have to state the balance of your account. Why? To know exactly how much money he can get. And he will definitely not hold back, "Avast describes in his blog the experience of one of the fraudsters.
One of the fraudulent advertisements on Bazoha captured by Avast.
The operator of Bazoš I'm working Smička he is aware of the occurrence of fraudulent advertisements and, as he told Lupa, the portal is trying to eliminate them. "We register similar scams and try to actively delete them and block users. Especially for expensive things, we always recommend users personal collection and in no case send money abroad. We try to prevent fraud by having to verify a Czech or Slovak phone number, even if the user responds to the ad. But we understand that this is not an insurmountable obstacle. "
Smička further adds that Bazoš warns the user against the services of Bazoš platba, Bazoš wallet or Bazoš kurýr, because there is no such official. "If I sell something, it is not possible to accept money for the card, as some fraudsters try to convince the user (in card fraud, the user thinks that he accepts money for the card and therefore sends a confirmation SMS from the bank). Unfortunately, we record cases where the user pays repeatedly in this way, and in our support he reports that he repeatedly leaves the money instead of coming, "explains Smička.
Sbazar registers less than a percentage of fraudulent advertisements per year
At the beginning of the year, experts from Avast also drew attention to fraudsters appearing on another large portal, the Sbazar. Here, fake advertisers enticed to sell expensive electronics, musical instruments or antiques. For example, grammatical errors or excuses from merchants can alert users to impending fraud. "Like the text of the advertisement, the messages sent contain machine translation characters. The attackers are trying to convince those interested in the good condition of the offered goods. However, the attackers refuse personal collection with an excuse to quarantine, instead offering the possibility of transport by courier service directly from Sbazar. However, Sbazar does not provide such a service, "Avast wrote on the blog.
"We have approximately two million active advertisements on the service, of which less than one percent are considered fraudulent each year," she told Lupa Aneta Kapuciánová, a spokesman for Seznam, which operates the Sbazar service, adds that the portal warns customers about the risk of fraudulent advertisements and what to look out for when buying.
"If we have reported fraudulent conduct on the service from our users, we immediately check the advertisement and its advertisers and, if necessary, block them. Due to the increasing frequency of attempts to place fraudulent advertisements recently, we will add a caution warning and a link to the Help, in which we advise you how to shop safely online and what to watch out for, as well as the Sbazar.cz main page, "says Kapuciánová provided that fraudulent advertisements are regularly checked by the portal administrators.