The reusable New Shepard suborbital rocket, developed by billionaire Jeff Bezos' Blue Origin company, successfully launched to the edge of space on Tuesday.
Photo: SITA/AP, Tony gutierrez

Launch of the New Shepard rocket, developed by Billionaire Jeff Bezos's Blue Origin Company, on Tuesday, July 20, 2021, from a base near Van Horn, Texas

After about eleven minutes of flight, the rocket and the detached module successfully returned to Earth. In addition to Jeff Bezos, three other passengers were on board, namely Bezos' brother Mark, 82-year-old pilot Wally Funk and 18-year-old recent high school graduate Oliver Daemen.
"That was amazing," Bezoz shouted into the radio after New Shepard landed successfully in the Texas desert. "The best day of my life," Bezoz added a few minutes later.
The multibillionaire and founder of Amazon has become the second super-rich in the universe. Bezos set out on his journey only nine days after Virgin Galactic founder Richard Branson.
The New Shepard is a suborbital rocket, meaning it has not reached Earth's orbit. However, the crew experienced a few minutes of reduced gravity at the top of the trajectory.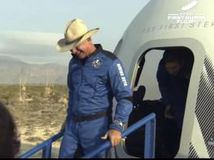 Read more
Bezos about flying to the edge of space: It was amazing
.