The coronavirus pandemic aroused cycling passions in the Czechs, everyone wanted to pedal, but there was nothing wrong with that. The wheels were a scarce commodity, the manufacturers lacked components imported from abroad. At that time, Varnsdorf began to manufacture custom bicycle saddles, somewhat unconventionally, using 3D printing.
The Posedla company from Varnsdorf in the Děčín region was founded in 2020 by two passionate cyclists. The idea was born out of a desire to have the ideal saddle for long bike rides. Because such a product was missing from the market, they decided to produce it. See custom production using 3D printing they want to start in the summer.
"We set ourselves the task of changing the way people select components for the bike. It is ideal to have components tailored to each person. The first product is a saddle, "said Jiří Dužár. The idea arose during cycling rides. "On long journeys, we thought there was something wrong with our saddles. Because they are mass-produced, they can never completely fit, "said Martin Řípa. It wasn't a long way from an idea to a business plan.
Who scooped up the covid billions? Carmakers, e-shops and casinos
Politics
The state paid out almost 50 billion crowns in the Antivir program. The recipients are quite surprising, in addition to the car giants, for example, sellers of electronics, clothing and Moravian casinos.
Read the article

In the company team Posedla they are also developers and marketing experts. Production is being prepared in the Šluknov foothills. "We are from Varnsdorf and after we have gained experience in various companies around the world, we thought it was time to go back and do something with the media image of the Šluknov foothills," said Řípa.
The saddles are already being tested, sales could start in three months. Meanwhile, the owners of the original start-up continue to enlighten the cycling public. "We publish our own podcast, we build a team and a brand, and we want to have customers who know what they want," said Dužár.
The name of the company originated as a pun. "It's just that the name includes everything up to the saddle. In the future, we would like to start the production of other components. We want to focus on the rider's contact points with the wheel, ie handlebars, saddle, pedals. If they are well tuned, negative health effects can be prevented, "said Dužár. "But first we want to do one thing properly, and that is the saddle now," Řípa emphasized.
The company received the Innovation Company of the Ústí nad Labem Region award for 2021 in the start-up category.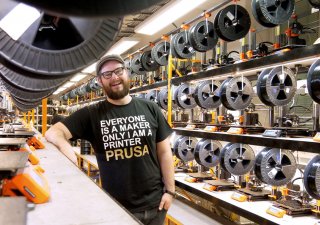 The king of 3D printing, Průša, controlled the Trilab company
Company news
Josef Průša, a newcomer among billionaires, entered the Trilab company in Hradec Králové. The parties stated in a press release.
Read the article