I don't know about you, but I've fallen deeply in love with peach in syrup again. None for years, sad laughingstock of Christmas baskets with few resources, it turns out that now the one so reviled by some sweet peach is saving our ballot. The can that was hovering around, dying of laughter in the darkest corner of the pantry, has suddenly given us a very fine, exquisite and unexpected pleasure and the cheating excuse of eating "fruit" without having to go to the greengrocer bounces, overlooking its syrupy and sweet essence. It is certainly not advisable to substitute fresh fruit for dumps of ditto in syrup, but almost as if we were in a nuclear bunker, cans of peach have unexpectedly become a luxury item and maximum enjoyment.
Peaches have therefore returned to their privileges since, as a gourmet product plan, they began to be marketed in the mid-19th century. The peach candy and even the preserved pieces of ditto had been known for a long time, but the then prevailing preservation conditions did not allow a long storage. Appert and Pasteur's research would open the door to food preservation through heat and hermetic packaging, discoveries that would not fall on deaf ears in Spain. The first initiative of canned vegetables was launched in our country José Gutiérrez de la Concha (1809-1895), Marquis of Havana, who had a famous farm called Vista Alegre in Albelda de Iregua (La Rioja) where he picked the peaches that he later ordered to be blunted to send to Cuba. Soon after, the Trevijano family would take over the business, specializing in vegetable soups, jams and canned fruits (including natural peaches and syrup) and turning Vista Alegre into one of the largest canning factories in Spain.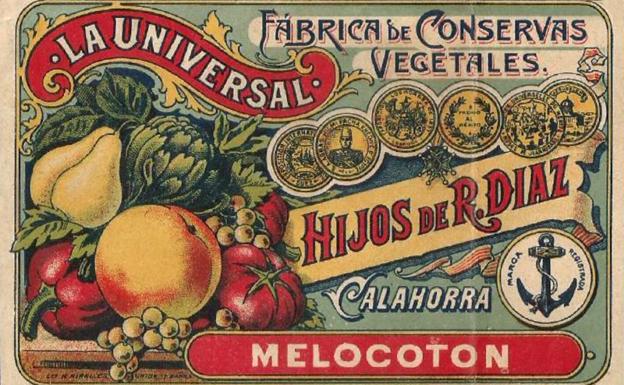 To get an idea of ​​how peaches had been used previously and of their different possibilities of conservation in the domestic environment, here is the method explained in 'El Amparo and its classic dishes', a Bilbao recipe book published in 1930 and work of the cooks Úrsula, Vicenta and Sira Azcaray Eguileor.
PEACH SWEET IN NATURAL
El Amparo and its classic dishes, 1930.
Firstly, a loose syrup is made; at the most, half a pound of sugar per quart of water (one quarter is enough), and allow to cool. Peaches are peeled and cut into stalks, as grown as possible; they are placed in the cans or bottles destined for it, immediately covering with the syrup, to avoid blackening. If they are cans, they are responsible for sealing the lids tightly and if they are bottles, they are corked the same. There are special ones with a wide mouth and a glass lid, which is attached by means of a rubber band, and are cooked in a pot on purpose. But if they are common, they are corked, trying to put them in the boiling water, standing between rags or straws, to avoid all contact with live fire, leaving them boiling for five to ten minutes. Then remove the pot from the heat, and leave, untouched, until completely cool. They are removed, and if they are corked bottles, they are smeared with paste, to prevent air from penetrating them. The corks, first class, and tie them well in the mouths with wire or bullet wire, so that they do not jump. The syrup that does not touch the cork, but remains three or four fingers below
Who does not know what to do with the peach in syrup in addition to eating it directly and happily from the can or with yogurt? If you have some knack in the kitchen and a few other fruits, you can try this baked fruit pudding recipe, published in 1929 in the magazine La Unión Ilustrada.
FRUIT PUDDING
The Illustrated Union, July 21, 1929.
Choose two beautiful pears, three red apples, peel them, remove the hearts and cut them into cubes. Add two or three equally cut peaches in syrup, three or four chopped biscuits, almonds, four yolks, 100 grams of fine sugar and a teaspoon of cinnamon. Mix everything well and add the whipped foam whites. Pour into a pan smeared with fat and cook in a bain-marie with moderate heat.
.