Bouzková was the first to lose service and lost 1: 3 in the introductory set, but then gained 11 games in a row and advanced to the quarterfinals for the third time in the season. She reached the semifinals in Guadalajara in March, was in the finals in Melbourne in February, but did not win her first title on the second try either.
In Birmingham, Bouzková will play with Coco Vandeweghe for the semifinals. The American, who eliminated Kristýna Plíšková in the first round, defeated Ajla Tomljanovičová from Australia today.
Federer dropped out in Halle
Roger Federer's attack on the eleventh title on the grass in Halle ended in the second round. The 39-year-old Swiss tennis player lost to Félix Auger-Aliassi, 19 years younger, 6: 4, 3: 6, 2: 6 and did not make it to the quarterfinals for the first time at the 18th start of the local tournament.
The twenty-time Grand Slam champion managed the first game on the grass surface in the opening round since 2019 and did not lose a hundred with the qualifier Ilja Ivaška. Against the young Canadian, however, the fifth seeded Federer made too many mistakes and lost the first duel after the fight.
Federer, returning from knee surgery, has played only three tournaments this year. After advancing to the round of 16, Roland Garros resigned so that he could recover and prepare for his favorite Wimbledon.
Veselý will not win the fourth title in Prostějov
Czech tennis number one, 71st player of the ATP world rankings Jiří Veselý will not win the fourth title at the international clay tournament Moneta Czech Open in Prostějov. In the second round of the challenger, which he won like Jan Hájek and Radek Štěpánek three times, he was not good enough for the German Tobias Kamke, to whom he lost in two sets 6: 3, 6: 4.
Jiří Veselý at the tournament in Prostějov.
Ludek Perina, ČTK
On the other hand, Zdeněk Kolář, who eliminated Vít Kopriva 6: 3, 7: 6 (3) in the purely Czech duel, and 18-year-old Dalibor Svrčina, who dealt with the Austrian Alexander Erler 6: 1: 7: 5, advanced to the quarterfinals. Another Czech Michal Vrbenský lost to the fifth seed Hugo Dellien from Bolivia smoothly in two sets 1: 6, 2: 6.
Twenty-seven-year-old Veselý dropped out on Roland Garros in the opening round and last week failed to qualify on the grass in Stuttgart, where he wanted to start preparing for Wimbledon. He wanted to improve his self-confidence in Haná. But with Kamek, who is 169 places worse on the ATP rankings, he pulled for the shorter end and crashed.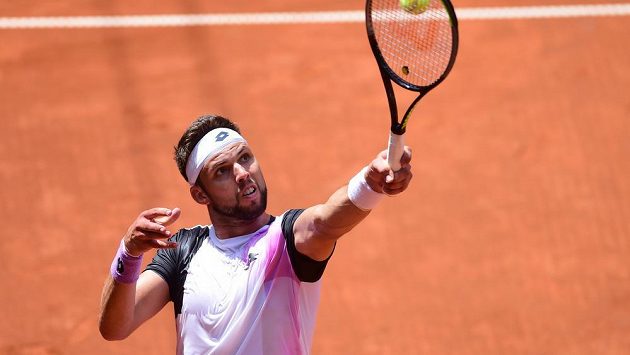 Czech tennis player Jiří Veselý will not win the title in Prostějov.
Ludek Perina, ČTK
"From the beginning to the last ball I struggled, I fought by myself. Whenever I could play something, I always kicked my opponent back with my own mistakes. Whatever I did, it didn't work, "disappointed Veselý immediately after being eliminated.
"My performance here in Prostějov cannot be evaluated otherwise than badly. Expectations were different and most importantly, my game was to be different, "he admitted. He will try to find the lost rhythm in the grassy yards first in Mallorca and then in Wimbledon. .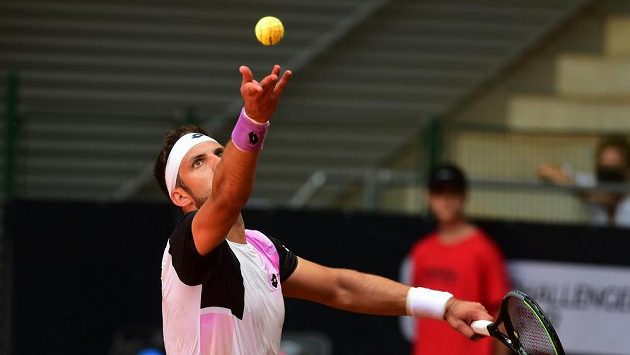 Jiří Veselý in the second round of the tournament in Prostějov.
Ludek Perina, ČTK
Kolář was in a completely different mood. However, Nettle did not give him the procedure for free. "He spoiled Víťa more in the first set, but in the second he started to play better, his machine game, which I expected. He has it that way. The longer the match, the better it gets, and that's confirmed. That's why I'm very happy that I ended it in the tie-break of the second set. Now I need to eat well, sleep, regenerate. I'm well prepared, I still have the strength, even though I also play doubles here, "said the satisfied Kolář. He will share it with Kamek to advance to the semifinals.
Young Svrčina was also happy. He, too, sweated a lot with the Austrian Erler only in the second set. "I feel great here, I know it here, the audience cheered great, so I was very motivated. Erler is a great shooter. So I went into a fight with it, playing every balloon, but not to kill me. It worked out and he stopped believing in the exchanges, and thus he helped me, especially at the end of the second set, "Svrčina knew.
In the quarterfinals, he will face the 87th player in the ATP rankings, in Prostějov with the tournament trio of Italian Gianluca Mager. "He plays fast, he is experienced, he makes minimal mistakes. It's great that after a year I can play with the player of the world's top 100 again, "the Ostrava native rejoiced.
BIRMINGHAM (grass, $ 235,238 grant):
Singles – Round 2:
Bouzkova (8-CZ) – Garciaová (Fr.) 6:3, 6:0
Watson (British) – Chang Shui (6-China) 5: 2 ret
PROSTĚJOV – Challenger Moneta Czech Open (clay, subsidy 66 460 euros) – matches with Czech participation:
Singles – Round 2:
Svrčina (ČR) – Privates (Rak.) 6:1, 7:5
Wheeler – Nettle (both CR) 6: 3, 7: 6 (7: 3)
Kamke (DEU) – Cheerful (2-CR) 6: 3, 6: 4
Dellien (Bol.) – Vrbenský (CZE) 6: 1, 6: 2
HALLE (grass, subsidy 1 455 925 euros):
Singles – Round 2:
Rublev (4-Rus.) – Thompson (Austr.) 6: 4, 6: 4
Auger-Aliassime (CAN) – Federer (5-Switzerland) 4: 6, 6: 3, 6: 2
Kohlschreiber (DEU) – Moutet (Fr.) 6: 4, 7: 6 (7: 4)
Giron (USA) – Struff (DEU) 6: 7 (1: 7), 6: 3, 6: 4.
LONDON (grass, subsidy 1 290 135 EUR):
Singles – Round 2:
De Minaur (4-Austr.) – Millman (Austr.) 6: 1, 6: 3
Norrie (Brit.) – Karacev (5-Rus.) 7:5, 6:2
Draper (Brit.) – Bublik (Kaz.) 7:6 (7:5), 7:6 (7:0)
Čilič (HRV) – Fognini (8-It.) 6: 3, 7: 6 (7: 4)
BERLIN (grass, subsidy 456 073 euros):
Singles – Round 2:
Keys (USA) – Sabalenkova (1-White) 6: 4, 1: 6, 7: 5
.