THE LIST OF THE MORNING
In the early days of music festivals, decades ago, things were simple to identify them. The genre and the city were enough. Little by little, the names were inventive, fanciful, enigmatic. The music list of La Matinale has identified six, organized in the coming days and weeks, with an animal theme in common.
The 3 Elephants, May 22 to 26 in Laval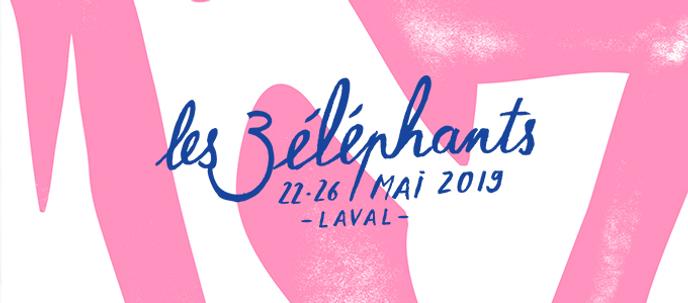 In 2018, the festival Les 3 Elephants fulfilled its objectives by attracting nearly 30,000 spectators to concerts and street performances scattered throughout Laval.
For his 22e edition, around the theme of optical games, the urban and multidisciplinary event (concerts, street arts, shows and scenography) extends its scope of action starting Wednesday, May 22 for five days of festivities. With a musical program focused around Friday and Saturday, which highlights the new talents, be it from the rap scene with the Frenchman Josman and the Belgians Caballero & JeanJass, the electro pop of Malik Djoudi and Flavien Berger, or the rock stripper of Lysistrata and Psychotic Monks. Some headliners too: the godfather of the French electro scene Etienne de Crecy with his new Space Echo concept, with spectacular scenography, as well as the singers Clara Luciani and Jeanne Added.
Beyond thirty appointments, free shows are planned in the city on Saturday and Sunday. And always concerts in secret places (reservation in advance). Franck Colombani
The 3 Elephants, Laval, May 22-26. 32 € for rent, 35 € on the spot. Saturday May 25th complete.
Moths, June 7 to 9, in Saint-Laurent-de-Cuves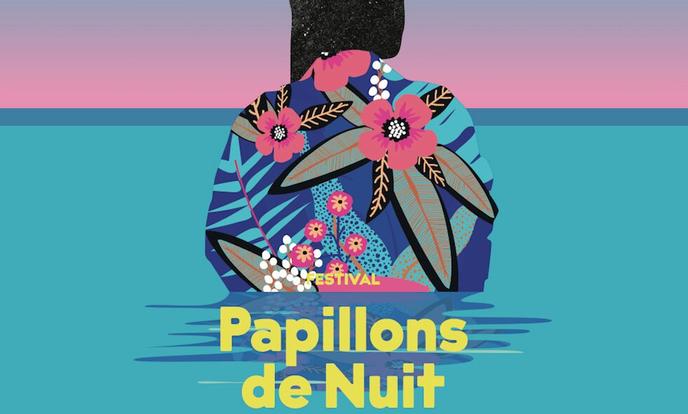 Venerable institution in the Channel, the festival Papillons de nuit succeeds each edition with the feat of gathering for three days nearly 70 000 festival-goers in the small village of Saint-Laurent-de-Cuves. A spirit of conviviality that has been combining nineteen years now with a program that refuses to compromise between the general public and the contrast of genres (electro, hip-hop, rock, French song …).
Thus, this 2019 edition, scheduled from June 7 to 9, offers a mix of popular singers (Kendji Girac, Zazie, Three Gourmet Cafés, Big Flo & Oli, Master Gims …), prestigious laureates (Orelsan, Eddy Pretto, Clara Luciani , Arnaud Rebotini), and a plethora of young talents. Among them, the Dutch rock duo KO KO MO, the furious English Yak, the incandescent Prince Miiaou, the pop poetry of Voyou, the Creole blues stripper Delgrès or the star of hip-hop Jazzy Bazz. F. C.
Moths, in Saint-Laurent-de-Cuves (Manche), from June 7th to 9th. € 40.
Biches, in Cisai-Saint-Aubin, from June 14th to 16th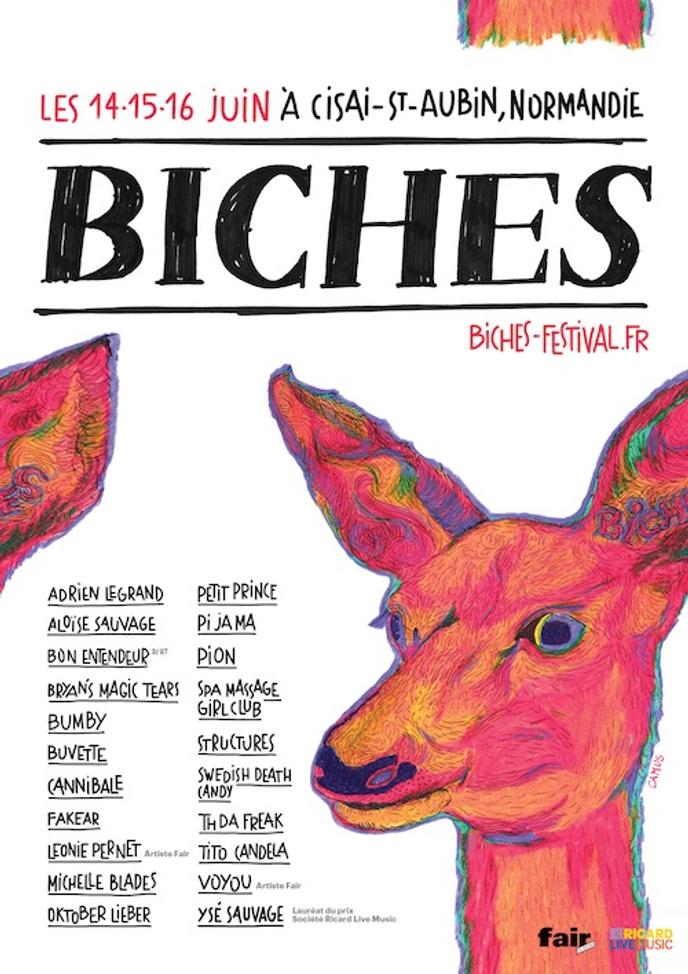 This is the fourth edition of this human-sized festival, which has set its tonnage at 3,000 spectators for its three days, from Friday, June 14 to Sunday, June 16, has specialized in highlighting the new French scene and claims to have received " before everyone " Taxi Therapy, Fishbach or MNNQNS.
With, in the poster of the event led by the association Super Biche with the production structure Octopus (which makes two animals for the same event in our selection) … Pop side: Adrien Legrand, Voyou, Pi Ja Ma, Léonie Pernet, Bumby, Ysé Sauvage. Rock side: Structures, Da Freak, Swedish Death Candy, which has nothing Swedish but comes from London, Bryan Magic Tears, Cannibal (whose singer Nicola Camus has created the poster of this edition). And electro side: Fakear, Oktober Lieber or Little Prince. Side unclassifiable: the singer, actress, circus and Aloise Sauvge dancer. Sylvain Siclier
Biches at Clos des Biches, in Cisai-Saint-Aubin (Orne), from June 14th to 16th. 25 € (pre-sale) and 30 € (on the spot) per day, festival package 40 € (presale) and 45 € (on the spot), free access for children under 12 and Sunday 16 June.
A monkey in summer, Mayenne, June 28 to 30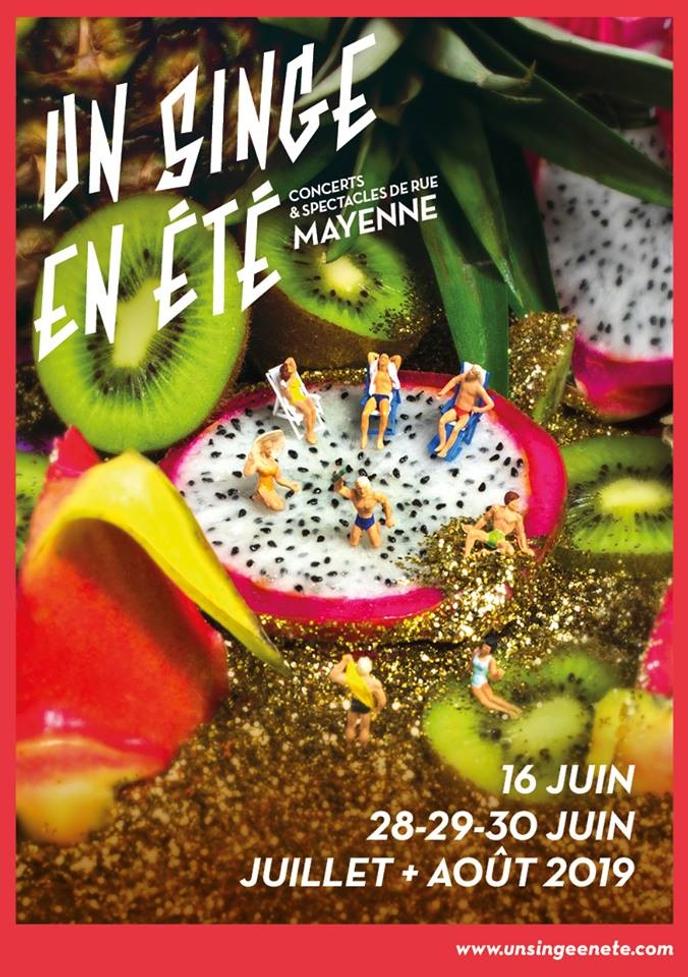 Summer season of the city of Mayenne, the second, behind Laval, department, with street shows, concerts, entertainment, A Monkey in summer is also a festival organized for three days.
Opening Friday, June 28, a program rather electro and rap with Yuksek, Dope St. Jude, Arthur Ely and Dampa. Saturday, June 29, trend rather pop and rock with Voyou, Arrow Love, Pongo, Parquet, Structures, 2MASE. Sunday, June 30 day to live with family with several proposals for children including circus, dance, and the group Francky Goes to Pointe-à-Pitre and Cyril Cyril. S. Si.
Monkey in summer, castle park and place Juhel, Mayenne (Mayenne), from June 28 to 30. From € 5 to € 7; free access Sunday, June 30th.
Pete The Monkey, in Saint-Aubin-sur-Mer, from July 11 to 13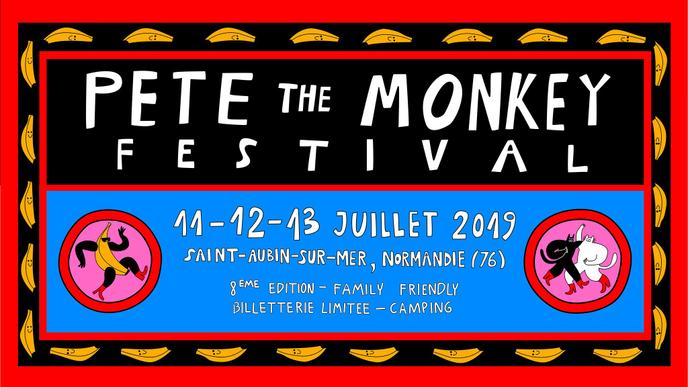 Near a beach on the Alabaster coast, in a grassy and wooded enclave, Pete The Monkey, named after the association dedicated to the protection of Amazon monkeys, intends to be "Small and nice" with its festival site likely to accommodate around 1,000 spectators. Daycare, conferences, activity booths, dance, theater, tree sets and musical programming at the forefront of electro, song and rock.
This year are expected Kirin J Callinan, a figure of Australian indie rock, the Quebecois Hubert Lenoir, the London electro duo Otzeki (Mike Sharp, vocals and Joel Roberts, keyboards), the singer Charlotte Adigéry, the electro universe quite whimsical (his song Paténipat), the Belgian singer Claire Laffut or the Finn Bobby Oroza, beautiful voice dedicated to invoking the wonders of the soul of the 1960s (his album This Love has just been published by Timmion Records). S. Si.
Pete The Monkey, in Saint-Aubin-sur-Mer (Seine-Maritime), from July 11th to 13th. € 40.70 on Thursday, July 11th; 45,10 €, Friday 12 and Saturday 13 (waiting list for these two evenings).
Feathered dog, in Langres-Villegusien lake, from August 2nd to 4th

Feathered dog, in Haute-Marne presents, since its creation, in 1997 – that year with four groups in one day – as "The smallest of the big festivals". He strives to offer a diversity of genres, with musicians from many territories.
The program for this edition, from Friday 2nd to Sunday 4th August, is faithful to this line with the Spanish group Ska P, which mixes ska's dance impulse with punk energy, rock bands MNNQNS, Johnny Mafia and Thé Vanille, the trio folk-song Three Gourmet Cafés, the hip-hop of the Belgians L'Or du commun and Caballero and JeanJass, the group Hocus Pocus, hip-hop tinged with jazz, the reggae of the Ivorian singer Tiken Jah Fakoly, the slam song with Grand Corps ill, Suzanne's electro pop or Catastrophe.
The event is a few hundred meters from Lake Villegusien, with its beach, one of the four expanses of water surrounding Langres. S. Si.
Feathered dog at Villegusien lake, Langres (Haute-Marne), from August 2nd to 4th. From € 31 to € 37; three days package from 57 € to 72 €.
React or view all comments