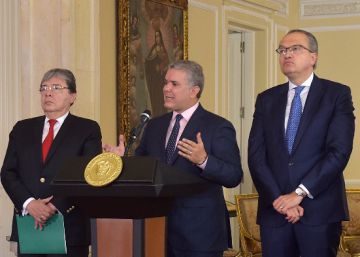 Colombia, by far the main destination of the exodus fleeing the Venezuelan social, political and economic crisis, has taken a new step to address the migration emergency. The Colombian president, Iván Duque, has signed a resolution on Monday so that thousands of children of Venezuelan parents already born in Colombian territory can obtain nationality and thus avoid the risk of becoming stateless.
The administrative measure covers about 24,000 children born in Colombia since August 19, 2015 who have an entry in their civil birth record as proof of nationality. Also to those born in Colombian territory during the following two years from the entry into force of the norm. The only way to date to obtain Colombian nationality by birth is that at least one of the parents is a national or, in the case of being a foreigner, proving to be domiciled in the South American country, which greatly hinders their obtaining for Children of irregular migrants.
"Today Colombia shows the world once again that, although we have fiscal limitations and an income per capita of less than 8,000 dollars, much lower than that of European countries that have faced migration crises, we also know how to make fraternity a feeling of solidarity ", Duke said in a statement from the House of Nariño – the Government Palace – in which he has taken advantage to request, once again, greater collaboration from the international community. More 1.4 million Venezuelans live in Colombia, according to the latest data from immigration authorities.
Colombia decided to adopt the measure when it "found that there were insurmountable obstacles" so that these children could obtain Venezuelan nationality, the Colombian presidency said. Venezuela has no consulates in the neighboring country, after both governments broke ties and Duke, a fierce critic of Nicolás Maduro, recognized as interim president the opposition leader and head of the National Assembly Juan Guaidó. Accompanied by Foreign Minister Carlos Holmes Trujillo, the registrar Juan Carlos Galindo, the ombudsman Carlos Negret and the attorney Fernando Carrillo, the president called the decree a "great inter-institutional effort of the Colombian State." The measure is consistent with the Constitution, which gives preponderance to the rights of children.
According to the United Nations office in the Andean country, it is a "fundamental decision to prevent the risk of statelessness of thousands of girls and boys born in Colombia, children of Venezuelan parents". The UN also greeted her as "a breakthrough in the guarantee of children's rights." Statelessness affects millions of people in the world, who, having no recognition or protection from any State, are frequently victims of discrimination and find serious limitations on access to their rights to health, education, mobility, inclusion and participation in society .
.