Korea Football Association

The Korean women's soccer team advanced to the quarterfinals as 2nd place in the Asian Football Confederation (AFC) 2022 Asian Cup Group C final match 3 draw with Japan.
The national team, led by coach Colin Bell, drew 1-1 in the group stage against Japan at the Siri Sib Chhatrapati Sports Complex in Pune, India on the 27th. Japan has been a strong team that has reached the Asian Cup semi-finals since 1986 and won the championship in 2014 and 2018. Held every two years, Korea has never won the Asian Cup every four years since 2010. Korea's best performance was 3rd in 2003. Korea, which is inferior to Japan with 4 wins, 10 draws and 17 losses, is also ranked 18th in the FIFA ranking, lower than Japan (13th).
Korea and Japan were tied with 2 wins and 1 draw (7 points), and they were ranked by goal difference. Korea advanced to the quarterfinals as 2nd place in the group after Japan (+8) with +5. In this tournament, 12 countries are divided into three groups to play a group stage, and the top two teams with the best results out of the 1st, 2nd and 3rd places in each group advance to the quarterfinals.
South Korea faced a crisis by conceding a goal less than a minute after the whistle to signal the start of the match. After Shiori Miyake received a long ball from the rear, Riko Ueki received it, then broke through the Korean players and shook the net with a right footed shot. Korea was shaken by an unexpected blow and did not show a threat throughout the first half. In the 27th minute of the second half, Lee Min-ah (Hyundai Steel) was replaced by Choi Yu-ri, and in the 37th minute of the second half, Son Hwa-yeon (Hyundai Steel) and Seo Ji-yeon (Han Su-won) were put in to reverse the mood. After a corner kick in the 40th minute of the second half, Seo Ji-yeon equalized and saved the team from crisis. Seo Ji-yeon's debut goal was scored in the fourth match of Match A.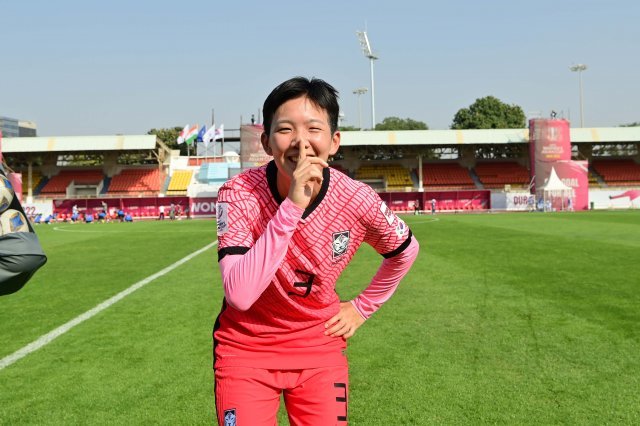 Seo Ji-yeon
"The 1-1 draw with Japan gives confidence to the team," Bell said. The top five will qualify for the 2023 Women's World Cup final.
Group C 2nd place Korea will meet in the quarterfinals with the 1st place in Group B on the 30th. It is highly likely that they will face Australia, which is on a two-game winning streak in Group B. Australia is such a strong team that they lost to Japan in 2014 and 2018 to finish runners-up. In the group stage of this tournament, they won 18-0 against Indonesia and 4-0 against the Philippines, demonstrating their status as a contender for the championship.
By Kim Jeong-hoon, staff reporter hun@donga.com