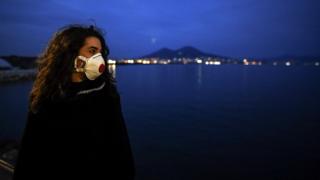 Italy has announced a ban on public gatherings across the country, in addition to tightening restrictions on travel and movement, with the death toll from the spread of the Corona virus spread to 463 people.
Prime Minister Giuseppe Conte urged all Italians to stay in homes and not leave them except when going to workplaces or under an emergency situation.
Schools and universities are scheduled to close until early April.
The Olympic Committee decided to suspend sports activities until at least April 3. The decision includes the Italian Football Association Committee, but it will not apply to clubs and teams participating in international championships.
"This situation has no precedent in history," the Olympic Committee said in a statement.
What are the symptoms of Corona virus and how to protect yourself from it?
Italian Sports Minister Vincenzo Spadafora has criticized the Premier League's neglect of its calls to suspend its matches with the deadly virus outbreak.
He said it was illogical to continue playing football matches after 16 million people were quarantined in northern Italy in an attempt to contain the spread of the virus.
Italy is the country most affected after China by the spread of the Coruna virus, with the death toll increasing by 97 cases to 463.
On Monday, six prisoners died amid turmoil in Italian prisons after the authorities suspended all visits.
Currently, about 16 million people in northern Italy need to obtain a permit before traveling under the applicable quarantine rules.
According to the Italian authorities, the average age of death from the Corona virus is 81.4 years.
The virus is especially dangerous for the elderly and those with health problems, and Italy has one of the largest proportions of the elderly in the world.