The corona virus is currently keeping the whole world and thus central Switzerland in suspense. The overview of the so-called Sars-CoV-2 virus in the live ticker and sorted by cantons.



the essentials in brief

There are currently 48 confirmed cases in Central Switzerland (as of March 13): 5 in the canton of Nidwalden, 18 cases in the canton of Lucerne, one in the canton of Obwalden, 9 in the canton of Schwyz, 2 in the canton of Uri and 13 in Zug.
The Federal Council decided on Friday, March 13, 2020 to extend the ban on events by another seven weeks. This means that events with more than 100 people are not allowed until April 30, 2020. You can find an overview of the canceled and postponed events in Central Switzerland here.
The federal government has that Infoline corona virus set up. You can register here: +41 58 463 00 00. The hotline is available 24 hours a day.
8:09 a.m.
Ski areas Titlis and Hoch-Ybrig open
(spe) "Based on the Federal Council regulation of March 13, 2020, that is Engelberg-Titlis ski area open until further notice », it says on its website. In the restaurants, too, the regulations are adhered to. In the ski area Hoch-Ybrig are according to information on the Website all systems in operation. However, it is said that a maximum of 49 people can be transported at the same time in the Weglosen – Seebli cable car. And a maximum of 50 people, including staff, are allowed in the restaurants.
Ski lifts on Melchsee-Frutt closed – gondola lift and shuttle in operation
Due to the Federal Council's decision on Friday, the operation of the ski and chair lifts can no longer be offered, reports the Melchsee-Frutt ski area on his Website. The gondola lift (Stöckalp – Melchsee Frutt) and the aerial tramway (Distelboden – Bonistock) would operate normally.
07:16 a.m.
Lucerne City Library, Ruopigen Library and Adliegenswil Library closed
(spe) The Lucerne City Library and the Ruopigen library are already closed. From Monday onwards, too Adligenswil library closed until further notice. There are also no events in the libraries. During the closure, media whose loan period expires do not have to be brought back. There are no reminder fees. Current information is available on www.bvl.ch
8:21 pm
The season is also over in Sörenberg and on Klewenalp
(jvf) Other central Swiss ski areas are ceasing to operate immediately: the mountain railways in Sörenberg and Klewenalp are at a standstill. The websites of Engelberg-Titlis and Melchsee-Frutt show that the two ski areas are still open at the weekend.
7:27 pm
Ski Arena Andermatt-Sedrun and Mörlialp end the season
(jvf) The Ski Arena Andermatt-Sedrun is forced to stop operating immediately, according to a message. Due to the requirements set by the Federal Council, safe operation for employees and guests is no longer possible. The ski area too Mörlialp ends the season immediately.
6:59 p.m.
Lucerne University of Applied Sciences completely stops studying
(jus) Following the decision of the Federal Council, the Lucerne University of Applied Sciences decided to completely interrupt the course of study in training and further education from Monday, March 16 to Sunday, March 22, 2020. After that, classroom instruction will be replaced by alternatives until April 4, 2020, for example online formats.
During the next week, students in training and further education receive detailed information about how their studies will continue after the interruption. Access to all buildings of the Lucerne University of Applied Sciences is normally possible until further notice.
6:52 p.m.
Schwyz parents should take care of the school children
(sda) Even the Schwyz children and adolescents can no longer go to school because of the corona virus. For the time being, this means that the lessons are canceled and that Parents would have to step in for childcare themselvesannounced the State Chancellery. However, the cantonal department of education wants to work with the schools to check "if and in what form childcare facilities could be set up".
6:50 p.m.
All performances in the Luzen theater canceled
(sda) At the Lucerne Theater, the show will cease immediately. No events will take place on the main stage until April 30th, as the Haus an der Reuss writes on its homepage.
The events of the Lucerne Theater, which take place in smaller venues, have been canceled until and until March 16. Until then, it should be clarified whether small events are possible in the box or in the puppet theater.
6:36 p.m.
(jus) Roche produces devices for faster corona tests in Zug. B. Braun in Sempach produces disinfectants – and is currently unable to supply all customers due to the sheer number of orders. You can find out how the two companies deal with the current situation in this article.
6:26 p.m.
Government of Lucerne informs: Municipalities have to offer childcare
(jus) The Lucerne government council informed about measures in the canton of Lucerne on Friday evening. There is one here Live ticker for reading.
The schools will be closed until after the Easter holidays. The canton makes the municipalities responsible for the necessary care recipients. Municipalities have to offer childcare for single children of kindergarten, kindergarten and primary school age, education director Marcel Schwerzmann told the media on Friday. "But we assume that these will only be used in exceptional cases." Whole schools should not be sent to external care.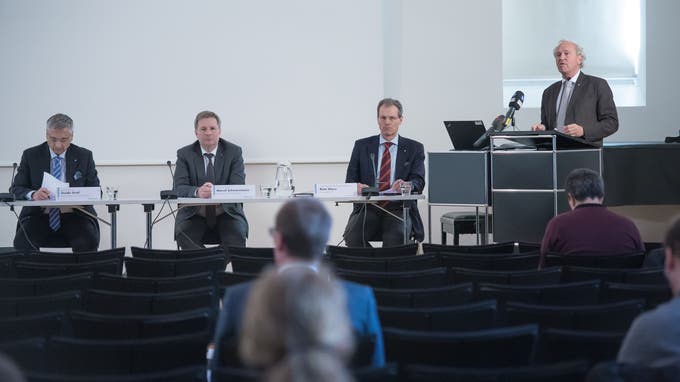 6:07 p.m.
30 percent less sales due to Corona virus: GastroLuzern calls for pragmatic solutions
(jus) In a media release, GastroLuzern draws attention to the effects of the Corona virus on gastronomy in Central Switzerland. A large part of the restaurateurs are facing an unprecedented liquidity concern, according to the association of the Lucerne restaurateurs.
"The phone rings continuously in all restaurants and hotels."
"Cancellations and postponements in the second half of the year will be accepted," the statement continues. A decline in sales of at least 30 percent is the rule.
The association writes that the measures of the BAG are understandable and must be implemented. Hotel and restaurant businesses may only be open from Monday, March 16, 2020 if fewer than 50 people are in the restaurant at the same time.
In this situation, GastroLuzern demands quick and pragmatic solutions from the cantons and the federal government. Specifically, the association wants deferrals of payments for all claims, an unbureaucratic introduction of short-time work also for entrepreneurs and their spouses and securing the liquidity of SMEs.
5:44 pm
Aegeribad closed until further notice
(jus) Due to the current situation, the indoor swimming pool in Oberägeri will be closed from Saturday, March 14th until further notice. Those responsible will inform you as soon as possible about the reopening.
5:40 p.m.
18 corona virus cases in Lucerne
(jus) In the canton of Lucerne, the number of corona virus infections has risen to 18. The State Chancellery announced this on Friday evening.
5:12 p.m.
Fumetto Festival 2020 canceled
(jus) This year's Comix Festival in Lucerne falls victim to the Corona virus. The organizers announce that the decision was "heavy-hearted". The next edition of the festival is scheduled for next year from March 20th to 28th.
4:48 p.m.
Lucerne Festival: Spring weekend canceled due to corona danger
(stg) All events of the spring weekend TEODOR from April 1st to 4th, 2020 were canceled on Friday. According to the organizers, postponement to a later date is not possible for logistical reasons.
The tickets will be refunded. The Lucerne Festival ticket office can be reached by email at ticketbox@lucernefestival.ch and by phone at +41 41 226 44 80.
4:33 p.m.
From Monday onwards, Zug students will receive distance learning
(jus) According to the instructions of the federal government, no classes can take place on-site until April 4. The students in Zug stay at home and receive distance learning, as the Directorate of Education announced on Friday. The schools themselves are responsible for the organization of distance learning, the transition and parent information.
4:26 p.m.
Mall of Switzerland remains open
(jus) Misinformation from an unknown source is currently circulating on social media. It says that the shops of the Mall of Switzerland in Ebikon would close until further notice after the store closes. This is wrong, as the mall says:
"The Mall of Switzerland continues to operate normally and the shops are still open."
The restaurants, sports center, cinema and surfing facility would adhere to the guidelines of the Federal Council.
4:15 p.m.
The curtain remains closed: the Stans Music Days do not take place
(jus) After consultation with the health department of the canton of Nidwalden and further clarifications, the OK of the Stanser Musiktage is forced to cancel this year's festival. Those responsible write this in a message. «Of course it is painful and infinitely sad to cancel a largely prepared festival. But the global events exceed the small world of SMT, »it continues.
The 25th edition of the Stanser Musiktage will take place from 13th to 18th April 2021. The full order value including all shipping and payment fees will be refunded to guests. You will be contacted in the coming days.
3:54 p.m.
Luga 2020 canceled
(jus) This year's Luga from April 24th to May 2nd will be canceled. The organizers will announce this on their homepage. "It is bitter for all those involved who have worked hard for Luga and who use the fair as an important sales and marketing channel," says the homepage. "The health of our exhibitors, visitors, guests, partners and employees is our top priority."
According to the organizer, the exhibitors and partners support the decision. The next Luga will take place from April 30 to May 9, 2021.
3:45 p.m.
No Lucerne City Run 2020
(jus) The 43rd Lucerne City Run on Saturday, April 25th will not take place. The Spread of the coronavirus COVID-19 makes it impossible to hold the event, as those responsible say on Friday afternoon. The organizers support the officially prescribed measures to protect the population.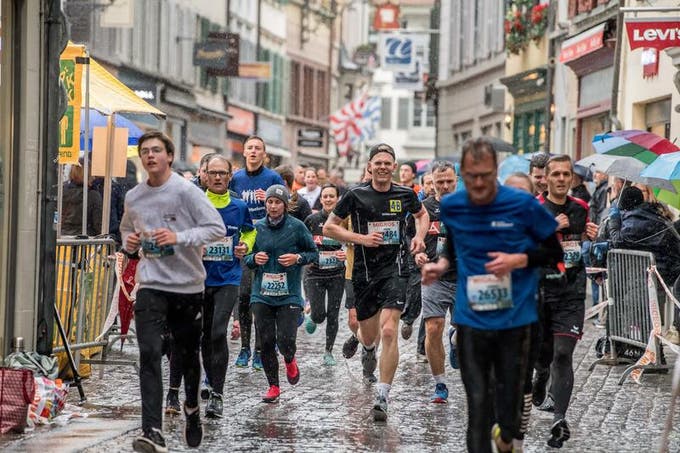 President Beat Schorno is quoted in the media release as follows:
"The health and safety of all stakeholders is always a top priority."
The organizer will contact the registered runners and inform them about how to proceed. Already paid starting places will remain valid for 2021. The next city run will take place on Saturday, April 24, 2021 in Lucerne's old town.
3:36 p.m.
Lucerne Cantonal Council session from 16./17. March canceled
(jus) "Compliance with the social distancing rules of the Federal Council would not be possible in the cantonal council hall and a relocation would be disproportionate in view of the non-urgent agenda list": This is how the cancellation of the cantonal council session from 16./17. March justified in a media release sent on Friday afternoon. The Federal Council had banned events with more than 100 participants. The Federal Council regulation would provide for exceptions to the ban on events for parliamentary meetings. However, in order to protect its members, the management does not make use of this exception clause. President of the Cantonal Council Josef Wyss states:
"In view of the nationwide ban on assembly and the further strict measures that will severely affect public life, it is not responsible for the cantonal council to hold its meeting"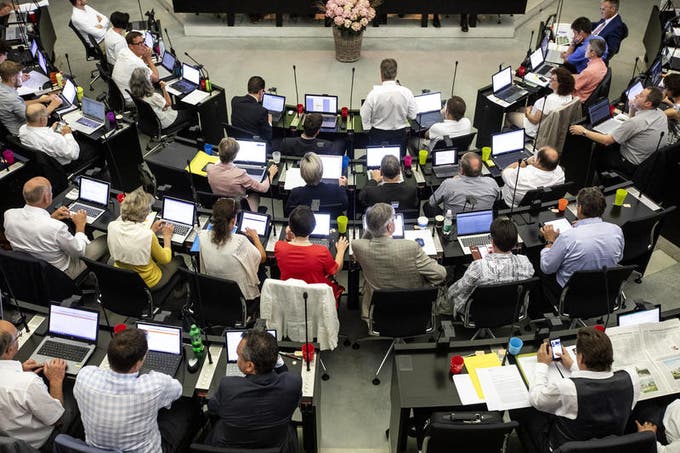 The next session in May should take place in a larger room. It was also extended by one day. The next time the cantonal council is expected to be on 11/12. and May 18.
2:58 p.m.
Lucerne Cantonal Hospital prohibits visits
(fi) The Lucerne Cantonal Hospital (Luks) has decided: From today, Friday, March 13, 6 p.m., visits to all three locations of Lucerne, Sursee and Wolhusen will continue until further notice. The cantonal hospital will inform you of this upon request. Exceptions apply to special patient situations: Visits from parents to children, from partners to women who give birth, and from close relatives to dying people or patients in need of support are also permitted.
At the moment, the Lucerne Cantonal Hospital is busy making compromises with people who meet the test criteria of the Federal Office of Public Health (BAG).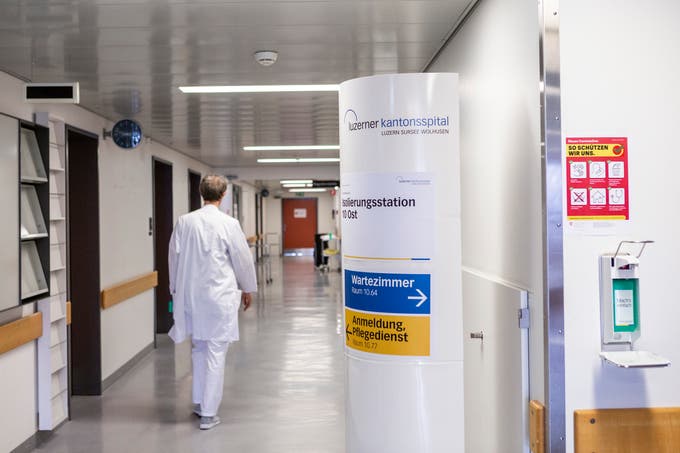 The Luks crisis team anticipates that the number of cases that must be hospitalized in the isolation ward will increase significantly over the next few days and weeks. "In order to be optimally prepared for this situation, the places for Corona patients are being expanded at all three Luks locations," said Philipp Berger, Head of Corporate Communication. For example, the isolation station in Lucerne that was opened last week has now been expanded from the 10th floor east to the 10th floor west and there are also several beds in Sursee and Wolhusen especially for Corona patients. «In addition, an expansion of the intensive care beds is currently being planned. Additional capacities can be activated at short notice. »
As of next week, members of the cantonal Samaritan associations can be deployed to the isolation ward in Lucerne in the outpatient area. "The mission has been approved by the Swiss Samaritan Association and a corresponding survey is ongoing."
2:44 p.m.
Economy in the canton of Lucerne under pressure: 82 applications for short-time work already approved
(avd) The corona virus is forcing more and more companies to work short-time. To this end, the Canton of Lucerne has already approved 82 applications so far this morning. The responsible Lucerne authority WAS-Wira will announce this upon request. The companies come from the sectors of gastronomy, hotel industry, tourism, event area and watches / jewelry. 73 further applications are still being processed. A total of 109 companies in the canton of Lucerne have a permit for short-time work, 27 of them for reasons that are not related to the Corona virus.
1:54 p.m.
Lucerne Spitex conducts corona tests – Spitex President: "Solidarity within the workforce is sensational"
(fi) Spitex has been supporting the Lucerne Cantonal Hospital in carrying out corona tests since last week. "Spitex employees have already made the necessary smear on the pharynx mucosa, as shown by the exchange with some organizations," says Jim Wolanin, President of the Spitex Cantonal Association. There are currently no patients with corona infection in the 31 Lucerne Spitex organizations with compulsory care and their employees (as of Friday morning). If there were any cases, they would be communicated through the cantonal health department.
"In order to protect our staff in the best possible way, any unnecessary dangers are avoided," says Wolanin, FDP cantonal councilor and social leader from Neuenkirch. For example, you forego team meetings and cancel personnel events. "At present, all organizations are still adequately equipped with masks, protective materials and disinfectants." But because the material is becoming scarce throughout Switzerland, employees are encouraged to "handle it carefully".
Based on existing hygiene concepts and previous experience – for example with the Noro virus – the Spitex organizations are currently well positioned. The workload currently corresponds to the seasonal average. "But the Spitex organizations are examining to what extent they can increase their resources," said Wolanin. "The managers at Spitex feel a great deal of solidarity within the workforce, which is sensational."
1:27 p.m.
SP Luzern calls for the immediate extension of short-time work allowances to temporary jobs
(lil) In the sectors most affected by the corona pandemic, many people work on a temporary basis. This includes temporary work, work on call, home work and bogus self-employment. These employees are partially poorly secured and excluded from short-time work compensation, the SP writes. To make matters worse, due to the virus, the labor market situation offers hardly any opportunities to return to work within a useful period.
Consequently, the goal must be that people in temporary employment can stay with their employers. The SP warns of the psychosocial impact on those affected and of social and health costs for the canton of Lucerne. For the costs, the fund of short-time work allowances and, for example, the additional National Bank funds can be used. According to the SP, the government council must act immediately and present effective solutions.
1:05 p.m.
First corona case in Obwalden
(jus) Now the Canton of Obwalden has its first confirmed Corona case. A 25-year-old woman was infected within Switzerland, as the health department of the Canton of Obwalden announced on Friday afternoon. The woman showed mild symptoms and was isolated at home. Another woman and five men have positive initial findings, the report said. However, the analyzes of the reference laboratory are not yet available. All those affected are doing well according to the circumstances.
People in close contact with those affected were informed about the infection and placed in quarantine at home. Other possible contact persons are identified, contacted and, if necessary, also quarantined.
12:56 p.m.
President of Lucerne's general practitioners confirms: Patients act sensibly
(avd) After the Willisau family doctor Alexander von Kiparski, Beat Thoet now says that there has been no rush to the practice because of the corona virus. Thoet is co-president of the Lucerne Family Practice Association and runs a practice in Emmenbrücke.
«We have slightly more calls. During the visits to the practice, the operation is normal. »
Everyday business continues to dominate. Thoet also confirms that supplies of protective masks and disinfectants are slowly becoming scarce.
12:38 p.m.
End of season also for roller hockey fans
(lil) The central committee of the Swiss Rolling Hockey Association takes the following measures: The Swiss Championship 2019/20 including the Swiss Cup will be canceled in all categories with immediate effect. In addition, there are no more regional selection training sessions. The national team training sessions will also be suspended until further notice.
11:58 a.m.
Session of the Uri district administrator is canceled
(jus) As a result of the Corona virus, the council of the Uri district council, in consultation with the group presidencies, has decided to cancel the session on March 18, 2020. Business will be postponed to the April 22, 2020 session.
11:42 a.m.
Visits to the cantonal hospital in Obwalden and Uri are prohibited
(jus) Visits are now banned at the Obwalden Cantonal Hospital. The hospital restaurant is also closed to visitors. The hospital anticipates this preventive measure in order to keep the health risks for patients and staff as low as possible, reports the hospital. Patients in extraordinary situations such as parents of children, partners of parturients and close relatives of dying or needy patients are excluded from the regulation.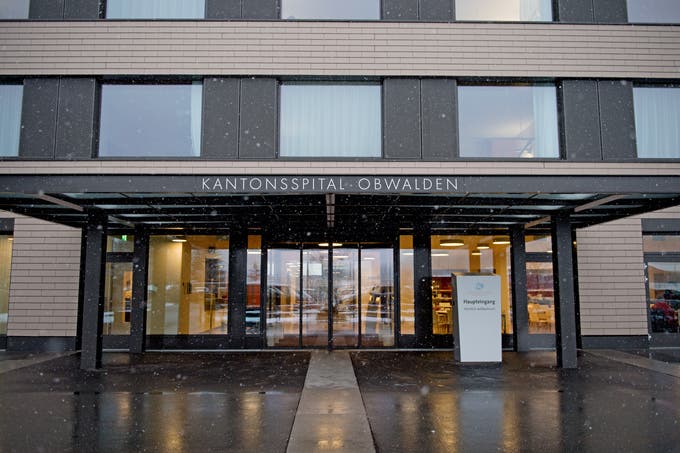 The Uri Corona Virus special staff also bans visits to the cantonal hospital, all retirement and nursing homes and institutions for the disabled in the canton of Uri. This applies from now until April 30, 2020, as stated in the communication. The management of the corresponding institutions can grant exceptions for individual patients in justified individual cases. In the cantonal hospital, however, a maximum of two visitors can visit a patient at the same time. The message also states that residents are only allowed to move around the nursing home.
11:22 a.m.
Institut Montana Zugerberg changes to distance learning
(jus) From Monday, March 16, 2020, until the beginning of the Easter holidays on April 3, the Montana Zugerberg Institute will switch to distance learning. The institute writes on the homepage: "Since, according to the statements of the authorities, we cannot expect immediate support from the canton in the event of a suspected case or a confirmed infection, the school management had to decide on further measures." In addition to the day students, the institute also bears responsibility towards the boarding students. "We therefore have to act immediately to minimize risks as much as possible."
11:18 a.m.
Lucerne family doctor worries about supplies
(avd) If you have flu symptoms stay at home and call your family doctor: This recommendation from the federal government is likely to give many medical practices extra work. Not with Alexander von Kiparski. He runs the Städtlipraxis in Willisau and is President of the Luzern-Land medical network. "We receive a little more calls than usual, but fewer patients come by," von Kiparski says. Most patients would stay home on their own, but a few would come over anyway. Then the protective mask is reached. But according to the family doctor, the supply is running out:
"We still have a few old ones from swine flu."
Von Kiparski hopes that supplies from the canton of Lucerne will come soon. It doesn't look any better with the disinfectant: "We only have one liter left."
10:53 a.m.
Media training center closes until Easter
(jus) On its website, the MAZ announces that the school will be closed from Monday, March 16, through to Monday, April 13. During this time there are no courses in the media training center in the city of Lucerne. Should the federal government set a longer deadline later, this would be taken over, the school of journalists continues.
10:35 a.m.
13 cases in Lucerne
(jus) Thirteen suspected cases have been confirmed in Lucerne, as the canton announced on its website (as of March 12). The canton emphasizes that the capacities of the hospitals and laboratories should be available for high-risk patients and severe cases. People with mild flu symptoms are asked not to go to the hospital, but to call their family doctor.
10:12 a.m.
Lucerne civil protection in continuous use
(jus) The cantonal civil protection formation has been in use almost continuously since the end of February to advise private individuals, associations and organizations on a central telephone number and to issue permits. Civil protection also includes contacting people under Quarantaine and asking about their health. The video below gives an insight into the day-to-day work of the headquarters:
7:20 p.m.
First cases in Uri
(stg) The first two corona virus cases became known in the canton of Uri. Read more about this here.
6:09 p.m.
The SP City of Lucerne has canceled its general assembly planned for Friday evening. An alternative date will be checked, the party writes in a message. Radio Pilatus also has to cancel an event. The Ü30 pop cellar hit party on March 13 does not take place. You can find more information about events in our Central Switzerland Overview.
1:58 p.m.
Uni Luzern now only offers digital courses
(zfo) All lectures take place at the University of Lucerne from March 16 to at least the end of the Easter holidays (April 20) only digital instead. The entire university operations – research, teaching, further education and the work of the administrative units and services – continue to run seamlessly. In the past few days, the technical prerequisites had been created and the personnel capacities were made available. "The rapid spread of the corona virus is also a concern of the University of Lucerne," says the university on its website. At the same time, everyone who is enrolled should be able to continue their studies without interruption and not lose a semester.
Read more about it here.
1:24 p.m.
Nottwil closes indoor pool SPZ
(zfo) The indoor pool SPZ in Nottwil is closed until further notice. This is due to the Corona virus, as the community of Nottwil says on its Website writes. The SPZ will inform you about the cancellation of the measures on its website or by posting at the entrance to the swimming pool.
1:13 p.m.
Avoid home visits
(zfo) In Uri, the Corona special staff wants to protect people with an increased risk of complications. He asks relatives, friends and acquaintances of residents to reduce their visits to the home businesses and instead intensify telephone contact. Read more about this here.
There are now nine corona cases in the canton of Schwyz, as the Federal Office of Health wrote in a report.
12:14 p.m.
Political parties react
(zfo) The virus also poses a number of questions for cantonal politics. The FDP Canton of Lucerne has submitted an urgent initiative to secure jobs and the CVP City of Lucerne will adapt its campaign strategy in the next two weeks.
By means of the urgent request, FDP cantonal councilor Patrick Hauser wants to clarify where exactly the government sees opportunities for short and long-term job security and how the government can help the federal government so that the federal government can use all possible instruments for the benefit of the economy in a timely manner. For these reasons, the FDP also wants to know from the government in its advance whether a statement can already be made about the economic damage in the Canton of Lucerne and which sectors are affected.
Because of the virus, the CVP City of Lucerne is relying on even more intensive telephone marketing and from now on no stand campaigns will be carried out, the party said in a message.
12:00 o'clock
Krienser company is confused with the health department
(zfo) The Kriens company Brunner Medien is currently in great demand due to the corona virus. At least their website. The address is namely www.bag.ch and could therefore attract many people who are looking for the website of the Federal Office of Public Health (BAG). For this reason, a lot more has been going on for two weeks, with around 500 hits a day, says Managing Director Roland Dahinden Radio Pilatus. Otherwise there were 200 to 400 hits per day. The company registered the web address over 20 years ago.
The company currently writes on its website: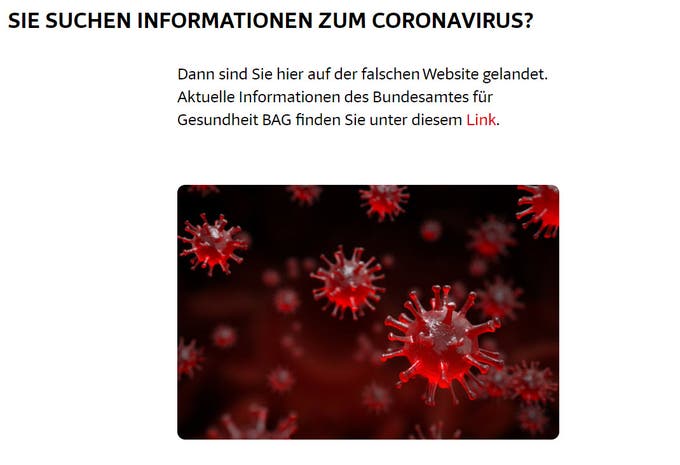 11:50 a.m.
Heilpraktikerschule Luzern introduces live stream
(zfo) In response to the spread of the corona virus, the Heilpraktikerschule Luzern has set up a live streaming. The courses are broadcast by webcam from seven classrooms. There are up to 14 courses per day, the school writes in one Message. Courses in which patients are present and treated are not transferred.
Until further notice, all courses will take place at the Lucerne University of Applied Sciences, according to the university at its website. Events and concerts that are not part of the regular course of study were approved until March 15. They are currently clarifying how to proceed with the cantonal authorities.
11:35 a.m.
Lucerne homes with visitor restrictions
(zfo) The Lucerne homes are well prepared for the virus, writes Curaviva, the cantonal association of nursing homes in the canton of Lucerne website. In the event of an infection, this person would be isolated and a visit ban to the home would be issued.
No visiting ban, but the Sonnmatt nursing home in Lucerne has taken a precautionary measure. The nursing home asks visitors with flu-like symptoms and all children under 15 to refrain from visiting. At the moment, however, there is no suspected corona and all necessary preventive measures have been taken to protect guests, visitors and employees, said the home on his website.
Viva Luzern AG, which includes the elderly and old age centers Dreilinden, Eichhof, Rosenberg, Staffelnhof and Wesemlin, has canceled the public events on its premises until further notice. External parties are asked not to visit the restaurants of the homes. Residents and their relatives are excluded.
11:12 a.m.
Eleventh case in Zug
(cb / zfo) In the canton of Zug, the number of confirmed cases has meanwhile increased to eleven. All people in their homes are still isolated because the health of the infected is good. The Zug authorities also report that they are focusing on the protection of particularly vulnerable people. What this means exactly read here.
10:48 a.m.
Digital lectures at the University of Lucerne
(zfo) «An der Universität Luzern läuft der Lehrbetrieb zurzeit normal weiter», sagt Sprecher Dave Schläpfer auf Anfrage. Es wurde die Taskforce «Arbeitsgruppe Corona» eingesetzt, welche die Lage laufend beobachtet und beurteilt. Diese sei bestrebt, die Arbeit in Lehre und Forschung soweit immer möglich sicherzustellen.
Damit Studierende, die vorübergehend keine Vorlesungen und Kurse besuchen können – beispielsweise solche mit einer Vorerkrankung – weiter studieren können, werde das digitale Angebot ausgebaut. Zunächst werden die Vorlesungen, die in den drei grossen Hörsälen stattfinden, ab spätestens Montag, 16. März digital zugänglich gemacht. In welcher Form genau, sei noch nicht spruchreif, so Schläpfer. Die Studierenden würden über die Details rechtzeitig informiert. In einer zweiten Phase sollen spätestens ab Montag, 23. März, Lösungen für kleinere Vorlesungen und Seminare zur Verfügung gestellt werden.
Die Sonderregelung, dass Rückkehrende aus Risikogebieten wie Italien nicht mehr ins Uni-Gebäude können, wurde am 10. März aufgehoben. Dies weil das Bundesamt für Gesundheit keine betroffenen Risikogebiete mehr definiert.
Die Diplomfeier der Kultur- und Sozialwissenschaftlichen und die der Rechtswissenschaftlichen Fakultät musste zudem abgesagt werden. Weitere Informationen zu Veranstaltungen finden Sie hier.
10:35 Uhr
Sitzung verlegt
(rk) Das Luzerner Stadtparlament verlegt seine Sitzung wegen des Virus in den Kantonsratssaal. Im engen Luzerner Rathaus lassen sich die Abstands-Regeln des Bundes kaum einhalten. Deshalb tagt der Grosse Stadtrat heute im Regierungsgebäude. Dieser ist für 120 Parlamentarier ausgelegt – der Grosse Stadtrat zählt hingegen nur 48 Mitglieder. Selbst die fünf Stadträte, die für einmal am Regierungspult sitzen, tun dies mit grossem Abstand zueinander.
Auch wenn die Sitzung wie geplant durchgeführt wird, so haben Besucherinnen und Besucher diesmal keinen Zutritt – auch dies eine Massnahme im Rahmen der Corona-Abwehr. Zugelassen sind einzig die Medien. Die Luzerner Zeitung informiert Sie heute Donnerstag stets aktuell über die wichtigsten Debatten und Beschlüsse aus dem Rat.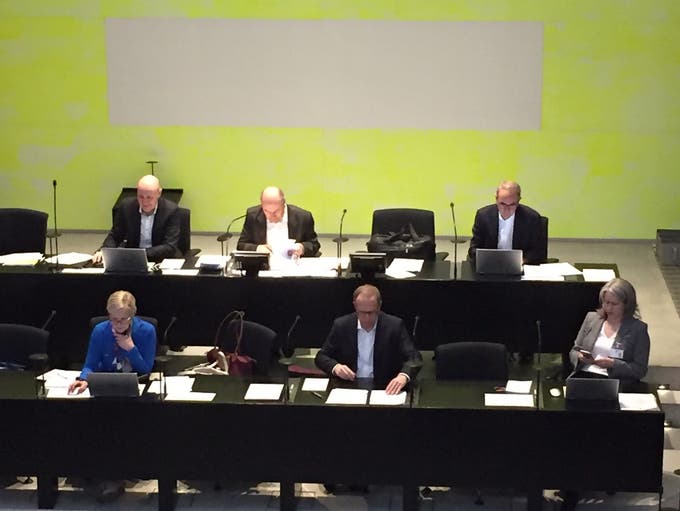 18 bestätigte Corona-Virus-Fälle
(sda/jus/zfo) Im Kanton Luzern ist das Corona-Virus weiter auf dem Vormarsch. Die Zahl der infizierten Personen hat sich auf 18 erhöht (Stand 13. März). Die Schulen werden bis zu den Osterferien geschlossen. Der Regierungsrat verpflichte die Gemeinden, ein Betreuungsangebot für einzelne Kinder im Kita-, Kindergarten- und Primarschulalter anzubieten, sagte Bildungsdirektor Marcel Schwerzmann am Freitag.
Der Luzerner Regierungsrat hat aufgrund der Corona-Pandemie am Freitagabend eine «besondere Notlage» ausgerufen. Zu deren Bewältigung wurde der kantonale Führungsstab eingesetzt. Bis Ende April dürfen Hotels und Restaurants mit mehr als 50 Plätzen nur dann offenbleiben, wenn sich nicht mehr als 50 Personen gleichzeitig im Lokal befinden und die vom Bund erlassenen Vorschriften zu Hygiene und Abstand eingehalten werden. Bewilligungen für Veranstaltungen von mehr als 100 Personen sind aufgehoben.
Im Kanton Luzern treffen die wirtschaftlichen Auswirkungen des Coronavirus neben den exportorientierten Unternehmungen und dem Detailhandel besonders stark die Tourismusbranche. Auch die Messen und die Event- und Veranstaltungsbranche erlitten grosse Einbussen.
Der Luzerner Regierungsrat appelliert an den Bund. Das Eidgenössische Departement für Wirtschaft, Bildung und Forschung (WBF), die Nationalbank und die Geschäftsbanken sollen gesamtschweizerisch koordinierte Massnahmen prüfen, teilte die Luzerner Regierung mit. Man habe ein entsprechendes Schreiben an das Generalsekretariat der Konferenz Kantonaler Volkswirtschaftsdirektorinnen und -direktoren (VDK) geschickt.
Cantonal pharmacist Stephan Luterbacher from Lucerne answers readers' questions:
13 bestätigte Corona-Virus-Fälle
Im Kanton Zug sind bis anhin 13 Corona-Virus bestätigt (Stand 13. März). Nach dem Entscheid des Bundesrats vom Freitag bleiben die Schulen im Kanton Zug ab Montag geschlossen. Die Schülerinnen und Schüler blieben zu Hause und würden Fernunterricht erhalten, teilte die Zuger Bildungsdirektion mit. Geschlossen bleiben die öffentlichen und die privaten Schulen, aber auch die Sonderschulen und die Schulen der tertiären Bildung.
Der Zuger Regierungsrat sorgt sich um mögliche wirtschaftliche Folgen der Corona-Krise. Die Volkswirtschaftsdirektion habe eine Arbeitsgruppe eingesetzt, die die Lage laufend prüfe, teilte die Gesundheitsdirektion mit. Die Zuger Wirtschaft sei zwar gut aufgestellt, doch sei davon auszugehen, dass einzelne Unternehmen von den negativen Folgen der Pandemie betroffen sein würden.
2 bestätigte Corona-Virus-Fälle
Am 12. März wurden die ersten beiden bestätigten Corona-Virus-Fälle im Kanton Uri bekannt. Die Behörden halten sich an die Vorgaben des Bundes. Veranstaltungen über 100 Personen dürfen somit bis auf Weiteres nicht durchgeführt werden.
Der Urner Sonderstab Corona-Virus hat am Freitag ein Besuchsverbot für das Kantonsspital, alle Alters- und Pflegeheime sowie Behinderteninstitutionen im Kanton erlassen. Dieses gilt ab sofort bis vorerst 30. April 2020.
Das Skigebiet Andermatt-Sedrun hat die Saison am Freitag beendet.
5 bestätigte Corona-Virus-Fälle
Im Kanton Nidwalden sind fünf Personen positiv auf das Corona-Virus getestet worden. Drei davon sind miteinander verwandt. Es handelt sich um eine 32-jährige Frau sowie um zwei Männer im Alter von 31 und 60 Jahre. Ein Mann befindet sich derzeit in Spitalpflege.
Das Skigebiet Klewenalp-Stockhütte hat die Saison am Freitag beendet.
1 bestätigter Corona-Virus-Fall
Am 13. März wurde der erste Corona-Virus-Fall im Kanton Obwalden bestätigt. Eine 25-jährige Frau hat sich innerhalb der Schweiz mit dem Corona-Virus angesteckt. Bei einer weiteren Frau sowie fünf Männern besteht ein positiver Erstbefund.
Derweil trifft auch das Kantonsspital Obwalden Massnahmen: Ab sofort sind Besuche verboten. Ebenfalls ist das Spital-Restaurant für Besucher geschlossen.
Das Skigebiet Mörlialp hat die Saison am Freitag beendet.
9 bestätigte Corona-Virus-Fälle
Bei den drei ersten bestätigten Corona-Virus-Fälle handelt es sich um einen Mann (26) und um zwei Frauen im Alter von 43 und 55 Jahren. Eine Person ist im Spital Schwyz hospitalisiert und zwei Personen befinden sich in betreuter Quarantäne zu Hause. Allen drei Personen gehe es den Umständen entsprechend gut.
Stand Freitag, 13. März (12:30 Uhr), sind im Kanton Schwyz gemäss Zahlen des BAG neun Corona-Virus-Fälle bestätigt. Bei einer Person liegt ein erstes positives Resultat vor, eine Bestätigung ist noch ausstehend.
Alles zur aktuellen Lage in der Schweiz und Infos rund um das Corona-Virus inklusive Übersichts-Karte hier im Ticker: