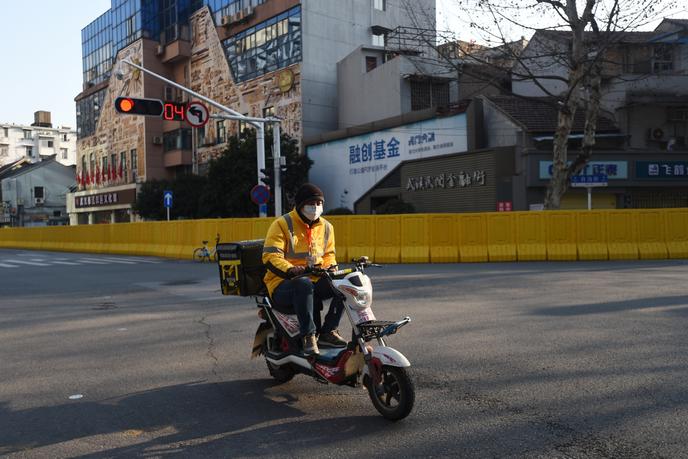 The sound resonates a little, but the image is good. Alone in a fitness studio, Christine Fang goes up the knees while counting in a loud voice against the background of ultra-rhythmic pop music. Mme Fang is a coach for the Z & B Fitness studio in Shanghai, which tries to keep in touch with its clients, despite the restrictions, with this improvised online course, filmed on smartphone. During the coronavirus period, attendance at restaurants, tourist places, schools or sports halls was prohibited in China. But, thanks to the Chinese web giants, the inhabitants of the Middle Kingdom were able to transfer part of their activities online: meal and shopping deliveries have exploded since the end of January, as has the consumption of video games, distance work and online courses, from public schools to fitness studios.
Behind these services, the Chinese Internet giants, who could benefit from the crisis, such as during the epidemic of severe acute respiratory syndrome (SARS): Alibaba, the online sales champion, launched its Taobao platform in 2003, at the heart of the epidemic. Today, Alibaba, Tencent, champion of social networks and video games, Meituan, leader in meal delivery and services, ByteDance, creator of TikTok, or Baidu, the main search engine and number one online videos with iQiyi all record increased traffic.
Article reserved for our subscribers

Read also
China hopes the worst of the coronavirus epidemic has passed
But they are not profiting from the crisis in the same way. Tencent, whose services are mainly digital, has lost nothing on the stock market since the start of the crisis, while Alibaba, whose main activity is the sale of physical goods on its Taobao and Tmall platforms, has lost 8.8% on Wall Street, and Meituan fell 11.7% in Hong Kong since January 17, just before China recognized that the virus was spread between people.
"Online education could progress at least 50%"
All players in the services and industry with little online presence are suffering the blow, while the country's gross domestic product (GDP) could fall by 2.5% in the first quarter, compared to the previous three months, according to the Japanese investment bank Nomura. The holidays have been extended by ten days, until February 10, in most provinces and, since then, the resumption of activity is subject to inspections by the authorities and the availability of workers, sometimes trapped in their provinces. 'origin, or subject to forty fourteen days upon their return. The 56 million residents of central Hubei are still stranded at home.
Digital tools allow at least some companies to maintain a semblance of activity, but not always to earn money. "We offer our courses for free, because, anyway, the application [de streaming vidéo en direct] Yizhibo, which we use, does not allow billing for sessions, explains Siri Nordheim, co-founder of Z & B Fitness. We especially try to maintain the link with our customers, by offering them these videos. "
All the sectors that can do it are going digital. Schools in China, closed until further notice, have launched online courses. "Classes are suspended, but not learning", the education ministry said in a statement in February. He has published 22,000 online courses on 22 platforms, from elementary to university.
Article reserved for our subscribers

Read also
Coronavirus: a strange economic recovery in China
Most schools organize the lessons themselves, to keep in touch with the students and ensure their participation. But this change in practice is difficult: "Teachers are not familiar with these devices and cannot communicate well with students through a screen", said Lu Senglin, founder of Guiding Light Wisdom Bank, a firm that advises schools and online education companies to develop courses. Since the start of the crisis, he has seen the needs increase by 300%. "All this demand for the sector cannot be met, but I think online education could grow at least 50% this year," he believes.
"We are seeing the emergence of a quarantine economy"
"We are seeing the emergence of a quarantine economy: people are trying to recreate their usual activities thanks to digital tools. It's not specific to China, but the Chinese were better prepared for it: mobile payment was already very widespread, there were a lot of live streaming sites, " analyzes Michael Norris, a technology specialist in China for Agency China, a Shanghai consultancy agency. Since the start of the crisis, the average time spent every day by Chinese people on the Internet has increased from 6.1 hours before the Lunar New Year holidays to 7.3 hours just after, according to the company. QuestMobile market analysis report.
Alibaba, founder of the main online work application, DingTalk, which claimed 200 million users in 2019, was even a victim of its success: on February 3, too many connections blew up its servers. But not sure that these new customers will stay in the long term, in a country where chefs are used to being on the backs of their employees to improve their productivity.
Article reserved for our subscribers

Read also
China, almost paralyzed by coronavirus, approaches recession
"I think the work culture is not ready. The conditions either: most of the young employees live in roommates with three or four people, and work on a corner of the bed, or on the only table in the apartment with two other people ", adds Michael Norris. Online sales, affected by logistics problems at the start of the crisis, could benefit from the difficulties of physical trade in the medium term. " [Celui-ci] will suffer for a long time: imagine the consequences for the image if someone was contaminated at Louis Vuitton? Getting people back to physical stores will take time: how do you convince them that touching the bags and trying on clothes is not dangerous? How will brands do, will they distribute gloves, disinfect clothes? There are so many problems to solve… "