Counter-Strike: Global Offensive is more popular than ever. For the first time since its release in 2012, Valve's competitive FPS gathered more than a million connected players at the same time.
It is more exactly a peak at 1,007,756 players which was observed yesterday, Saturday March 14, around 3 p.m. A rare performance: on Steam, only PUBG (3.25 million) and Dota 2 (1.29 million) have already passed the mark of one million players connected simultaneously. To go back to Counter-Strike: Global Offensive, if we look at the statistics for the last few months (via SteamCharts), we can see that the audience for the game, free-to-play since December 2018, is continuously increasing: it gathered 426,000 players on average in November 2019 against 567,360 over the last 30 days. In February, he had already beaten repeatedly its peak of players.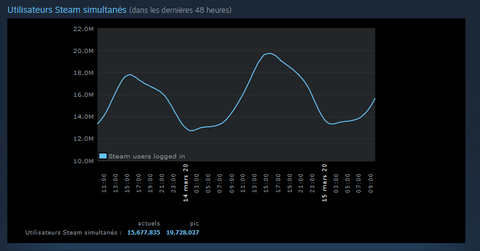 At the same time, Steam also recorded a new attendance record with a peak of 19,728,027 online users, almost a million more than the previous record, which also dated from February. The global context facing the COVID-19 coronavirus and the confinement of millions of people is obviously not unrelated to these figures. In Italy, quarantined since March 9, the operator Telecom Italia found this week "an increase of more than 70% of internet traffic on (its) fixed network, with a significant contribution from online games like Fornite" (via Bloomberg).
Counter Strike: Global Offensive: our January 2019 Video Test

Through Clementoss, Editing jeuxvideo.com
MPTwitter