Jakarta, CNBC Indonesia – The stretch in coal energy commodity prices in recent months has made coal stocks, especially in Indonesia and China, also skyrocket.
This is because the enthusiasm of investors is still peaking thanks to the increase in world coal prices, along with the increasing demand for coal in the midst of the energy crisis that hit several countries such as Europe, China and India.
In Indonesia, the shares of the Bakrie Group's coal producer, namely PT Bumi Resources Tbk (BUMI) are also still moving positively, although today the movement tends to fluctuate.
At around 09:40 WIB, BUMI's shares shot up 1.15% to a price level of Rp 88/share. Even at the market opening today, BUMI's shares shot up 2.3% to a price level of Rp 89/share. Since the end of August, BUMI's shares have shot up to more than 70%.
Meanwhile, for other coal stocks, such as PT Adaro Energy Tbk (ADRO) and PT Indika Energy Tbk (INDY), both have shot up to 50 percent and 74% since the end of last August.
Indonesia is the largest thermal coal exporter in the world. In 2020, Indonesia exported nearly 400 million tons of coal, or around 40% of the total global coal.
Not only in Indonesia, Australia and India, the same thing happened, where shares of Yancoal Australia, a subsidiary of Yanzhou Coal Mining China, have surged more than 80% since the end of last August.
Meanwhile, Coal India, which is also the world's largest coal producer, has increased its share price by more than 30% since late August.
This increase is in stark contrast to global benchmarks. The MSCI World and MSCI All Country Asia Pacific indexes were both in negative territory compared to the end of August. References in each country, including blue chip China's CSI300 and Japan's Nikkei Stock Average, nearly flat.
Foto: QUICK-Fact Set & Asia Nikkei
Asian Coal Stocks
Investors' enthusiasm for investing in the coal sector is approaching winter in some western countries, when coal-fired power generation activity tends to soar.
Coal prices have more than tripled since the start of the year, with benchmark thermal coal prices in Asia hitting a record high so far this month at US$ 269 per tonne. The steady increase was driven by rising coal demand in China and India and the world's energy crisis-stricken countries.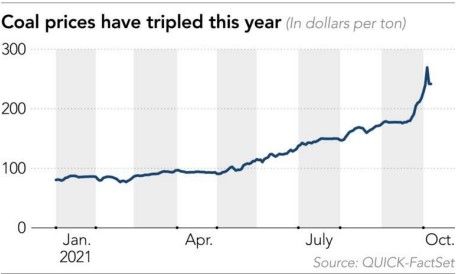 Foto: QUICK-Fact Set & Asia Nikkei
Coal Price (YTD)
This is because the two countries are the biggest consumers of thermal coal, so China and India are rushing to secure shipments from abroad in the face of limited domestic supply.
In China, the government has restricted mining activity following fatal accidents at several sites this year.
Beijing has also implemented reforms aimed at preventing smaller mining operations from being vulnerable to looser security measures.
Meanwhile in India, heavy rains that hit India during June-September caused the disruption of coal production and coal distribution by rail, causing coal inventories in India to fall to very low levels.
Apart from China and India, European countries which are currently being hit by an energy crisis due to soaring natural gas prices have forced the Blue Continent to turn to coal to save power plant operations.
"Coal tends to be relatively cheap. Despite its successful rally this year, its price is still below a third of that of liquefied natural gas," said Hiroshi Hashimoto, LNG expert and senior analyst at the Institute of Energy Economics. Asia Nikkei.
Indonesia and Australia, the two biggest coal exporting countries, are also struggling to increase production due to heavy rainfall and labor shortages caused by the coronavirus (COVID-19) pandemic.
As for Russia, the third largest coal exporting country in the world, now it is forced to export more coal to China and Europe.
According to the Russian Ministry of Energy, Russia's coal exports from January to August reached around 142 million tons, up 11% from last year or before the Covid-19 pandemic hit the world.
Russian exports are helping China's coal demand, which has halted coal imports from Australia due to diplomatic tensions.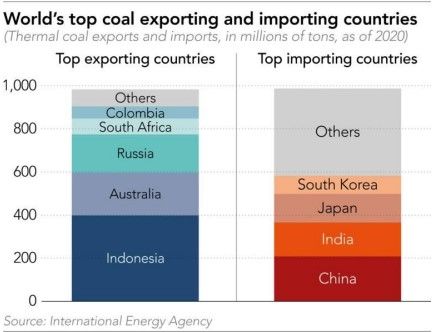 Photo: IEA & Asia Nikkei
Coal Exporting-Importing Countries
According to Justian Rama, equity research analyst at Citigroup Securities in Indonesia, coal prices will remain above the level of US$ 200 per tonne, at least until the end of this year.
"Current strong coal prices may force China to relax its domestic coal safety checks to increase supply and may begin to reconsider Australia's import ban," Rama said in his research report.
[Gambas:Video CNBC]
(chd / chd)
.