INFOGRAPHICS – The President of the Republic ruled out Thursday the possibility of segmenting deconfinement geographically. The Covid-19 crisis, however, hit the territories very unevenly. Here are all the maps to see clearly.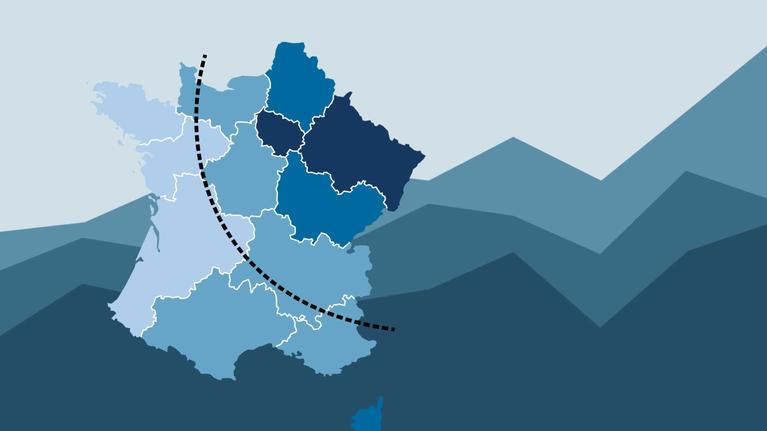 The appearance of the first centers of epidemic, the famous "clusters", in Oise with the death of a first Frenchman on February 25 and in Haut-Rhin with the evangelical meeting of Mulhouse from March 3 to 5 surely explain the overrepresentation of the number of deaths in the three major regions of the northeast quarter of France.
This hypothesis of "clusters" acting as accelerators of the epidemic is also found at the subregional level. Thus Haute-Savoie (home of Balme-de-Sillingy) is distinguished from its Savoyard neighbor while Morbihan (home of Carnac) also stands out in Brittany. We will also note an over-representation of deaths in departments with large urban centers as well as along the Saône-Rhône axis.
These regional differences continue to persist over time since we find these same regions and departments if we look at the current number of people hospitalized. As if the pandemic had been limited to these territories. Without doubt one of the effects of confinement, which made it possible to limit interregional movements and therefore the circulation of the coronavirus.
The fact of having succeeded in preserving certain territories has allowed the overloaded hospitals of the Grand Est, Île-de-France, Bourgogne-Franche-Comté and Corsica to be able to evacuate some of their most seriously ill patients and d " thus absorb the peak of the epidemic.
Chance at the time of the peak of the epidemic, this heterogeneity may however be a problem at the time of deconfinement. In fact, according to the Institut Pasteur, we will find these disparities in the rate of people infected. Very high in the Grand Est and in Île-de-France, even if we are still far from group immunity, this rate is likely to frighten the inhabitants of the less affected regions. Regions which are for the most part large tourist regions (Atlantic coast and Mediterranean coast) and therefore particularly attractive for the millions of future unsettled. They will then have to choose between the desire to preserve themselves and the restarting of their tourism industry.
See also – Here are the deconfinement scenarios envisaged by Emmanuel Macron
.