Jakarta
–
Luxury vehicle importer, Prestige Image Motorcars, will operate the EHang flying taxi service. Even the EHang 216 model is currently in the Prestige Image Motorcars showroom, in North Jakarta. If it has been operated, how much does this sophisticated transportation rental cost?
For information, the EHang flying taxi is an electric-based passenger class autonomous aerial vehicle. This vehicle is manufactured by Guangzhou EHang Intelligent Technology Co. Ltd., based in China.
Especially for the Indonesian market, the flying taxi that is carried is the EHang 216 model, which can accommodate a capacity of two passengers, with a range of up to 60 kilometers when the battery is fully charged.
Flying taxi EHang 216 Photo: Doc. Prestige Image Motorcars
Then for the rental fee, Prestige Image Motorcars has not yet determined the official rate. However, if calculated roughly, the EHang flying taxi rental rate is claimed to be cheaper than other air transportation fares. Moreover, the EHang flying taxi is only for tourism, the flight duration is quite short, so the rental fee is in the range of hundreds of thousands of rupiah.
"Should be for transportation per 30 minutes of flying, Rp. 880 thousand per person can travel (distance) 60 km. For tourism, the flight is only 5 minutes, it has not been calculated, but it is still in the hundreds of thousands, so it is very cheap compared to other air vehicles," said the President. Director of Prestige Image Motorcars, Rudy Salim, told detikOto, Wednesday (1/9/2021).
It is planned that next month the EHang 216 flying taxi will conduct a trial first on the Island of the Gods, Bali. Rudy hopes that this flying taxi trial can increase Bali's exposure as a world-class tourist spot, which has many choices of environmentally friendly vehicle transportation.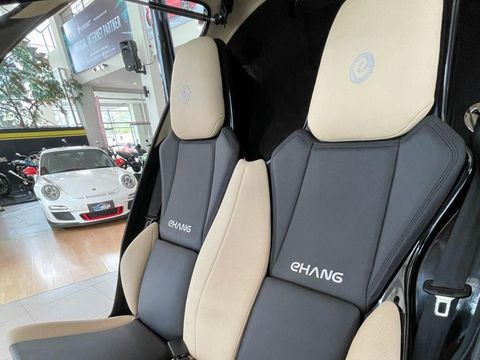 Flying taxi EHang 216 Photo: Doc. Prestige Image Motorcars
"The plan is to increase Bali tourism as well with this product, and the impact may not only be national but international if there will be a new tour in Bali like this, which is cheap and environmentally friendly," continued Rudy.
In the trial and launch of the EHang 216, it is planned to be attended by the Chairman of the MPR RI, Bambang Soesatyo. In addition, Prestige Image Motorcars is also trying to contact the Minister of Tourism and Creative Economy, Sandiaga Uno, to be able to attend this event.
"What is certain is that Mr. Bamsoet (Bambang Soesatyo) is very supportive of this, because he is very concerned with environmentally friendly energy and has a visionary perspective on technology that can advance Indonesia, from electric cars to electric helicopters. If the Minister (Sandiaga Uno) we are trying to contact them too," explained Rudy.
(take / from)
.