On Wednesday night, for the second night in a row, the firefighters were fighting to extinguish the flames on the island of Euboea. A year ago, the fire at the resort of Mati, which claimed the lives of 102 people, left traumatic memories.
Subscribers article
Charred vegetation, villages evacuated, roads blocked by flames, asphyxiated animals, the landscape around the pine forest of Agrilitsa on the Greek island of Euboea is apocalyptic after two days of fire.
About 150 kilometers from the hearth, a black cloud covered Athens and left the magnitude of the disaster. On the island of Euboea, Tuesday, August 14 around 3 am, the flames spread at full speed due to violent gusts of wind, without causing human casualties but by reducing to ashes a forest of 674 hectares.
Housing a rich flora and fauna, "The lungs of Euboea have been touched" according to the outgoing regional governor, Costas Bakoyannis. "It's a huge ecological disaster in a unique pine forest"said the nephew of the conservative prime minister and new mayor of Athens, elected in June.
"It will take at least thirty years for the forest to regenerate"adds Theocharis Zagkas, professor of forestry at the University of Thessaloniki. In Agrilitsa, majestic Aleppo pines stand alongside Cephalonia firs, Oriental plane trees and chestnut trees. "The site concerned by the fire is not classified Natura 2000 contrary to what some Greek media have reported, but nevertheless serves as a refuge for foxes, turtles, reptiles, raptors and rare birds that may have lost life because of the disaster "says Giorgos Milios at the Euboean Regional Forest Directorate.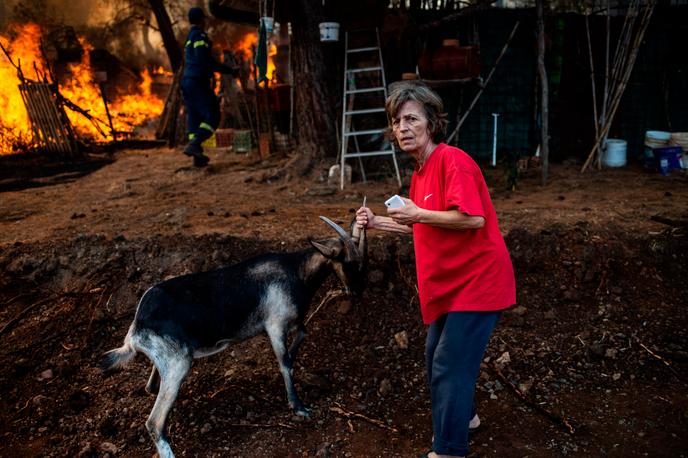 Local activity is also at risk from fire counter-costs: farmers' land has been ravaged, the livestock of decimated pastoralists, and the inhabitants of the region who harvested pine resin to flavor traditional Greek wine (the retsina) will have to give it up. "There are not many regions in Greece where this tradition has endured", says Giorgos Milios. On Wednesday, traveling to the scene of the tragedy, Prime Minister Kyriakos Mitsotakis promised to compensate "Rapidly" disaster victims.
The rescued mechanism triggered
In Greece, the memory of the terrible incident that devastated the resort of Mati on July 23, 2018, about 40 kilometers from Athens, and cost the lives of 102 people is still palpable. The corpses burnt in the cars, the crowd trying to escape the flames by throwing themselves into the sea, the panicked children screaming, still haunt the Greeks.