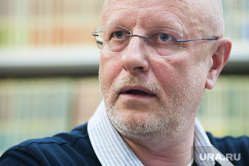 Dmitry Puchkov sided with Evgeny Bazhenov (BadComedian), criticizing the film "To Paris" Photo: Anna Mayorova © URA.RU
Video blogger and translator Dmitry Puchkov, known under the pseudonym Goblin, sided with Evgeny Bazhenov (BadComedian), criticizing the film "To Paris". He stated that the film exposes the victors of Nazism as "degenerates."
"They completely and consciously and consciously show our ancestors-winners with some degenerates who, on the occasion of Victory, rush to a brothel. <…> For us, it's slop, especially ideological, and then technological, acting, directorial, "said Puchkov to Channel Five.
According to Goblin, the creators of the film "To Paris" managed to show the winners of the Great Patriotic War "bastards", specifying that this picture had no other tasks.
On May 9, the BadComedian video blogger posted on his youtube channel a review of the film "To Paris," in which he criticizes the plot and performance of the tape. In his opinion, the film turned out to be vulgar and rude. For 4 days, Bazhenov's video scored 6.4 million views. The actor Dmitry Pevtsov, who played the main role in this picture, replied that he was not ashamed of the fact that he had acted in it, they transmit to Dni.ru.
The film "To Paris" was released in 2018. The description says that the picture tells the story of Soviet officers who decided to celebrate the Victory in Paris. On the Kinopoisk service, the film's rating is 4.6.