"I'm glad Ansan won the gold medal in the individual event."
On the 30th, when Ansan (20, Gwangju Women's University) achieved the feat of winning three gold medals at the Summer Olympics, the 'Namcho Online Community Site', which has many male users, suddenly responded like this. At first glance, it can be seen that the attitude of the Namcho community, which drove Ansan as a feminist and poured out hate speech and criticism, has changed.
But their intentions were different. They did not celebrate Ansan or reflect on their attitude. If Ansan had failed to win the gold medal, they breathed a sigh of relief, saying that they would have been criticized by public opinion for their anti-feminism. On the contrary, he continued 'online abuse' by posting a mockery of Ansan.
Ansan won the gold medal by defeating Yelena Osipova (Russian Olympic Committee) 6-5 in the women's individual archery final at the 2020 Tokyo Olympics held at the Archery Field in Yumeshinoma Park in Tokyo on the 30th. After the mixed team event and the women's team event, she rose to the top for the third time in the individual event.
In the history of Korean sports, Ansan is the first to win three gold medals in a single Summer Olympics (Jin Seon-yu and Ahn Hyun-soo achieved three gold medals in the Winter Olympics). As of this day, Ansan became the athlete who won the most gold medals among athletes participating in the Tokyo Olympics.
Some male choo community users "may have been mentally shaken because of a man in his 20s"
The moment Ansan shot the gold medal, the Namcho community shared the news of Ansan's victory and showed a slightly different reaction from what has been shown in recent days. Namcho communities such as 'Efem Korea' and 'MLB Park' are Jinwon that took issue with short-cut attacks, women's college attendance, and Ansan's social networking service (SNS) remarks.
However, the reason they shared the news of Ansan's gold medal is because of the expectation that the controversy surrounding Ansan will subside. There was also a reaction that the feminist issue dealt with in this controversy would be quiet. Rather, they seemed to be mocking that if Ansan had won the silver medal, the level of offensive against them would have been higher.
A netizen in the male community commented, "Should I consider Ansan to be lucky to have won a gold medal?" "If she won a silver medal, wouldn't the female students (a female student community with many female users) and the media say, 'We lost because of you'" (Sil** *********) was written.
In response, "(Ansan) won a silver medal and shed even tears, the site would be bombed right away" (nose*), "If Ansan shed tears, it would all be ruined" (Al *******), "The mentality of men in their 20s being attacked What would have happened if you had driven me because I was shaken?" commented one after another.
Eui-sun Eui-sun sarcastically said, "Aren't you shooting a Hyundai car commercial?"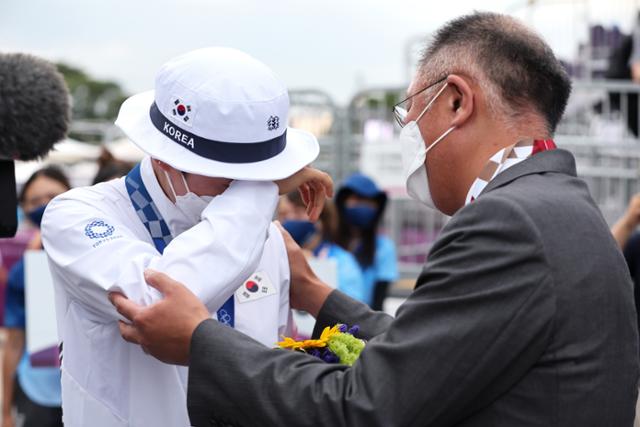 They also took issue with the fact that President Moon Jae-in posted a congratulatory message on Ansan on Facebook, saying, "We must fight against excessive expectations and discrimination" and "We will never be able to undermine the value of sweat and effort."
Netizens complained, "What kind of discrimination was there in archery?" (Mi***), "Did I have to put the word discrimination? Do I have to split it up like this?" (Ha***). One netizen sarcastically said, "If I had won a silver or bronze medal and bowed my head, the president may have removed Femco (short for Efem Korea) directly" (Lee *****).
They also mentioned that Chung Eui-sun, chairman of the Korea Archery Association, who is famous for providing strong support to the Korea Archery Association and the national archery team, called Ansan directly to give encouragement and comfort. Some booed, saying, "Aren't you sitting on a money cushion after shooting an advertisement for Hyundai Motors?" and "I will not be able to shoot an advertisement because archery is not popular."
"Ansan image invincible… Next time, let's attack carefully"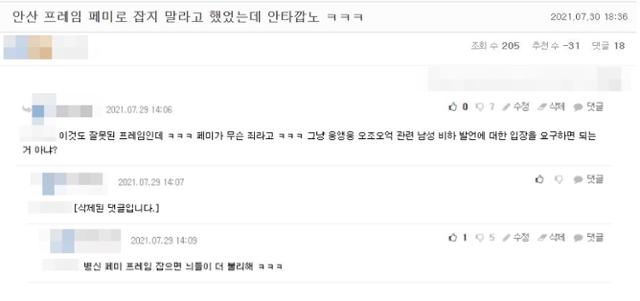 Netizens even made absurd claims that "they took the wrong strategic approach". Their explanation was that the timing of the attack was inappropriate and Ansan's level of remarks was weak to attack, as the people and the world were paying attention to the achievement of the three archery crowns.
Netizens said, "I didn't like that the Ansan issue was addressed right away. It's perfect to write an article like this in the foreign press, 'Korea's gold medalist was oppressed'" (Kwon**), "The national team (national team) has a good affinity for archery, young age The back image is invincible, so why the hell did you touch this?" (Kyung****), "(With the 'woong aeng-woong' and 'five trillion five-eok' written by Ansan on SNS), the basis for driving feminism (short for feminism) was weak. Next time, let's attack carefully" (s********).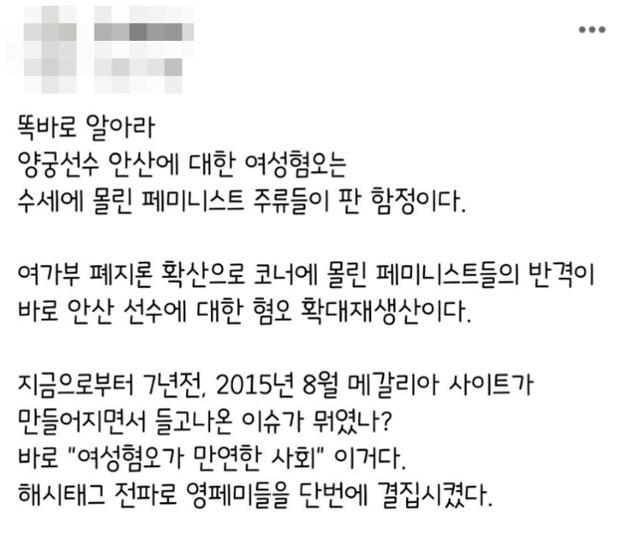 They did not take issue with Shortcut and attending women's colleges, but they complained of injustice, saying that feminists and the media created a frame to criticize them. Netizens commented, "(Ansan's male-hating Pohyun) The controversy that started with Ung Aeng-woong and five trillion five-eok soon turned into a short-cut issue" (Nun ********), "(Namcho) public opinion on the community It seems that the number of cases was taken to make it worse" (g*******).
One netizen made a coercive assertion, "The misogyny against Ansan is a trap sold by mainstream feminists who are on the defensive. It is an expansion of the hate (issue) against Ansan" (Oh ***). However, netizens shared this netizen's article with the community and cheered it as "objective analysis and the right sound."
Ryuho reporter [email protected]
Issues you may be interested in
.