Each season finale of 'Un, dos, tres …', Chicho Ibáñez Serrador appeared, slyly, next to a coffin. And left the lid half-nailed. "Who knows, maybe I could wake up again …" he muttered intriguingly. Among other millions of exploits, Chicho institutionalized among us the figure of the 'host' or presenter of a series, in the manner of Alfred Hitchcock or Rod Serling. He lit the cigar and squandered gruesome irony. In the grayness of the unique television, he discovered that terror could be joyful and fun. He kept stuck to one country to the destination of a pumpkin for 33 years, 22 of them uninterrupted.
The television director and film director has died this Friday at age 83, as reported by Spanish Television. A urine infection had caused him to be admitted urgently. The death comes after receiving in recent times the tribute of a generation of directors who are considered spiritual children of man introduced the horror cinema in our country: Álex de la Iglesia, Juan Antonio Bayona, Jaume Balagueró, Koldo Serra … The Goya of Honor awarded this year to the author of 'Who can kill a child?' he paid homage to a pioneer who had opened the key to nightmares to these filmmakers, while at the same time inventing entertainment on a television where everything was to be done.
The only son of the actors Narciso Ibáñez Menta and Pepita Serrador, Chicho was born in Montevideo in 1935 and he grew up between tours and scenarios. Due to an illness he suffered as a child he became an avid reader of fantastic literature. Before arriving in Spain in 1963 he had already lived several lives: he was an actor, waiter, press photographer, war correspondent, blacksmith, presenter in a club in Cairo … In Madrid he landed with the endorsement of his work in Argentina and revolutionized the medium with fictions like 'Tomorrow can be true' and ' The history of Saint Michel. ' His 'Stories to not sleep' caused insomnia to an entire generation. And with spaces such as 'The last clock', 'The asphalt' and 'Stories of frivolity' tested the censorship from time to time.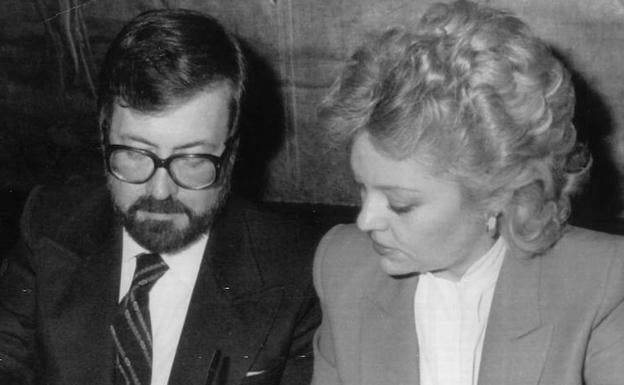 In cinema he directed only two films that are now cult titles: 'Who can kill a child?' and 'The residence'. Two horror films shot in English, anticipating what is now common currency in our most ambitious directors, who touch on rugged issues: the disturbing possibility that the evil nestles in a small and sexual repression in a boarding school. He did not make more movies because his entire life was dedicated to television, although later he regretted it. "The biggest mistake of my life has been dedicating so many years to 'Un, dos, tres …', he confessed to this journalist in 1999, when he received the homage of Fant from Bilbao.
The country was paralyzed on Friday night, when the cartoons of Ruperta pumpkin announced a space that brought the whole family to the television with two channels. A social phenomenon that brought together more than 20 million spectators in the 70s and that its director conceived as a total show, where besides the questions there was music and humor. The 'One, two, three …' was a historical quarry of comedians – Bigote Arrocet, Antonio Ozores, Fedra Lorente, the 'Bombi', Beatriz Carvajal, Raúl Sénder, Árevalo, Juanito Navarro, the Dúo Sacapuntas, Ángel Garó- and of actresses who started as hostesses: Ágata Lys, Victoria Abril, María Casal, Alejandra Grepi, Silvia Marsó, Lydia Bosch, Nina, Paula Vázquez …
In 2004, Televisión Española withdrew the most famous contest on our TV because it was considered expensive. «They kicked me after forty years of loyalty», it hurt then. Tele 5 recovered it to coordinate the cycle of 'Movies not to sleep'. And he suspended the series to the two chapters. He did not even deign to issue 'La culpa', the teacher's last realization. Chicho never took himself too seriously and knew that the main objective of a program is to entertain. After all, as he used to lecture, "TV is the easiest way to make you want to go to the bathroom."
The trajectory of the "shy" man that scared, amused and made the public think was recognized with numerous awards that recently collected in a wheelchair: the National Television Award in 2010, the Grand Master of the Night Festival Award, the Ondas Award for the Best Program for 'Let's Talk About Sex', Antena de Oro Awards , Iris Prize, Feroz de Honor Award and the Goya de Honor. "I go where I hear applause," he told Andreu Buenafuente in a weak voice when he appeared on his show to surprise Juan Antonio Bayona, who was advised to "feel some truth" before trying to transmit it to the general public.
Álex de la Iglesia claimed yesterday his legacy. "His work has not been sufficiently recognized by his generation and we have taken that work those who were behind, taking it as an example of lack of transcendence, friendship with the public and love of gender," praised the Bilbao director. "Chicho discovered something I thought was impossible, and that is that you can have fun and do crazy things by making movies. He talked to people face to face, always joking and hiding what he was, a genius and a portent that entertained us and gave us life for years ».