Saturday, April 16, 2022 at 1:04 p.m. – While Friday was a bright day for most of Quebec, the evening was rather breathtaking: violent gusts rose up, causing property damage.
---
The sectors of Montreal, Montérégie, Laurentides, Lanaudière and Outaouais were the most affected by the violent winds.
A peak reaching 93 km/h was even recorded at the Pierre-Elliott-Trudeau airport, on the island of Montreal. However, it was Terrebonne that took first place on the podium: a gust of 107 km/ha blew over the town on the North Shore!
Our Ontario neighbors were also entitled to their share. Niagara Falls was treated to a top speed of 123 km/h.
power outages
Unsurprisingly, these strong winds damaged the electricity network. At the height of the blackouts, more than 120,000 Hydro-Québec customers were without power. Saturday afternoon, nearly 25,000 customers are still plunged into darkness.
Ontario also had its fair share of outages, with approximately 100,000 reported on Friday evening.
The relief, responsible for the intensification of the winds
Coming from the southwest, the strong winds accompanied the arrival of a system that reached the province on Friday evening. This is the same disturbance that generated the blizzard in Manitoba and Ontario a few days earlier.
Entering through the gateway to western Quebec, the relief present in their path allowed the winds to gain in intensity before reaching the Richelieu valley. This is why the highest gusts were recorded in this sector and there were a large number of blackouts as well.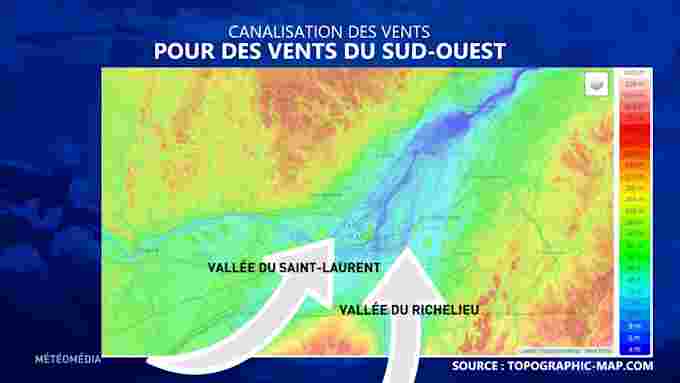 A calmer weekend… before another system
Fortunately, the rest of the weekend looks a little less hair-raising. Winds are expected to fluctuate between 40 and 50 km/h for most of the province, with the exception of eastern Quebec. On the Gaspé tip, the gusts will be a little more intense, between 60 and 70 km / h.
An upcoming coastal system, forecast for the start of the week, will increase the tension. Gaspé could, among other things, be entitled to gusts reaching 90 km/h, in addition to abundant precipitation.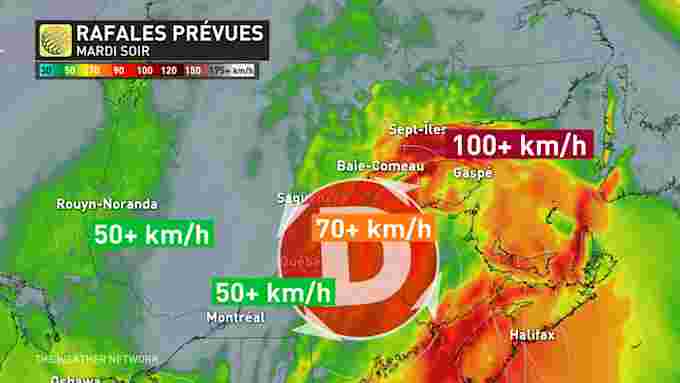 ---
SEE ALSO: Megi's death toll grows heavier