Last minute news … Minister of Health Fahrettin Koca'Turkey Day coronavirus He shared his chart on his social media account Twitter. According to the table on the website of the Ministry of Health; Of the 20 thousand 65 tests performed today, 3 thousand 135 were positive. While 73 people died in the coronavirus epidemic, the number of patients recovering today was 256. In the table, the total number of tests was 181 thousand 445, the total number of cases was 27 thousand 69, the total number of deaths was 574, the total number of intensive care patients was 1381, the total number of intubated patients was 935, the total number of recovered patients was 1042.
Minister Koca said, "We have exceeded 20 thousand in the number of tests. Our total number of patients who have recovered has exceeded one thousand. The virus is getting its power from the contact environment. Let's not let this opportunity to the virus.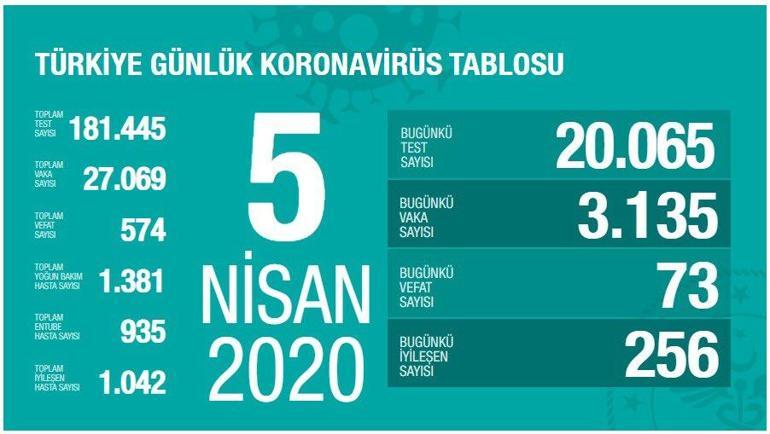 class = 'cf'>
MINISTER KOCA MEETS WITH PROVINCIAL HEALTH MANAGERS
Health Minister Fahrettin Koca held a video conference with 81 provincial health managers.
According to the statement made by the Ministry; The meeting started yesterday evening at 22.30 and lasted for 3 hours. Corona Studies conducted in provinces against virus outbreaks were evaluated. At the meeting, the condition of the patients, treatment protocols, intensive care occupancy rates and current needs were discussed.
Minister Koca underlined that fast action should be taken to scan the contacts of positive cases. "If we cannot isolate the people in contact during this period, we will not have a chance to control the disease," Minister Koca reminded that there should be no delay in diagnosis and treatment.
"There should never be a problem with the protective masks and equipment of our healthcare professionals. Let's try to see how we can increase the capacity of our services every day, to use our intensive care beds more really, to follow the risky patient in intensive care conditions," said Minister Koca. Minister Koca later answered the questions of the provincial health directors.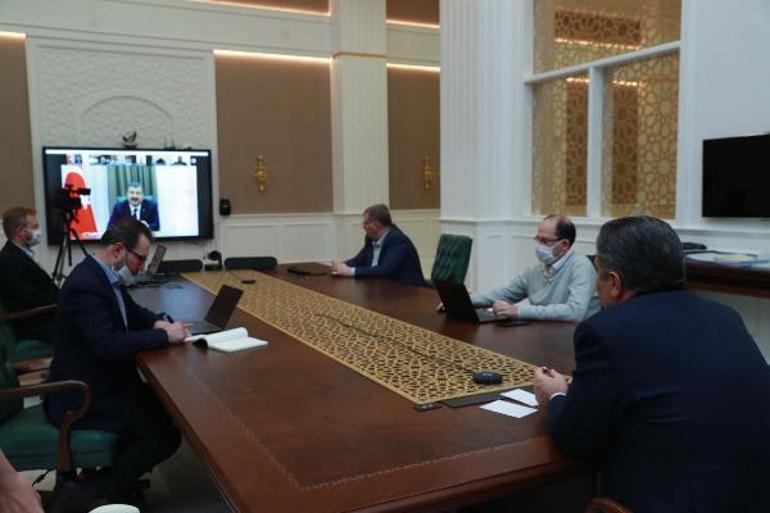 156 TURKISH CITIZENS LOST THE LIFE ABROAD
Foreign Minister Çavuşoğlu announced that the number of Turkish citizens who died from the new type of coronavirus abroad reached 156.
Çavuşoğlu stated that they continue their efforts to bring Turkish citizens who are in a difficult situation abroad due to Kovid-19, "We have brought nearly 25 thousand citizens from nearly 55 countries to our country." said.
class = 'cf'>
Stating that those brought from abroad are kept in quarantine for 14 days, Çavuşoğlu said, "We have brought 2,467 citizens to our country as of April 1. We evacuated 644 citizens from Kuwait in the last 2 days. We are planning to lift another plane." shared his knowledge.
Pointing out that 537 Turkish citizens were brought to the country with two flights from Algeria yesterday, Çavuşoğlu shared the information of the future of nearly a thousand citizens with 3 planes tonight.
"We will also start bringing our citizens in Saudi Arabia"

Çavuşoğlu also mentioned that a group of 334 people from Iraq was brought to the country and said, "We will bring our citizens from there with 4 different flights on 7-8 April." he spoke.
On the other hand, remaining trapped in some regions of France said the driver of the tractor 144 and brought to Turkey via Marseille Cavusoglu, has announced that the third flight, 479 citizens returned to the country from Montenegro today.
Çavuşoğlu said:
"We will start to bring our citizens in Saudi Arabia with two flights from Jeddah. There are about 2 thousand applications. Also we have around 360 hopeful citizens. These are all of our citizens who brought to our country within the quarantine capacity of our Ministry of Health, our dormitories. ' some of our citizens say, "Don't come." he says. Even the smallest countries brings its citizens. Of course, the citizens of the embattled state residence outside Turkey should leave as abroad. "
the duration of the quarantine solid Cavusoglu underlined that applied in Turkey, on the citizens of the country said they had to think about their health.
Minister Çavuşoğlu said, "We also have a group of 400 students in Canada. With two separate flights of Pakistan airlines, there are also Pakistani students, I hope we will bring them to our country on April 7-8." he spoke.
"We lost our 156 citizens abroad from the virus"
On the other hand, Çavuşoğlu said, "Unfortunately, 156 citizens died abroad due to the virus. We brought the funeral of nearly 50 citizens to our country." gave information.
class = 'cf'>

WORLDWIDE NUMBER OF CASE PASSED 1 MILLION 200 THOUSANDS
While the number of new types of coronavirus cases exceeded 1 million 200 thousand worldwide, 64 thousand 743 people died due to the epidemic.
According to the information on the "Worldometer" website, where data on new cases in countries and regions with Kovid-19 were compiled, the total number of cases worldwide reached 1 million 203 thousand 58
The country with the highest number of cases was the USA with 311 thousand 635, followed by Spain with 126 thousand 168 cases, Italy with 124 thousand 632 cases and Germany with 96 thousand 92 cases.
In China, where the epidemic occurred, 81 thousand 669 cases were recorded.
KARAMSAR TABLE FROM TRUMP
US President Donald Trump held a press conference at the White House on the measures taken by his administration in the fight against coronavirus.
Explaining that he and his administration have taken countless measures to prevent the epidemic all over the country and that they have caused fewer injuries, Trump emphasized that they want to overcome this crisis as soon as possible.
"People want to go to matches, go out and get fresh air and bring their lives back to normal. We hope this will happen as soon as possible. This country was built to work, not about being closed," Trump said. said.
Using the phrase "the fastest spreading virus outbreak to date" for the coronavirus outbreak, Trump said the social distance rule is vital.
Stressing that they will feel the effect of the outbreak in the next two weeks, Trump said, "The hardest part will be this week and the future. Unfortunately there will be many deaths. In this process (epidemic) will hit New York very hard." warned. Trump argued that thanks to the measures they took, they reduced these deaths.
1000 military doctor supplements to New York

On the other hand, Trump said they will make a military doctor and nurse supplement for the state of New York, the region most affected by the outbreak.
Pointing out to the doctor shortage especially in New York city and its surroundings, Trump said, "We are sending around 1000 military doctors to New York as part of the fight against coronavirus. They will be very helpful indeed." used the expression.
Stating that they continue to work to bring Americans abroad, Trump stated that they have brought 40 thousand American citizens back from 75 countries so far.
Suggested to use "hydroxychloroquine"

Commenting once more on the "anti-coronavirus drug" that caused controversy among the American public, Trump suggested that "hydroxychloroquine" works and can be used against the virus.
"Hydroxychloroquine may work. Doctors can use it. What are they going to lose? We have enough or even more inventory." made the evaluation.
New York will peak in a week
On the other hand, Dr. Coronavirus Task Force member who made statements about the course of the epidemic. Deborah Brix stated that they expect the outbreak to reach its highest point in 6-7 days in New York.
Dr. Brix also said that the United States was 12 days behind Spain and Italy on the outbreak. Brix said that they expect the USA to reach the point where Italy and Spain are today, about 2 weeks later, "We are trying to prepare ourselves accordingly. We compete with time." commented.
In his statement at the White House last week, Trump stated that between 100 and 240,000 people could die in the USA.
According to the latest data shared by Johns Hopkins University, the number of coronavirus cases in the USA has reached over 300 thousand, while the number of viruses has reached 8 thousand 300.
Case number 10 thousand in excess of the country were as follows: France (89 thousand 953), Iran (55 thousand 743), England (41 thousand 903), Turkey (23 thousand 934), Switzerland (20 thousand 505), Belgium (18 thousand 431) The Netherlands (16 thousand 627), Canada (14 thousand 18), Austria (11 thousand 781), Portugal (10 thousand 524), Brazil (10 thousand 360) and South Korea (10 thousand 237).
The Kovid-19 outbreak, which occurred in December 2019 in Wuhan, China's Hubey province, spread to nearly 200 countries and regions and turned into a pandemic.
64 thousand 743 people died worldwide due to the epidemic.

WHAT IS CORONA VIRUS?
Information about the corona virus, which is a life-threatening and global epidemic, both in the world and in our country, is available on the website of the Ministry of Health. So what is the corona virus? Here is the definition of the corona virus;
Coronaviruses are a large family of viruses found in both animals and humans. Others infect people and are known to cause more serious illnesses from the common cold, such as the Middle East Respiratory Syndrome (MERS) and Severe Acute Respiratory Syndrome (SARS).
WHAT ARE THE SYMPTOMS OF CORONA VIRUS?
Generally, the corona virus disease, which the elderly take place in the risk group, can be transmitted from person to person and in different symptoms. Here, what are the symptoms of 'corona virus? the answer to the question;
The most common symptoms of COVID-19 are fever, fatigue and dry cough. Some patients may have pain and pain, nasal congestion, runny nose, sore throat or diarrhea. These symptoms are usually mild and begin slowly. Some people become infected, but they do not experience any symptoms and feel bad. Most people (about 80%) recover without the need for special treatment. Approximately 1 in 6 people who get the COVID-19 virus get seriously ill and have difficulty breathing.
Older people and those with underlying medical problems such as high blood pressure, heart problems, or diabetes are more likely to develop serious illness. About 2% of people infected with the disease have died. People who have a fever, cough, and trouble breathing should seek medical attention.
HOW DOES CORONA VIRUS COME?
'How is the Corona virus transmitted?' The question is one of the most studied topics against corona virus in our country. When the Ministry of Health and officials call citizens to stay 'at home', they also underline that the disease is usually transmitted by actions such as breathing, coughing, and touching. Here, the transmission of corona virus can be described as follows;
The COVID-19 virus is transmitted from person to person through small droplets thrown into the air by a sick person during coughing, sneezing or breathing. It is possible for other people in the vicinity of the sick person to become infected by inhaling airborne droplets, as well as the droplets falling on objects and surfaces around them and people catching COVID-19 by touching their eyes, noses or mouths with their dirty hands touching them. Therefore, it is very important to keep more than 1 meter (3 feet) of a sick person and to wash their hands frequently.
The World Health Organization (WHO) is evaluating ongoing research on COVID-19's spread pathways and sharing updated findings.
HOW DO WE PROTECT THE CORONA VIRUS?
Nowadays, when hand washing and personal cleansing play the most effective role in protecting against the corona virus, one of the most researched topics in our country is the question of how to protect from the corona virus. Reminders such as the use of cologne, frequent hand washing, and the 14-day rule often list the importance we should take against the corona virus. Here's what to do to get infected with the corona virus;
It is recommended not to travel abroad as much as possible. In cases where it is mandatory to go abroad, the following rules should be considered:
The basic principles proposed to reduce the overall risk of transmission of acute respiratory infections also apply to the New Coronavirus (COVID-19). These;
Attention should be paid to hand cleaning. Hands should be washed with soap and water for at least 20 seconds, and alcohol-based hand antiseptics should be used in the absence of soap and water. There is no need to use soap with antiseptic or antibacterial, normal soap is enough.
The mouth, nose and eyes should not be touched without washing hands.
Sick people should avoid contact (if possible, be at least 1 m away).
Hands should be cleaned frequently, especially after direct contact with sick people or their environment
If possible, it should not be visited to health centers due to the presence of patients, and contact with other patients should be minimized in cases where it is necessary to go to the health institution.
During coughing or sneezing, the nose and mouth should be covered with a disposable tissue paper, in cases where there is no tissue paper, the inside of the elbow should be used, if possible, it should not be entered in crowded places, if it is necessary to enter, mouth and nose should be closed, and a medical mask should be used.
Eating raw or undercooked animal products should be avoided. Well-cooked foods should be preferred.
High-risk areas for general infections, such as farms, livestock markets and areas where animals can be slaughtered, should be avoided.
If any respiratory symptoms occur within 14 days after travel, the nearest healthcare facility should be worn by wearing a mask, and the doctor should be informed about the travel history.
WHAT IS THE DIFFERENCE BETWEEN CORONA VIRUS AND COVID 19?
COVID-19 is an infectious disease caused by the most recently discovered coronavirus. This new virus and disease was unknown before the outbreak began in Wuhan, China in December 2019.
.