Publish Date: Sat, 07 Mar 2020 14:03 IST
New Delhi | Jagran Lifestyle desk: The deadly coronavirus has so far resulted in the death of 3,456 people worldwide and has infected over 1 lakh (100,842) in 92 countries by the end of Friday, the AFP news agency reported. In China – the epicenter of the epidemic – 3,070 have died so far, while 80,651 have been infected in the country alone.
Outside of China, a total of 20,290 cases have been recorded worldwide since the outbreak, including 414 deaths.
In addition to China, Iran and Italy are the most affected countries. In Iran, 4,747 cases have so far been reported, while 124 people have died from the deadly virus, while in Italy 4,636 confirmed cases and 197 deaths have been reported so far. The new coronavirus has also affected India, where 31 confirmed cases have so far been reported by health authorities, while four new highly suspicious cases have been quarantined for further testing.
The outbreak has already created a panic and emergency situation around the world, with most countries ruling out large rallies and taking appropriate measures to stop the further deadly virus outbreak.
But the fake news and misleading information circulating about social media about the virus has scared people more than the danger it contains. Various types of remedies and solutions to save you from the virus have gone around the Internet, adding problems to health authorities to prevent people from panicking.
Here are some myths and facts from the World Health Organization (WHO) about the coronaviruses that are circulating the Internet:
Myth: Coronavirus can be transmitted through mosquito bites!
Done: The new coronavirus cannot be transmitted through a mosquito bite.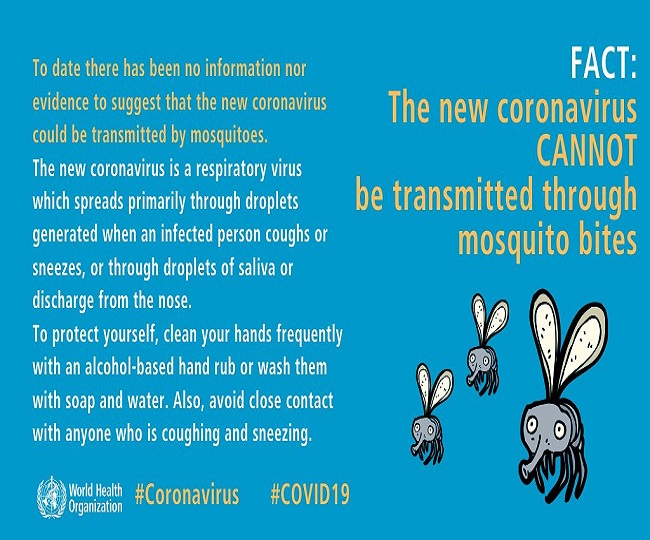 To date, there has been no information or evidence to suggest that the new coronavirus could be transmitted by mosquitoes. Coronavirus is a respiratory virus that mainly spreads through droplets generated when an infected person coughs or sneezes, or through saliva droplets or secretions from the nose. To protect yourself, wash your hands frequently with soap and water or wipe with alcohol and avoid close contact with anyone who coughs and sneezes.
Myth: People can get coronavirus using products made in China or other coronavirus affected countries!
Done: Coronavirus cannot be transmitted through products manufactured in China or other countries that report COVID-19 cases.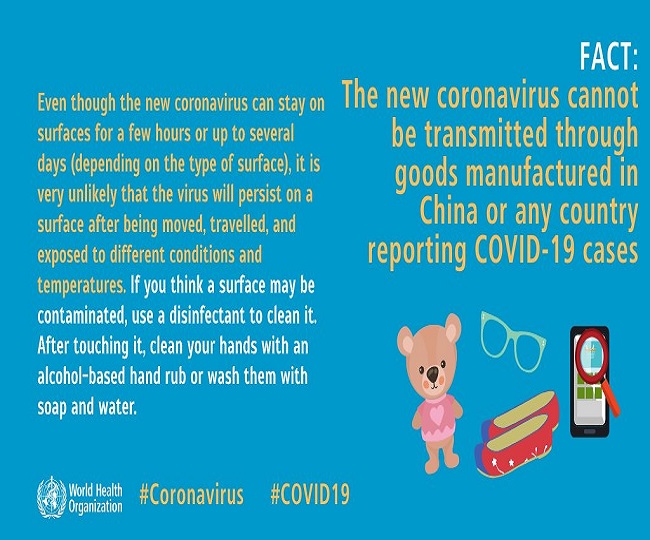 Although coronavirus can remain on surfaces for a few hours or up to several days (depending on the surface), the virus is very unlikely to persist on a surface after being moved, traveled and exposed to different conditions and temperatures. If a surface is believed to be contaminated, use a disinfectant to clean the surface.
Myth: High temperatures and taking a hot water bath can prevent coronavirus!
Done: Taking a hot water bath or exposure to high temperatures cannot prevent the new coronavirus.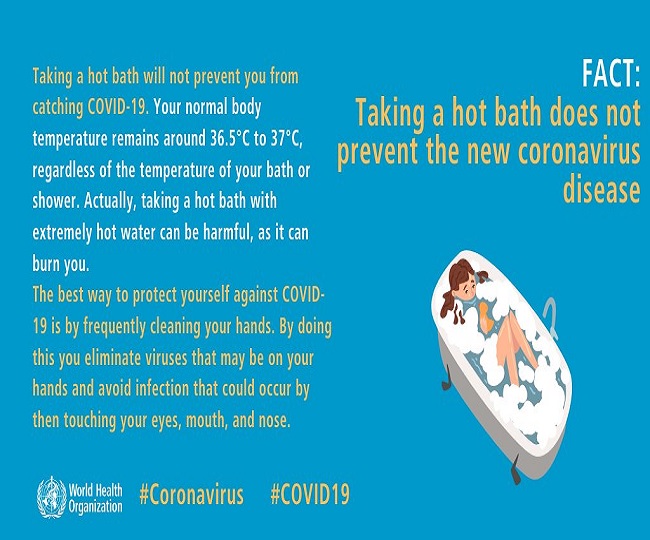 Taking a hot bath will not stop you from taking COVID-19. The normal body temperature remains around 36.5 degrees Celsius at 37 degrees Celsius, regardless of the temperature of the bath or shower. The best way to protect yourself from COVID-19 is to wipe your hands frequently. This eliminates the viruses that can be on your hands and can avoid infections.
Myth: Snow and cold can kill the new coronavirus!
Done: No, cold and snow cannot kill coronavirus.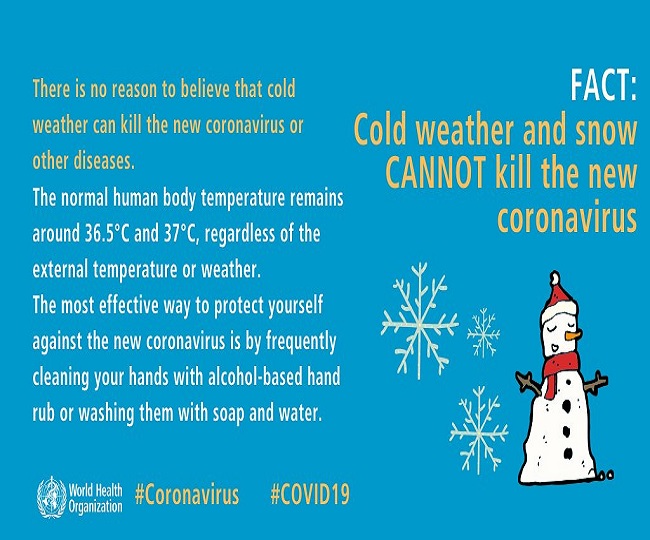 There is no reason to believe that cold weather can kill coronavirus or other diseases. The normal temperature of the human body remains around 36.5 degrees Celsius and 37 degrees Celsius, regardless of the outside temperature. To protect yourself from the virus, keep your hands clean by washing them frequently with soap and water.
Published by: Talib Khan
.