Fassel was unhappy that the Latvians had changed the Belarusian flag – instead of the official one, this week they hung the historic red and white next to the Radisson Blue Hotel in the center of Riga, where the flags of all participants of the World Championship are flying.
R. Faselis immediately criticized the hosts of the championship. "When we talked and talked about the whole transfer of the World Championship from Minsk to Riga in January and February (according to the original plan, one group's competition was to take place in Riga and the other groups and finals were in Minsk, ed.), We also talked to the Latvian tournament organizers. Latvian government, Riga city leaders. They promised us not to use it and to defend the Belarusian team. And now these actions … ", the Swiss, who leads the world's hockey, complained to Latvian television.
Despite fierce protests against Aliaksandr Lukashenko's regime, Fassel, who had long promised Belarus the right to host the championship last autumn and winter, was forced to cancel the race from Minsk on 18 January.
He now spoke after the scandalous events in the airspace, when a plane flying to Vilnius was landed in Minsk by regime officials, and a Belarusian who had criticized the regime was taken out of the plane and arrested: "Our role is to protect our members, and we do. This does not mean that we agree with what is happening in Belarus. We are completely non-political in this debate. But we cannot allow what the Latvian Foreign Minister and the Mayor of Riga did yesterday. "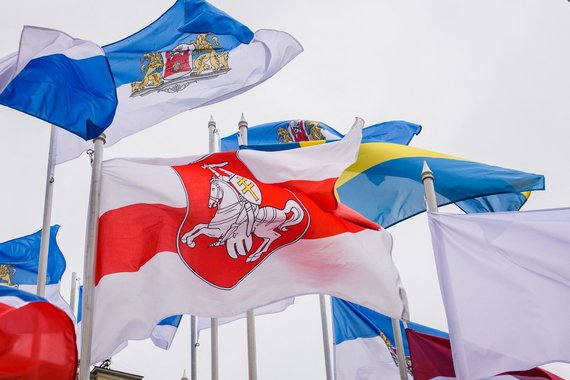 Photo by Scanpix / In Riga, Latvians hung the historic flag of Belarus.
Fassel demanded that the flags be changed back by hanging white and red, which has become a symbol of the revolution against the Lukashenko regime in Belarus.
"The president of the IIHF demanded the return of the previously hung flag in Riga instead of the white-red flag of freedom of Belarus. Failing that, he demands that the IIHF flags be hung as well. Everyone has to choose the side – a nation hungry for freedom or a bloody dictator ", commented the Mayor of Riga M.Stakis.
The Latvians decided to hoist the IIHF flags.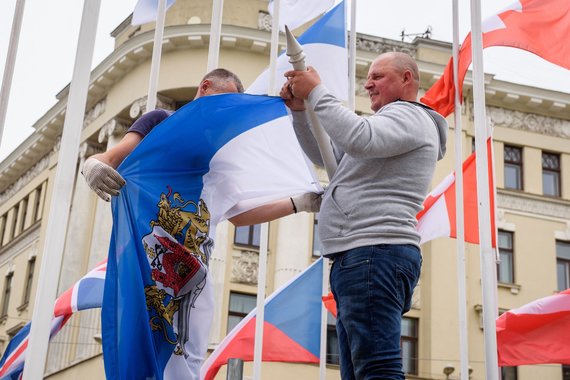 Photo by Scanpix / In Latvia, employees hoisted the IIHF flag.
The World Cup in Latvia will last until June 6.
.