This must be what it feels like to see a tsunami slowly building on the distant horizon. Record the first ripples; you know the wave is coming. Yet no one can really calculate how big or destructive it will be until it lands strongly on our shores.
This week Australians realized that COVID-19 – the disease caused by the coronavirus novel that swept the globe – would be a far greater force to be reckoned with than many expected.
First came a handful of cancellations and postponements: Tasmania's famous Dark Mofo festival is delayed until next year; major events such as Australian Healthcare Week, which would have attracted hundreds of exhibitors and attendees to the Sydney International Convention Center, went back until September; the Princess and Viking cruise lines which suspend passenger operations for the next two months; all medical conferences discarded.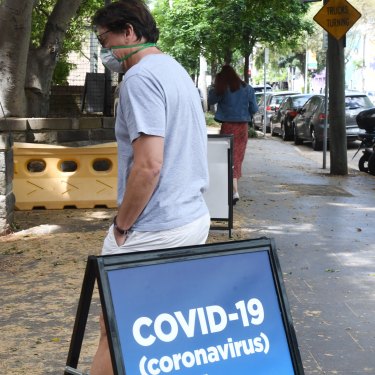 The World Health Organization (WHO) finally admitted that the virus had reached pandemic proportions, a 13-fold increase in cases outside of China.
And from the Gold Coast came the revelation that Hollywood movie star Tom Hanks and his wife Rita Wilson were in hospital with the virus, while the McLaren team had been forced to retire from the Australian Formula 1 Grand Prix in Melbourne after he also a team member tested positive.
On Friday the Grand Prix had been canceled altogether, as had the Sydney Royal Easter Show, leaving an uncomfortable question mark hanging over many other major sporting events and marquees on the national calendar, such as the National Rugby League competition and Anzac Day, which by its very nature attracts a considerable contingent of the elderly and infirm who are most vulnerable to the virus.
By late Friday, pressure on national and state leaders to do something to limit large public meetings had become irresistible.
Loading
In a historic press conference, flanked by the nation's Chief Medical Officer, Brendan Murphy, state awards and the presence of Reserve Bank and Treasury chiefs, Prime Minister Scott Morrison announced that people would be "warned" from Monday. not participate in "organized, non-essential" meetings of at least 500 people.
This would not have been a shock to anyone who paid attention when NSW's Chief Medical Officer, dr. Kerry Chant, gave evidence to a parliamentary committee Thursday afternoon.
Work frantically from inside the crisis headquarters that they nicknamed "the bunker", state public health officials have constantly stuck to the message that their target has remained "containing" the disease.
At the basis of this was the assumption that containment – prevention not verified widespread throughout the community – it was still possible, by tracing the contacts of the infected cases of the state (92 starting from 17:00 on Friday) and putting them in treatment or self-isolation.
The bans imposed on flights from China, Italy and Iran had contributed to the impression that the authorities had the invader under control. So had Morrison's announcement of an additional $ 2.4 billion in federal funds to combat the detection and spread of the disease.
But whatever reassurance those footsteps offered came across a sharp check of reality when Chant revealed on Thursday his expectation that 20%, or about 1.5 million, of state residents would be infected in the "first wave" of the virus.
While the overwhelming majority would have had mild symptoms, as he pointed out, even 5% who needed acute or intensive care could result in nearly 80,000 high-need patients who flock to state hospitals when infection rates peaked.
The pace of Friday afternoon by the Council of Australian Governments (COAG) is incremental. There will be more to come. But at least it starts to align Australia with what is happening abroad.
In Britain, Prime Minister Boris Johnson warned his country of the "worst generation public health crisis". "I have to level with you," he told the British public. "Many other families will lose loved ones ahead of time."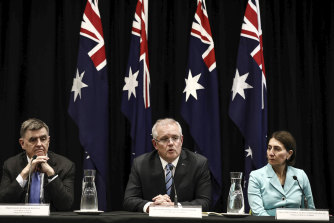 British medical director Chris Whitty made the grim prediction that in worst-case scenarios, 80% of the country could contract the virus. Even with a conservatively estimated 1% mortality rate, this could mean, in some estimates, up to half a million deaths.
Other governments have moved to impose a greater "social distance" – closings of schools such as in France and Ireland, and prohibits meetings of at least 500 people in the Netherlands and Scotland. Even in the United States, which was among the slowest nations to act, President Donald Trump has banned flights from Europe, while Disneyland and Broadway have closed their doors and the National Basketball Association has suspended its 2019-2020 season.
Morrison was still assuring the Australians a couple of days ago that they should go to football as planned this weekend unless they felt bad. At Friday's press conference, he reiterated his intention to see his "beloved" Cronulla Sharks play a game over the weekend – but later reversed that decision after Interior Minister Peter Dutton proved positive for the disease.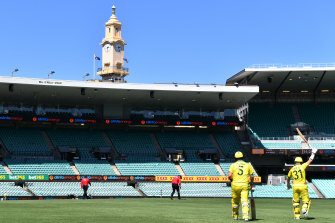 The director of infectious diseases and immunology at Queensland's Menzies Health Institute, Professor Nigel McMillan, said he will likely steer clear of the NRL games over the weekend, despite the Prime Minister initially saying he would participate. "It's strange. There's nothing magical about this Monday … why isn't it from tomorrow? I guess you have to spend some time on leads," he says. "[But] If I were in Sydney and I was old or had risk factors, I certainly would not go. "
Loading
Bill Bowtell, a contract professor at the Kirby Institute of the University of NSW, says that a nationwide coordinated public information campaign should have started weeks ago.
Bowtell advised the then Labor government during the 1980s HIV / AIDS epidemic and believes that the country's political leaders were slow to remember the lessons of that epidemic when Australia led the world in a harsh campaign to contain what was then another new and untreatable disease.
"They have to take the public in their trust, mobilize public opinion and condition them for what's coming," he says.
COVID-19 was happening at "speed of light," says Bowtell. "But if you intervene now, with strength and speed, you have the best chance of preventing us from going on that curve that created that disaster in Italy and in many other countries in Europe because they did not move when they had the chance."
"Cancel all"
Whatever the policy of this crisis, senior staff are working 24/7 to try to contain this deadly invader within the NSW Public Health Emergency Operations Center, "the bunker."
The bunker itself had only stood for the most recent meetings, but has now extended to an entire floor of the building in its St Leonards headquarters for over 50 staff members.
The team is led by dr. Jeremy McAnulty, state director for health protection, who reports to Chant and health minister Brad Hazzard. The staff works two shifts under a team leader, from 8 to 23, but will work all night if urgent cases are confirmed when the results of the pathology at night arrive at 21.
They must then notify the confirmed case, track down and then contact the close contacts of the infected individual.
This was the case on the night of Thursday March 5, when the test results of a 16-year-old at the Epping Boys Public School turned positive for COVID-19.
Health and education ministers were alerted and the decision was made to close the school the following day to give public health personnel time to trace the boy's contacts and disinfect the school. Parents received an "extremely urgent" email by 10.22pm and the media published the news by 11.00pm. The staff who worked from 7 in the morning were still awake at 4 in the morning.
Many other similar nights will come.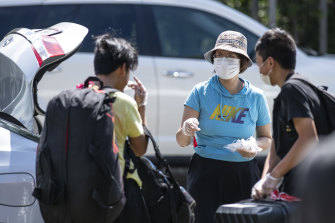 Writing in the American magazine The Atlantic This week, Yascha Mounk, an associate professor at Johns Hopkins University, drew strong attention to the overwhelming burden on Italian ICU specialists, who were overwhelmed by the wave of COVID-19 cases.
In just two weeks, cases in Italy rose from just over 300 to over 10,000 by Friday. Medical personnel were running out of "air-breathing machines," he warned.
Loading
The situation was so serious that the Italian College of Anesthesia, Analgesia, Intensive Care and Intensive Care (SIAARTI), was suggesting limiting intensive care treatment to those with the best chance of surviving – or, as doctors say, the "most high possibility of therapeutic success ".
It was time, Mounk said, to "erase everything."
Earlier this week, however, Australia's top medical advisers still hesitated to recommend the move to radical social containment measures – or "nuclear option", as they say.
They felt that there was little evidence of person-to-person transmission within the country. Although around 30,000 tests were administered across Australia (some of which were repeated tests) the total identified load of the case was still less than 140.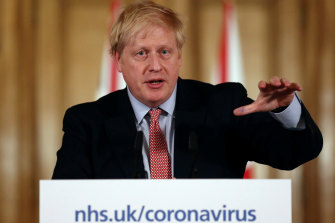 Their hope was that Australia could shape its COVID-19 experience so that it looked less like Italy and more like Hong Kong, Singapore, Taiwan and Korea, where extensive testing, rigorous early planning and a careful research of the contacts have produced a more flat and elongated curve in an increasing number of cases.
This was said by Professor Allen Cheng of Monash University, an infectious disease specialist Sydney Morning Herald is The age mid-week because he thought Australia was still able to buy time.
He stressed that despite his contagiousness, the usual incubation period for COVID-19 of around 5-7 days gave a "window of opportunity" to find and quarantine contacts.
Loading
And despite some reports of transmission from asymptomatic individuals, he said it didn't seem like a "really common event … [so] this also gives you a little more control. "
He cited the relative success of Taiwan, Hong Kong and Singapore and, to a lesser extent, South Korea, in slowing down the rate of new infections. "When we look to see what those countries have done, we can't do exactly the same but we play our strengths," he says. "We have a good health system, a strong public health, a lot of testing capacity and things like that … Even slowing down we can try to avoid a situation like Italy."
However he recognizes the Italian experience, with his intensive care beds crammed into the corridors, the exhausted hospital staff and the rationing of the fans, which casts a shadow even on the most optimistic health professionals here.
"This is a scenario that's in our minds," he admits. "There is a lot of thought at the ICU level, and within the respiratory units … about how we would change the staff patterns, if we needed more fans. Obviously we hope it doesn't come to this, but we're preparing for that kind of scenario. "
Cheng's voice has been influential. He is a key consultant to the Australian Chief Health Protection Committee, which includes the chief medical officer of the federal government along with those of states and territories. In turn, they advise politicians and the national security cabinet committee.
Most cases so far have been in NSW – 92 by Friday afternoon. In two the source of infection had not been identified, although 10 were still under investigation. Of the others, 34 were deemed "probable" by an overseas source and 32 were infections from known cases.
But rumors calling for even stronger action are coming to the fore, both here and abroad.
Loading
The director of the United States National Institute of Allergy and Infectious Diseases, dr. Anthony Fauci, warns that COVID-19 is at least 10 times more lethal than seasonal flu.
Marc Lipsitch, an epidemiologist at Harvard University, believes that between 40 and 70% of the world's population could be infected worldwide, i.e. between 3.1 billion and 5.5 billion cases. It called for decisive action at the population level, such as the cancellation of public meetings, the possible closure of schools and the encouragement of people to work from home to avoid uncontrollable epidemics.
The head of the Melbourne-based think tank, the Grattan Institute John Daley, also thinks that time is approaching for a more radical social estrangement in Australia. "It's worth mentioning that we haven't seen a virus like this since 1918-19," he says.
"We haven't seen anything that has had this combination of being quite contagious and being lethal enough that letting it run in the community would be very difficult to contemplate.
"As soon as it becomes clear that there are 50 or 100 cases that you can't explain … at that point you have to do something much more serious."
He believes that this could include the exploitation of our island continent status and the temporary closure of borders on all international flights, with the exception of those that only carry freight.
So far tests in Australia have been limited to those who have returned from abroad and show symptoms of infection and to those who are in contact with confirmed cases. Larger tests are available for healthcare professionals and tests in South Australia have been expanded to include all those tested for influenza.
Some argue that the test parameters should now be expanded to see what type of iceberg could be under the tip. However, others warn that testing capacity has still increased since Morrison's announcement of extra federal funds to fight the virus, and it remains important not to overwhelm existing test facilities.
Clear and consistent messages are needed
There are still so many unknowns about this new and insidious enemy, including how contagious people are in its early stages.
Loading
In Singapore, an alarming study found that one patient, a confirmed case with only mild symptoms, had spilled viruses to 13 different sites in his room, including a chair, bedside, window, floor, pelvis and the light switches.
There are variable figures for mortality rates between different countries: up to 5% or more in Italy, in Germany up to 0.2%. Here, experts seem to speculate a mortality rate of around 1%, well below the estimated WHO world mortality rate of around 3.5%.
What has become clear is that a careful and consistent message from public health and political leaders is vital.
Queues formed outside the clinics and hotlines were flooded when Federal Health Minister Greg Hunt was reported a week ago stating that "if in doubt, get tested." He later blamed the media for not including the qualifier to which he referred to those who had been exposed to possible infections. Yet on every good reading of the transcription, his observations were susceptible to misinterpretations.
Victoria's health minister, Jenny Mikakos, sparked anger among general practitioners when he blamed Melbourne GP Chris Higgins for returning to work after a trip to the United States, treating patients and then discovering that he himself had the virus. As many have pointed out, Higgins took the initiative to test himself even though the guidelines then in force did not stipulate that he should have done so.
Even now, many doctors remain unsure as to when it is safe for them to work. On Thursday, the Federal Department of Health told al Herald is The age that the national committee of medical directors was still considering the issue and that "we expect this advice to be available soon".
If nothing else, rationalizing the provision of information to both the community and healthcare professionals remains a task of fundamental importance.