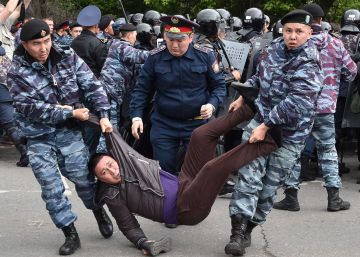 "Shal, ket!" (Old man, go!) Shouted the demonstrators who gathered this Sunday in front of the Youth Palace, in the old town of the Kazakh capital. They were referring to Nazarbayev, 79, who left the presidency in March, but remains the shadow leader at the head of the influential Security Council.
The riot police equipped with shields and batons, which outnumbered the protesters, proceeded to detain without scrutiny all the participants in the protest, many of them young. They were forcibly taken to the buses and police vans that were parked in the square, which was closed to traffic. "Kazakh executioners!" Shouted one of those present in the square, while an old woman with a handkerchief on her head shrieked: "Allah, tojtandar!" (By Allah, stop!).
The police arrested all the young people who were in the square and recorded incidents and arrests with their mobile phones. The demonstrators kept shouting "Shame!" And "Boycott!", Given that most opposition parties opted for the boycott of the presidential elections. In fact, the most virulent, the banker Mujtar Abliázov, who is exiled in France and is demanded by the Kazakh justice, called in the last days to go out to protest against the elections. "Bostandyk!" (Liberation!), Is the name of the protests in which several hundred people participated.
The Kazakh police also arrested several dozen people in unauthorized protest events in the second city of the country, Alma-Ata. The Ministry of the Interior reported that behind the protests is an extremist and outlawed organization known as the Democratic Elections of Kazakhstan (DVK, acronym in Kazakh) and headed by the banker Abliázov. Although the police insisted that only the "most active" were detained, images of journalists arrested and beaten appeared on social networks.
The almost 12 million Kazakhs who were called to the polls in the presidential elections on Sunday massively in the first presidential since the country's independence in 1991 in which did not participate the "father of the nation", Nursultan Nazarbayev, who left the power in March.
His successor and current president, Kasim-Yomart Tokáyev, 66, is emerging as the big favorite for victory. They were also the first elections in which a representative of the democratic opposition participates in 14 years and, according to the polls, this, Amirzhan Kosánov, will be the second most voted candidate. According to the analysts, Daniyá Yespáyeva, the first woman to apply for the presidency of this Central Asian country, will be in third position.
A 72.9% of Kazakhs had voted four hours for the closure of schools, so it was estimated that the final participation will have hovered almost 90%, according to the Central Electoral Commission. The main powers support an orderly transition with Tokayev at the forefront to guarantee his multimillion dollar investments in a country, the ninth largest in the world, with huge natural resources, mainly gas.
(tagsToTranslate) hundred (t) detained (t) election (t) kazakhstan (t) first (t) presidential (t) nazarbayev (t) candidate (t) celebrate (t) disturbance