In the center of the sub-continent, near Nagpur, farmers are despairing of the harmful effects of fly ash on photosynthesis and fruiting trees.
Subscribers article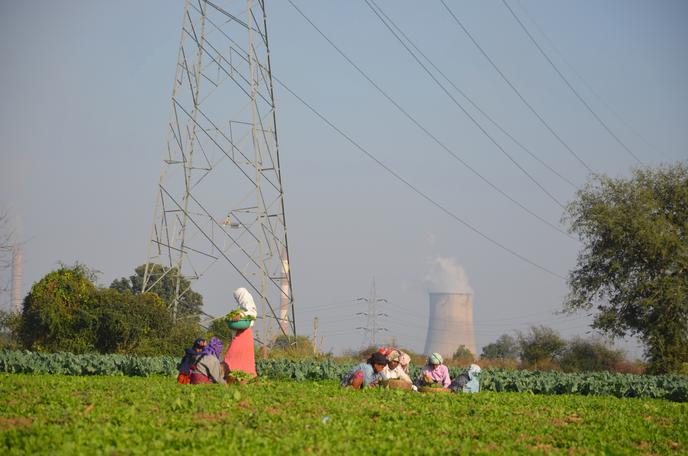 Oranges are the celebrity of Nagpur, but the future is dark in plantations near this city in central India.
The region is known to produce 2.5 million tonnes of citrus fruit in an average year on an area of ​​about 250,000 hectares, making it the first trading area of ​​the sub-continent. But farmers who have the misfortune to work near "Orange City", as it is known throughout the country, are gradually abandoning their profession because of pollution. Involved: the fly ash emitted by the chimneys of thermal power stations, whose concentration is here one of the densest in the country, because of the presence of huge deposits of coal. These ashes are deposited on the leaves of trees, blocking photosynthesis, and on the flowers, preventing them from giving fruit.
Article reserved for our subscribers

Read also
In India, politics seen from the forests of Jharkhand
"In a decade, I lost 140 of the 200 orange trees inherited from my parents"laments Vivek Singh Sisodia, a 52-year-old farmer living in Chakkikhapa commune. This winter, a storm has crossed the region in a new way, covering the cars with a gray film and sticky, proof that the air is loaded with particles in suspension. "The worst is in May. This is the hottest time of the year, the demand for electricity increases for the air conditioning and the factories are running at full speed, so that tons of dust fall on the fields, in a radius of 10 to 15 kilometers "says Singh Sisodia.
The latter worked in insurance, and it is in 2001, at the death of his father, that he settled on the 7.5 hectares of the family, attracted by the life in the countryside. He quickly bit his fingers and since then has encouraged his two sons to move towards safer jobs: "I pushed them to study. One is in the bank, the other in life insurance, it is they who talk to us today, my wife and me. "
Promises of clean energies
In April 2017, Narendra Modi had given him hope. The prime minister of India, whose mandate is currently being called into question by the legislative elections that lasted until May 19, had come to inaugurate three new units (1,980 megawatts) at the Koradi power station, one of the oldest of the country, whose chimneys block the horizon at the bottom of the property of Mr. Singh Sisodia. The nationalist leader, who spoke a lot about clean energy during his five-year term, then promised that pollution would drop in Nagpur. But there is far from politics to reality.