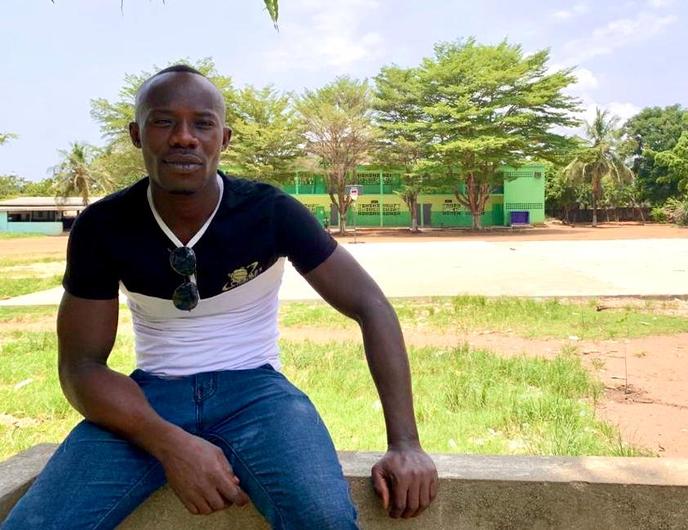 At 4 p.m., after his work day, Kadio walked home. He could take a wôrô-wôrô, an Abidjan collective taxi, or a gbaka, an eighteen-seater minibus. But for the past few weeks, he's been looking "Odd jobs to do" after work.
On the way, his eyes alert, he spots the big construction sites, the houses and villas under construction where the pick-ups act as moving trucks. On each occasion, he approaches and offers his carpentry expertise. " I do not have a choice. I have to earn as much money as possible before the disaster that happens ", he says to justify his wild canvassing.
Read also
Coronavirus: in Morocco, the double punishment of Zeyna, single mother
By saying this, the young 39-year-old craftsman does not think directly of the Covid-19, of which he learned the existence "Two weeks ago on television", which infected 261 people in Côte d'Ivoire on 6 April and killed one. His greatest fear is another. "Let the works stop completely", he explains, before whistling the driver of a wood-laden pickup truck passing by him, hoping to be offered a "Small mission".
A "go-getter who had no other choice"
Kadio Ernest Abalo is a daily worker in the construction industry. "I am also sometimes weekly or fortnightly", he specifies laughing. Optimistic, he defines himself as a "Go-getter", but who "Had no other choice". Son and grandson of railway workers of the "RAN", the Régie des chemin de fer Abidjan-Niger, which no longer exists today, Kadio left the family home at the age of 12 when his father died suddenly . His bereaved mother tells him that she will no longer be able to take care of him and his five siblings.
Read also
In Côte d'Ivoire, the isolation of Abidjan provokes a return to the countryside
"If you stay in the village, you cannot become someone"she said to him. He understands the message and, with a few pennies in his pocket, leaves Tiémélékro (east) for Abidjan, the economic capital where his grandmother lives. The widow who lives on her husband's pension is willing to welcome her grandson provided he learns "A profession to bring money home". She offers sewing, he declines gently arguing that he needs a job he can do " standing ". On the advice of his uncle, he learned carpentry, built his first furniture at the age of 13, and contributed to the rent and shopping for his new home.
Read also
In Ivory Coast, traditional chiefs, more convincing than civil servants
A quarter of a century later, Kadio still lives with his grandmother who now threatens to never let him come home in the evening, "Because of the virus". "The old woman wants to ban me from going out, the government too. But, if I don't go out, how am I supposed to take care of my children and live? " His two children, the young craftsman sees them very little.
"It's not the virus that will stop me"
"I don't have enough money to marry their mother," he explains, while specifying that he sends them 40,000 CFA francs, out of his monthly salary which he estimates at 100,000 CFA francs (around 150 euros). "I always swarmed [se démener] right to left for me and mine. It's not the virus that's going to stop me, " he sums up in a mixture of nouchi, an Abidjan slang, and French, which he masters to perfection.
In Abidjan, goods can still circulate and, although many construction sites seem to be stopped, some cranes are still running. "The site managers told us it was going to be hard. But I'm lucky: those who are Lebanese, Syrians or Moroccans really appreciate me and give me a job next to the construction sites, often at home ", he explains.
Read also
Covid-19: bushmeat, still consumed in Côte d'Ivoire, despite the ban
If Kadio won their trust, it was thanks to his mastery of Darija, the Moroccan dialect Arabic, that he learned in Morocco. In 2011, after the Ivorian post-electoral crisis, Kadio was convinced by a childhood friend to go to Morocco to go play football, his passion. He has his passport made, taking care to rejuvenate himself on the way to "Deceive recruiters" and flies to Casablanca.
"Can do it all!" "
Upon arrival, football quickly becomes secondary in view of daily priorities. "It was a pain, remembers Kadio, but thank God, I was able to get by thanks to my two trades: carpenter and resourceful ". For more than two and a half years, he chained the construction sites in Mohammedia, an industrial city near Casablanca, and earned a little money which he sent to his children, their mother and grandmother, who remained in the Côte d 'Ivory.
Because of an injury "Unexplained" contracted during a football match, he is forced to return to Côte d'Ivoire where he goes to a traditional healer. "He healed me, I did well to come back. But I left part of my Moroccan savings there ", he concedes a little nostalgic.
Divide ? He thinks about it, but he has " trust " in him and in his ability to find in Abidjan "Something to eat in the evening". "I can continue to live like this for a long time, as long as the building sites turn", he assures. What if all of them stop? "People will stay at home and realize that their interior is wrong, they will call me for small jobs. I prepare a business card with the words "Can do everything!" ", laughs Kadio.
In Africa, the anxiety of precarious workers: our series of portraits at the time of the coronavirus
They are fashion designer, housekeeper, carpenter or seller. Some have no contract, no social protection or even work exclusively in the informal sector. Since the start of the Covid-19 epidemic and the containment measures taken in their respective countries, they can no longer continue their activity as before, at the risk of no longer being able to support their families.
According to figures published in 2018 by the International Labor Organization (ILO), Morocco has an informal employment rate of 79.9%, Algeria of 63.3% and Tunisia of 58.8%. Across Africa, this proportion rises to 85.8%. The World Africa followed five of these workers in Morocco, Côte d'Ivoire, Senegal and Rwanda. They tell how they try to adapt day by day to this confinement which seriously jeopardizes their living conditions.
Portrait n ° 1
In Morocco, the double punishment of Zeyna, single mother
Portrait n ° 2
In Ivory Coast, Kadio on the lookout for the last construction sites