In the third quarter, it was found that Intel Core processors regained a slight edge over AMD Ryzen in the domestic assembled PC market. As AMD adjusted the proportion of production by product from the second quarter, supply and demand problems for some products seem to have had an impact.
According to Danawa Research on the 13th, Intel processor share was 51.8% in September and AMD processor share was 48.23%, which is similar to April (Intel 50.59%, AMD 49.37%).
PC industry officials pointed out that AMD's processor share in the domestic assembled PC market is likely to decline after October. This is because of Intel's 12th generation Core processor, which will be released worldwide from November at the earliest.
■ AMD slight advantage until July, reverse from August
According to Danawa Research on the 13th, in the domestic assembled PC market, AMD Ryzen processors had an advantage over Intel with a market share of about 54% from May to 7th.
However, from August, the market share reversed again, with Intel processors having a slight advantage at about 51%. In September, the share of Intel processors was 51.8% and that of AMD processors was 48.23%, returning to a similar level to April.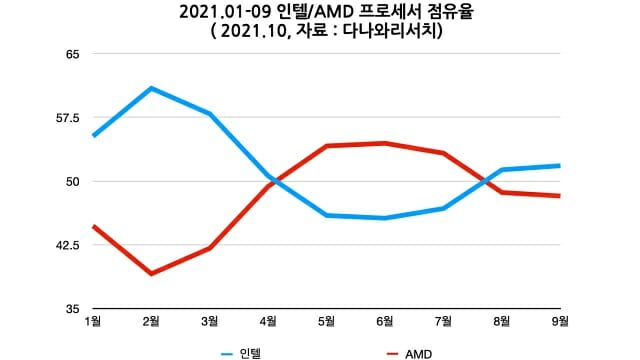 Among Intel processors in September, the best-selling products were the 10th generation Core i5 (16.35%), the 10th generation Core i3 (9.83%), and the 11th generation Core i5 (8.52%).
For AMD processors, sales of the Ryzen 5 5000 series (28.27%) were overwhelmingly high. Ryzen 7 5000 series sales were 5.92%, while Ryzen 9 5000 series sales were 3.68%.
■ AMD reduced the portion of desktop chips from the second quarter
AMD consigns production of all products including various processors and Radeon graphics chipsets to Taiwanese TSMC. From the second quarter of last year, the proportion of high value-added products such as Ryzen processors for laptops and EPYC processors for servers increased.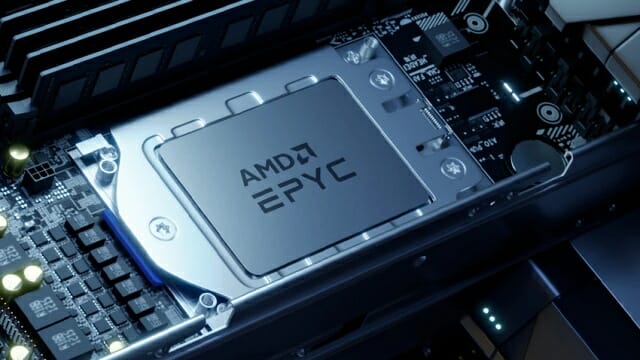 According to market researcher Mercury Research, in the second quarter of this year, Intel accounted for 82.9% of the desktop PC market and AMD took 17.1%. AMD's market share, which recorded more than 19% market share since the second quarter of last year, decreased by 2.2% compared to the previous quarter, but recorded 20% in the notebook market.
In particular, in the assembled PC market, with the exception of some mini PCs, only motherboards and processors for desktop PCs are distributed almost exclusively, and it is greatly affected by AMD's adjustment in production proportion.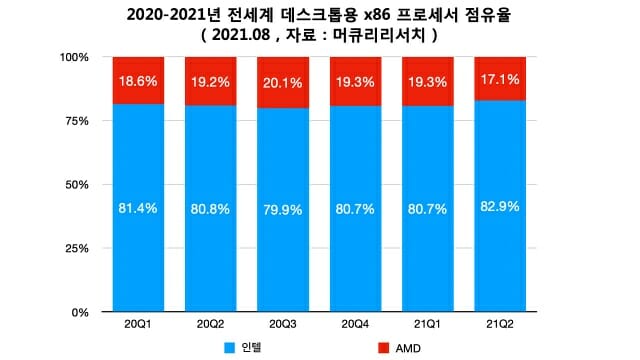 Small and medium-sized assembled PC makers and representatives of large shopping malls explained, "Since the end of July, there has been a problem with the supply and demand of some of the Ryzen processors, so Intel has benefited from it."
■ "Q4 market share, Intel 12th generation chip variable"
PC industry officials predicted that there is room for a further decline in AMD's processor share after the fourth quarter of this year. The biggest variable is Intel's 12th generation core processor (Elder Lake), which is expected to be released at home and abroad around November at the earliest.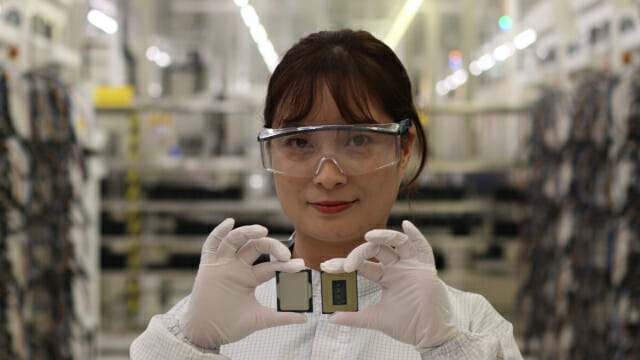 An official from an assembly PC company who responded to the interview said, "There are a lot of consumers who postponed the upgrade because the performance improvement of the 11th generation core processor released in the first half of this year was not large. It will have an impact," he explained.
Related articles
AMD released new desktop PC processors almost every year, including the Ryzen 1000 series (1st generation) in 2017, 2000 series (2nd generation) in 2018, 3000 series (3rd generation) in 2019, and 5000 series (4th generation) in 2020. In addition, a new Zen architecture was applied to each processor.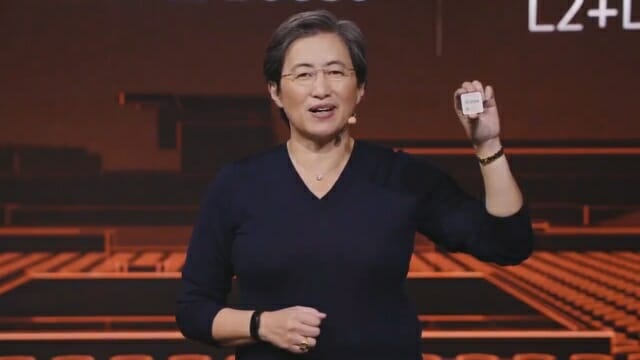 However, there is no processor release with the new architecture this year. A 'B2 revision' processor with some production process changes is scheduled to be released in the fourth quarter, but the functions and performance are no different from those of previous products released last year.