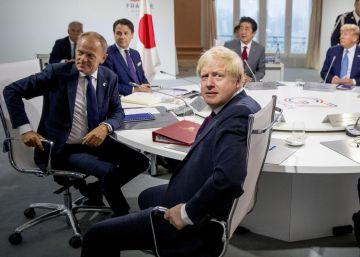 Diplomatic coup in the G7 in Biarritz. The French president and host of the summit, Emmanuel Macron, invited the foreign minister of Iran, Mohamad Javad Zarif, to the summit of the democratic industrial powers, by surprise, Elysium sources reported on Sunday. Zarif – whose country is subject to sanctions by the United States and a representative of a State that President Donald Trump has threatened to bomb – arrived in the Basque city around 3:00 p.m. A few hours earlier, Iran had motivated a tense succession of statements and denials between the French and American presidents.
The news of Zarif's presence jumped when he detected the Flightradar24 website that an Iranian plane had landed at Biarritz airport. When the France Presse agency reported, the speculation soon broke out. Soon after, an Iranian source confirmed to the Reuters agency the arrival of the minister, who will meet with his French counterpart, Jean-Yves Le Drian. Last Friday he already did it with the French president in Paris. According to the Iranian Foreign spokesman, Abbas Mousavi, the purpose of the invitation is to continue discussions on the recent initiatives between the presidents of Iran and France. "There will be no meetings or negotiations with the American delegation on this trip," he reported on Twitter.
The agreement of the powers of the UN Security Council with Iran, approved in 2015, is a cause for discord between the US and its allies since Trump's arrival at the White House, in 2017. The United States withdrew from the agreement in 2018 The objective of the pact was to curb the Iranian nuclear program in exchange for a lifting of international sanctions. After the withdrawal from Washington, the EU, Russia and China maintained the agreement, but Tehran has questioned the commitments with that text.
In Biarritz, before the arrival of Zarif, Macron insisted that the objective between the United States and its partners in the G7 was shared: to prevent Iran from seizing the nuclear bomb and to avoid a military escalation in the region. A statement by an anonymous Macron adviser that the French president had received the G7's mandate to negotiate with the Iranians caused confusion. Trump denied that such a mandate existed. And Macron was forced to appear before the press to point out that the G7 is an informal forum with no ability to give mandates to anyone. In any case, he said, each member will take their initiatives to achieve these common goals.
Trump has never shunned dialogue with the historical enemies of the United States, on the contrary. Since being president, he has held three meetings with North Korean leader Kim Jong Il.