Although the coronavirus pandemic is currently subdued, Czechs are still on the lookout for shopping – less than last year, they go to the shops less often, pay attention to safety and do more shopping. This was announced on Monday by SOCR President Tomáš Prouza and Ladislav Csengeri from the GfK agency. Shopping on the Internet also continues to be very popular. In brick-and-mortar stores, customers demand high hygiene standards.
"After the past, dynamically evolving year 2020, when consumption largely shifted to our households, there was some stabilization at the beginning of 2021. However, domestic consumption of goods and services remains elevated," adds Csengeri of GfK.
In the past year, people began to buy in bulk mainly basic foods, frozen products, meat and meat products, as well as various semi-finished products and baking and cooking aids. "With the exception of pastries and bakery products, all macro categories in household consumption also grew in terms of volume. In the first third of 2021, alcoholic beverages, hot beverages and again semi-finished and frozen foods continued to strengthen," the analysis continues.
How the shopping cart changed
Due to the pandemic, 28 percent of Czechs surveyed continue to prefer shops with a lower number of shoppers and avoid crowds. As few quarters of people visit as few stores, the same number of customers prefer stores where strict hygiene rules apply. 23 percent of Czechs choose less frequent times and days for their purchases.
According to GfK, domestic customers are increasingly shopping at discounts, losing hypermarkets at their expense.
According to which the Czechs choose a store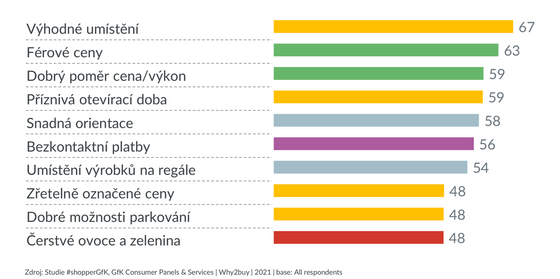 Photo: GfK
In addition to the advantageous location of the store, which, according to Gfk, is essential for 67 percent of Czech customers, the choice of store is also largely determined by prices.
Compared to last year, the possibility of contactless payment was one of the most important criteria, Csengeri added.
Last year, each household made 16 fewer purchases year-on-year. According to Csengeri, last year each household set out to buy fast-moving goods an average of 300 times and spent an average of 297 crowns on it, while in 2019 the expenditure was 261 crowns.
At the same time, average spending has risen the most for households whose members feel threatened by the crisis and may want to build up reserves in the event of loss of income in the event of job loss. The shopping cart for this group of customers increased by about a fifth, the number of these households rose from eight percent in 2019 last year to 11 percent, this year it is holding at ten percent.
.