How was it when Karolína did not use eight breakballs in the semifinals with Belarusian Sabalenkova and played a double mistake in the first set of her opponent? A lot of players would probably disintegrate completely after such a course.
To be honest, I was full of emotion. Of course, I was wondering how Kája would start the second set, because it was really decisive. But somehow I felt she was very strong, mentally resilient. I could see from the expression that it could be good. Concerns were clearly there, but I still had the light that she played better than Sabalenkova.
Former Fedcup captain Jan Kukal has long said that hard training under Bajin's leadership will one day manifest itself. Did you bet on it even within the team that sooner or later it would work out?
Definitely. When Sascha and I met, there was a clear instruction: let's cough up the results now, maybe lose, but we're going with a hard training strategy. And Kája was against it anyway. She was not extremely emotionally upset about the defeats, even though the criticism was great. It was very important that the team did not allow itself to be upset. When I was with them in Stuttgart, I saw them stick to what they said. Hard work and results are not important now. We want them, but it's not a priority. But it will come one day. And I have to give a lot of credit to Sasch, who told me: Wait, you'll see at Wimbledon!
According to Navrátilová, Plíšková played her best match
Do you have an explanation why Karolína gives top performances in a tournament she never loved much?
She was not completely successful there. But two years ago, she advanced to the round of 16, where she lost closely to Karolína Muchová. We all believed it would come. And the important thing was that Kája mainly believed that. Sascha didn't show anything. So we lost, but we train hard tomorrow. Although there was criticism around us, people also called me and they had, sorry, bullshit, what's going on, why she lost in the final (in Rome with Swaitek) twice 6: 0. So you just listen to it, nod your head and think your own way, because it's not worth convincing someone. But Kája dealt with it. Yes, she was upset. But only until midnight. And the next day we went from scratch. That's the change. Optimism around was not lost.
Shortly before the start of Wimbledon, she dropped out of the top 10. Do you think that partially removed the pressure on the result?
It was an aspect. But most of all, her subjective world didn't let it fluctuate, that it just didn't work out, that it would be a mess. She just didn't solve the results.
What advice can you give Carolina at the moment when there is one match from meeting her goal?
Above all, nothing about a dream must be interpreted. That's such talk … He's just in the Wimbledon final, playing with the world number one. It will be an amazing match, he definitely wants to give the best performance in it. And then the story of God's will.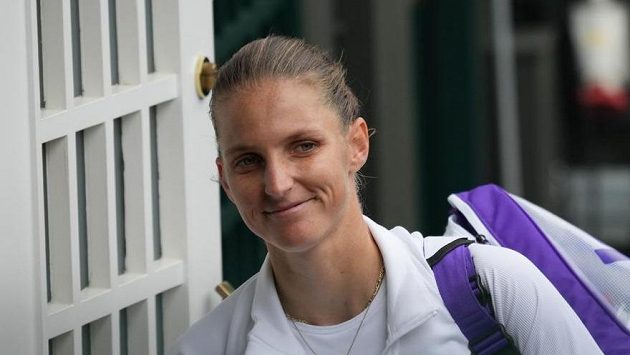 A lot of people wrote me off, but I still have something to offer, says Plíšková
What does such a day before the grand slam final look like? Isn't it too stressful?
Definitely at such moments, relaxation works. It's good to take thoughts in a different direction, a little humor doesn't hurt. Kája satisfies her head with something else, she is positively set up and it would certainly not be good to stress her out by talking about how one more step awaits her.
At Wimbledon, Carolina thanked the whole team for staying super positive all the time. Did it ever cost you more energy to give her courage?
Not that. After all, I'm not even with her every day. I'm in quotes until the last one on the team. Sascha is with Kája, (husband) Michal (Hrdlička), he has a physiotherapist there. I'll write with her, I'll call. See you when it's in the Czech Republic. Sometimes I go to a tournament. If he wants to talk, then let's go for a walk. It's a pleasure for me to work with Carolina. That's why I wish her the title very much.
.