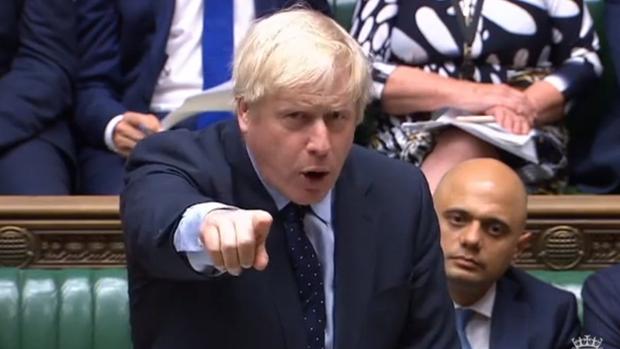 British Prime Minister Boris Johnson has prepared a plan to legally prevent a new extension of Brexit, after Friday the House of Lords passed a law that would force Johnson to request a postponement of divorce until on January 31 to avoid a Brexit without agreement
Johnson's advisors have held a meeting this Sunday to prevent attempts by the British Parliament to request a third extension of three months if a new agreement is not reached, as reported by the newspaper "The Daily Telegraph."
This plan would imply that Johnson sent a letter requesting to apply article 50, stating that the Government does not want any delay after October 31, according to this newspaper.
Thus, Johnson stands firm in his promise to work Brexit
on October 31, either in an orderly or chaotic manner, so he will only go to Brussels to negotiate an exit agreement, not to request another postponement, as several members of the Government have clarified this Sunday.
Among them, the Minister of Finance, Sajid Javid, who has confirmed that Johnson will go to the European Council to be held between October 17 and 18 in Brussels to "try to get an agreement." "Of course, he won't ask for a new extension at that meeting," he said on BBC.
The British Parliament last Tuesday approved a plan to force Johnson to ask the EU for a further postponement of Brexit if by October 19 the Parliament has not approved an agreement on the divorce between London and Brussels or has not given an express permit to the Government to be produced without any agreement.
Johnson later declared that "he would rather be dead in a gutter" rather than asking the EU for another extension of Brexit. Johnson's position is not supported by many "tories." More than 20 have been expelled from the Conservative Party for voting against the Government in Parliament and the Minister of Labor and Pensions, Amber Rudd, has resigned in the last hours for the internal "purge" and for the failure of the "premier" in Your commitment to get a new agreement.
Rudd explained this Sunday in statements to the BBC that, in his opinion, the Government has not worked hard enough to get a new agreement with the European Union, which leads the United Kingdom to leave the community bloc by the brave next 31 October. .