The finalist of the recent Wimbledon, Plíšková, fought Cornet (66th WTA) four times in her career and after the opening loss she won another three matches, the last one in Miami last year. The winner of Roland Garros and last week's Prague tournament, Krejčíková, has not yet met Dijasová (99th).
Thirty-one-year-old Kvitová, who was the only Czech tennis player to start at the Olympics, defeated Paolini (92nd) in a single match last year on clay court in Paris. "She likes to run, come back and play a lot of exchanges. It won't be easy to beat her in this heat, but I hope I can handle it and be able to do it physically. Anyway, I'm looking forward to it, because it's the Olympics," said Kvitová.
Six Czech tennis players under the Olympic rings. Will they build on the three bronzes from Rio?
Two-time Wimbledon winners like the blue-colored Olympic complex. "It seems very nice to me. It was green in Rio, but blue is just blue. My favorite color is blue," Kvitová smiled, starting at her fourth Olympics. And she added to the courts: "I trained for a few, some are slower and some faster. It depends on which court I will be assigned to the match. It would be better to play faster against Paolina, but it won't affect me."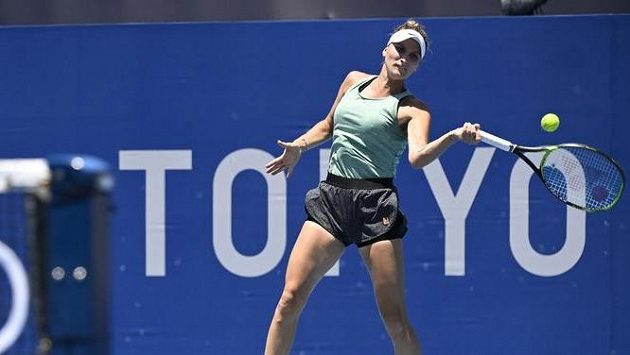 Markéta Vondroušová during training.
Ondrej Deml, ČTK
Vondroušová once played with Bertensová (21st) and defeated the Netherlands, who will end her career after the season, at the US Open 2018.
Theoretically, all Czechs could meet in the semifinals. However, Ukrainian Elina Svitolinová could wait for Plíšková in the quarterfinals before that. Kvitová can have Spaniard Garbina Muguruza in the third round and Aryna Sabalenkova from Belarus in the quarterfinals. "Everyone who plays here is just good and likes to represent their country. I will never meet anyone simple," said Kvitová.
Krejčíková would have to beat world number one Asleigh Barty from Australia in the quarterfinals. Vondroušová theoretically has home team Naomi Osaka in the third round and Polka Iga Šwiateková in the quarterfinals.
Macháč could meet Schwartzman
Macháč, who only got to the Olympics as a substitute for deregistered players, including the qualified Czech Jiří Veselý, could play with Diego Schwartzman from Argentina in the second round.
In doubles, Krejčíková and Kateřina Siniaková are at the top and their rivals in the 1st round are Hsieh Yü -che and Hsu Č-yü from Taiwan. Plíšková and Vondroušová will face the Chinese duo Cheng Sai-sai and Tuan Jing-Jing. The mixed doubles draw will be on July 27.
Serbian men's biggest favorite, Serb Novak Djokovic, has Hugo Dellien from Bolivia, the 139th player in the world, in the first round. The number two tournament is Russian Daniil Medvedev.
The tennis tournament starts on Saturday.
Tokyo 2021 Olympic Games
2021 Olympic Games with designation Tokyo 2020 are in progress from July 23 to August 8, 2021. The Summer Olympics are held without spectators and there are 115 Czech athletes in action. At the 2016 Olympics in Rio, the Czechs won ten medals (one gold, two silver and seven bronzes).
.