Sony Interactive Entertainment, to accompany the release of the PS5, asked Insomniac Games to design a spin-off at Marvel's Spider-Man. Her name ? Miles Morales ! The player therefore returns to a part of New York to protect the citizens from nasty rascals. It is with great pleasure that we swung from building to building, it's time to give you our impressions of this new adventure.
It's crazy, completely crazy!
We are not going to lie to you, initially we did not expect anything regarding the visual part of Marvel's Spider-Man: Miles Morales. The first title is already very beautiful on PS4, we just thought we would see some fine-tuning of the textures to be seen. Well, we were wrong, it is beyond what we imagined … There are two modes to titillate peepers, Loyalty and Performance. Let's start with Loyalty, we are entitled to an image in 4K, HDR, with ray tracing, all at 30 fps (no drop, constant, flawless). It's a beauty without a name … The reflections on the puddles or the windows are natural and give a realistic look to the environments. It's breathtaking! Plus, the depth of field is amazing. It's neat, it's clean and, above all, it's alive! Indeed, we can see characters making their little life … To come back to the textures, it's neat and detailed. Skin pores, scratched plastic of the headphones Miles, snow on the ground, the eyes are amazed. Everything merges to give a more than convincing result, it is a ballet of pixels dancing in front of us.
And Performance so ? We have a lower resolution which was upscalée in 4K to have a nice rendering. The ray tracing no longer in the game, as well as various lighting effects. The objective is to offer a little more fluidity, the 60 images per second are therefore invited to the party. So yes, it's fun, the 60 fps bring visual comfort in the gestures, but sincerely, we recommend that you have fun by Loyalty if you have a suitable television. The developers have done a great job in making the wards of the players happy, don't be afraid to put the graphics options to the limit ! Also, let's take a quick look at load times. So ? They are almost non-existent, it's instantaneous. Do you want to continue your odyssey? Hop, the game starts. You want to go back to your previous one checkpoint ? No worries, it takes a second. It's crazy, completely crazy!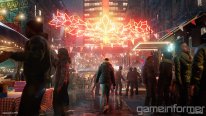 The soundtrack in all of this is excellent and pulsates the rhythm of our clashes and our escapades. So as not to change, we are entitled to quality dubbing in French. Donald Reignoux still lends his voice to Peter Parker, and it is Eilias Changuel who is in charge of Miles Morales ; you certainly heard it somewhere, it was he who played Han Solo in Solo: A Star Wars Story for example. However, we find, from time to time, the same concern as in Marvel's Spider-Man, namely English dialogues mixing with French. Too bad, it breaks the immersion.
Miles Morales benefits from the same basic faculties as Peter Parker, namely walking on walls, swinging, twirling, anticipating an opponent, counterattacking at a precise timing … To put it simply, if you are used to action games of this type, you go quickly find your bearings. Obviously, who says new production, says new powers! And this is where it gets interesting …
The grip is good and varied to avoid boredom.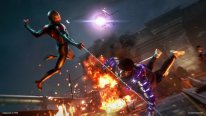 So the new Spider-Man can use electricity that it generates itself to increase its strength tenfold (or repair some motors … yes, that's not a joke). During a confrontation, when we fall against a rather resistant thug, a good lightning right knocks him out. Furthermore, we have the possibility to become invisible for a short time, which allows us to escape during a huge melee, or to hide in the scenery, in order to attack by surprise.
Here too, we can therefore walk with discretion and bring down an opponent in one blow. Infiltration or action, we have the choice to complete several phases quickly. Between exploration and brawl, the handling is good and varied to avoid boredom, especially since moments are intense and play with our reflexes ; like taking control of Rhino going crazy in a mall, where we have to avoid touching innocent people and exploding the scenery.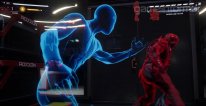 Let's talk little, let's talk well, the Japanese firm puts forward the new controller of the PS5, the DualSense. In terms of adaptive triggers, it's not too bad. When we throw a web, a slight resistance, with a little click, is exerted on R2. It's fun and it tickles your finger a bit. On the other hand, for the haptic feedback, we don't feel much except simple … vibrations. There was something to be exploited, especially with the different materials in the game. Too bad.
Peter goes on vacation and leaves New York in the hands of Miles. New Spider-Man will, somehow, lend a hand to the police. A new war breaks out between those who want to take control of the city. On the one hand, a whole army of criminals, on the other, a corrupt society. Our friend must therefore manage this rivalry alone while he is barely discovering his new powers.
We wouldn't have spat on a few extra hours.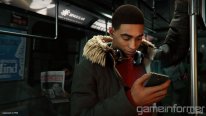 The story is correct as a whole, let's say it's nothing surprising. The more we advance in the game, the more Miles Morales becomes mature. He understands over the course of this odyssey that "great power implies great responsibilities". He must therefore set aside part of his private life to bring peace to the streets. The staging is really captivating, certain situations take to the guts, the player easily becomes attached to his character. Only here, the pleasure is intense, but too short …
And for good reason, in a straight line, allow 6 to 7 hours to reach the end of the tunnel. For once, we would not have spat on a few extra hours to have other good times with this Spider-Man more than charming. So certainly, if you embark on small side quests (somewhat repetitive for some), you have about fifteen hours to complete the beast at 100%.
For us, Marvel's Spider-Man: Miles Morales is a huge appetizer to tantalize the taste buds of PS5 gamers. The visual part of this production is breathtaking, the handling is electric, and the story, although generic, still manages to capture the attention. In all of this, we would have appreciated a better exploitation of the DualSense and a longer lifespan.

Nevertheless, this PS5 showcase knew how to entertain us as it should, this spin-off quirky happens to please fans of theSpider Man despite the lack of bosses from the comics. After having completed this epic, a strong desire to return there was indeed present. For once, we hope that a sequel, much more complete, will invite itself on the new machine of Sony.
Marvel's Spider-Man: Miles Morales is available at € 59.99 on Amazon.
Most
Visually amazing!
Taking charge of Miles, ultra fun
Staging madness!
The rhythmic soundtrack
Fast loading times
Excellent dubbing in the language of Molière …
The lessers
… but still these little Franco-English problems
The lifespan, too short!
It lacks notable franchise bosses
DualSense misused
.