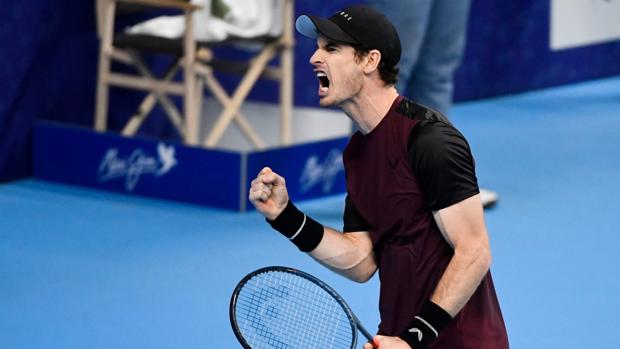 It could be the final of any Grand Slam: Andy Murray against Stan Wawrinka. The first has two Wimbledon and a US Open; the second, an Australian Open, a Roland Garros and a US Open. But age, injuries and the passage of time stipulated that in this 2019 the Scotsman and the Swiss will fight for a title, that of Antwerp 250 ATP, as the biggest milestone that the two have been able to opt for in the last two years. Wawrinka celebrated his last twist in May 2017, in Geneva. Murray played his first ATP circuit final since he played in February 2017, in Dubai. Twenty months after that milestone, and after a false withdrawal, Murray returns to raise a degree (3-6, 6-4 and 6-4).
It is the consequence of a calendar full of demand and a body that sometimes says enough. The Scotsman, in tears, succumbed to the pain of his hip, which also had him in his day to day. He tried everything for two years, and in January he decided that his life was more than tennis. After falling in the first round of the Australian Open against Roberto Bautista, he said goodbye. He went through a complicated operation and dedicated himself to taking care of himself. However, the passage through the operating room was better than expected and, thus, with tests in doubles matches and training without forcing, covered the gaps that had left him a mandatory withdrawal.
Day by day, blow by blow, regained strength. And before the positive response of the hip, he became a tennis player again. What it had always been, despite the pain. In spring he made contact with doubles tournaments, with less demand than in singles, but the same adrenaline. In June he won the title in Queen's with Feliciano López. In August, he tried solo, but it was false. Too soon, he protested his hip. In the Mallorca Open, Challenger category, his first victory. His first ATP 500 in September. His first 1,000 Masters in early October. Small steps on his return to the elite. And in Antwerp, a 250, his first semifinals, his first final, his first title after twenty months. In a great game like the ones before between the Scots and the Swiss, of breaks, comebacks and two and a half hours, Murray completes his resurrection. What could be a Grand Slam final, is the beginning of a new stage. To the joy of tennis.
Blood. Sweat. Tears
And a whole lotta heart …
🙏 @andy_murray # EuropeanOpen2019 pic.twitter.com/pZLi8F1U9j— Tennis TV (@TennisTV)
October 20, 2019 «It was a great match, very even. With a Stan who has played very well. I really did not expect to be in this situation, so I can only say that I am very happy. Proud to be here after all these months, "Murray broke up after hiding the emotion in the towel. It's back. . (tagsToTranslate) murray