Nicolas Dupont-Aignan likes shock formulas. France Inter guest Wednesday, May 15, the leader of Debout France said that the European Union would welcome 18 million "Migrants" in six years, either "The size of the Netherlands". Faced with the objections of the radio journalists, the politician maintained his statement, swearing to be in good faith: "You can check all the numbers, I have checked again ten times! " Verification made, it is he who is in error, and this for weeks. Explanations.
What he said
It was Nicolas Dupont-Aignan himself who chose to return to the erroneous remarks he made during the debate between the twelve heads of the list on France 2, on April 4: "I spoke for example of a number, and I was wrong on one year. (I said there was) 18 million migrants who returned to Europe in five years and it was six years. "
The journalist of France Inter, Yaël Goosz, then interrupted: "It was 9.6 million finally. " Immediate reply from the candidate of Debout France: " No ! Totally wrong! It was 18 million in six years, and I checked. " And he is careful to make it clear that these are numbers that concern migrants " Outside the European Union ", who "Arrive" in Europe, according to him. And to conclude, in a categorical tone:
"You can check all the numbers, I have checked again ten times! 18 million in six years, this is the size of the Netherlands. Do you believe that Europe can assimilate migratory phenomena of such magnitude? "
WHY IT'S FALSE
1. A first mistake early April
Everything started with remarks made by the candidate of Debout France during the debate with twelve candidates, at the beginning of April, on France 2. "In five years, there have been 18 million migrants in Europe", a "Eurostat statistics"he had said. The Twitter account of his party then tried to support his words by broadcasting a table of numbers. According to this presentation, it would be even 18 million in four years, from 2014 to 2017.
This table included many figures from Eurostat, but it did not exploit them in the right way. In fact, European public statistics actually count all the continent's migrations (the data includes the twenty-eight countries of the European Union, plus Iceland, Switzerland, Norway and Liechtenstein). That is, the "migrants" we are talking about here can be both people arriving in Europe for the first time, but also many people who were already residing in one of the twenty-eight Member States. the past.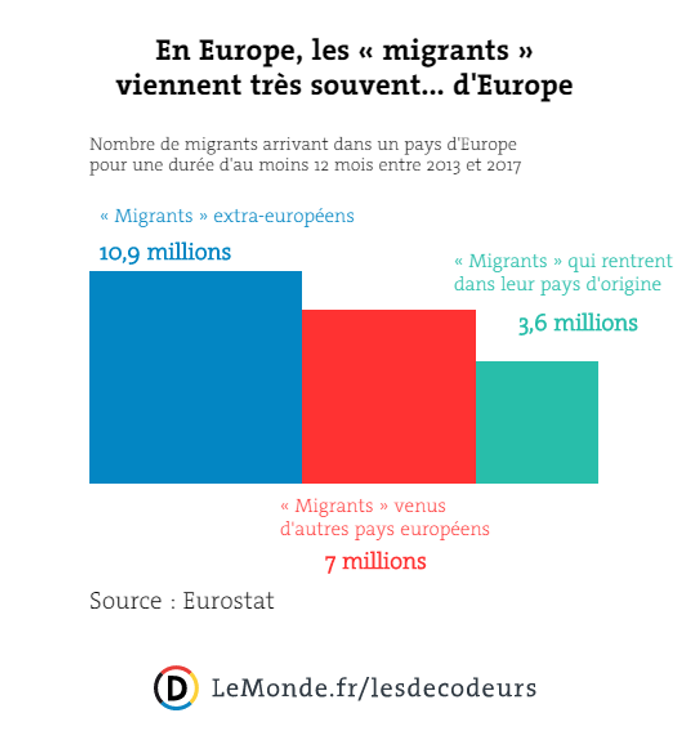 In total, Eurostat counted from 2013 to 2017 a total of 21.7 million "Migrants" arrived in Europe for an estimated duration of at least 12 months. Of these, only 10.9 million did not come from one of the twenty-eight member countries of the European Union, or from one of the four countries mentioned above.
2. A second version equally false
Faced with the various rectifications published on the subject, including that of decoders, Nicolas Dupont-Aignan maintained his point, continuing to say that there would have been "18 million migrants" returned to Europe in " six years ", until his intervention on France Inter Wednesday.
For his demonstration, the calculation of which is detailed on the website of Debout France, the former presidential candidate has once again used another series of Eurostat statistics: the figures of the first titles of stays issued each year – about 13.5 million in total between 2013 and 2017.
At this first figure, Nicolas Dupont-Aignan has added a second: that of asylum requests, 3.3 million from 2013 to 2017. But this calculation is wrong: in the calculation of the leader of Debout France, many of refugees are counted twice. Once when applying for asylum, a second time when a residence permit is granted. So we can not pretend, as he does, that this is the arrival of "18 million migrants", and therefore different people.
There remains another question of substance concerning the first titles of stays. Their number is logically higher than the 10.9 million quoted above since it includes papers valid for a period of less than twelve months. As a result, a significant proportion of the people who benefit are in essence migrants, and not really foreigners who settle on the continent. For example, about 14% of first residence permits were granted for a period of three to five months in 2017.
3. The number of extra-European residents has not exploded
As legitimate as it may be, the debate deserves to be addressed in its entirety. Foreigners arrive on the continent, but many leave: many foreigners who settle in Europe also leave the continent after a few months or years. This is quite common, for example, in the case of students (one sixth of the first titles of stays granted in Europe in 2017).
The flow of "exits" of the European Union relativizes the figures of Nicolas Dupont-Aignan
So on arrival, the number of extra-European residents on the continent has not exploded in recent years as claimed by Nicolas Dupont-Aignan. Still according to Eurostat figures, the number of people living in Europe but not born there has increased from 34.7 million to 39.7 million from 2014 to 2018, an increase of five million over the period.
Over time, the proportion of foreigners born outside the European Union has increased, but to a limited extent: around 7% of the continent's population in 2017.
React or view all comments