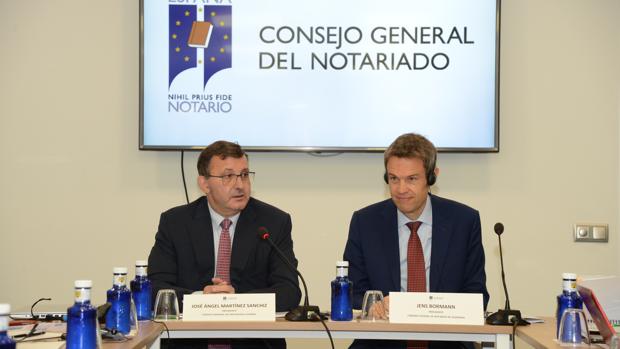 The General Council of Notaries ensures that it is prepared for the online creation of companies with full legal guarantees established by the new European Union directive on the use of digital tools and processes in the field of company law.
The directive, adopted in June by the European Parliament and the Council of the EU, sets the deadline for its transposition into national regulations in August 2021. The president of the General Council of Notaries, José Ángel Martínez Sanchiz, explained that the German and Spanish notaries, who share common principles, have collaborated with the European Commission in the elaboration of this directive, within the Council of Notaries of the European Union.
Likewise, it has indicated that the new directive, which allows the incorporation of companies entirely telematically, relies on the intervention of notaries to guarantee the legal security of the process; the identification and verification of the legal capacity of entrepreneurs; impartial advice, and prevention of money laundering, terrorist financing and tax fraud.
For his part, the president of the Federal Chamber of German Notaries, Jens Bormann, highlighted "the significant role that the European legislator assigns to notaries in the directive, placing them at the center of the procedure for the establishment of online companies. The objective is to guarantee the creation of companies in a legal manner, to avoid further disputes ».
At the same time, Bormann has indicated that the reliable identification of the entrepreneur will allow to establish who is behind each company and who represents it, and will be of capital importance for its registration in the Mercantile Registry, because being controlled by a notary «can be trusted fully that the information is reliable and legal ».
When the Directive is transposed into the Spanish system, Martínez Sanchiz explained, every citizen who chooses to create a fully online company will continue to benefit from the advantages of the notary's participation in the process: legal certainty, legality control, impartial advice and prevention of financial crimes
He also announced that the General Council of Notaries already works on the development of the technical means that will allow the granting of the public deed of incorporation of companies online.
This process will include the identification by electronic ID of the founding partners before the freely chosen notary, in accordance with the EIDAS Regulation and the verification of the veracity of the identity of the founding partners by the notary by means of the data contained in the electronic ID and the videoconference .
It also includes legal advice from the notary to the future entrepreneur in a digital meeting, where the content of the public deed will be agreed; the digital verification by the notary of the capital contribution of the future company and the electronic signature of the deed and sending a copy of the deed digitally certified to the entrepreneur.
In turn, the online sending of a copy of the public deed to the Commercial Registry by the notary is contemplated. .