Cities
In some stores downtown, the goods were already out of stock
By Rosana Lemes | 04/14/2022 18:25
With just a few days to go before Easter, a religious festivity that celebrates the resurrection of Jesus, consumers faced long lines to guarantee the chocolate egg. On the afternoon of this Thursday (14) the Campo Grande News caught the movement in stores in the capital.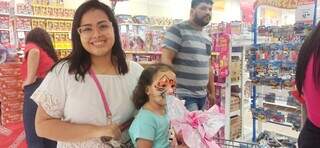 Despite complaining about the price, the people of Campo Grande will not pass the date blank, as is the case with the civil servant, Thamires Mendes, who this year will give a gift to her 3-year-old daughter and her nephew. "This year is more expensive, but they won't be without. Last year my daughter got two eggs, but now it will only be one," she explained.
It wasn't just the children who were left out of the Easter gift, the daughter of cook Maria Rosa Silva, is 20 years old and her mother has already secured her chocolate egg. "I'm not in the habit of buying, but this year I changed my mind and I already guaranteed hers through the influence of relatives".
The supervisor, Dayara Oliveira, was attentive to the prices of eggs and researching which one she would take home. The year before she made the chocolate treats for her family, but this year she decided to buy them. She said that she will only gift one person and is willing to shell out up to R$100 in the gift.
follow us not